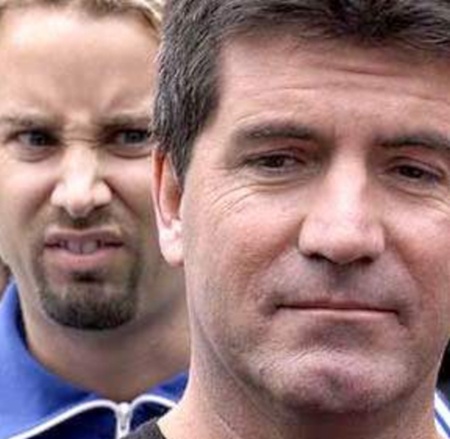 With so many routes to five minutes of pop success presently available – retreads, also-rans and never give-ups are likely to show up in more than one venue. Is it fair that poor (by which we mean very, very rich) Simon Cowell should be accused of cheating? Probably not, but then Cowell hasn't spent a lot of time putting together a persona that everybody want to love. Now those loveless chickens are coming home to roost. To roost all over his man boobs. There's a pretty picture.
Music mogul and reality show judge Simon Cowell has been accused of planting a British pop star who was once signed to his record company in the second round of American Idol.
Former Take That backing singer Tom Lowe has made it through to the TV singing contest's Hollywood stage after wowing the judges in Seattle, but he stunned Cowell at the end of his audition by saying, "I was at BMG Records in London at the same time that you were there."
Lowe was a member of British boy band North And South, who scored four minor British hit singles on Cowell's record label before splitting in 1998, but Cowell claims he can't remember him.
via Starpulse
Celebrity Alzheimers has been invoked recently by everyone from drunk air-hazard Jade Jagger to giantess Kimora Lee Simmonst. It's like pleading the fifth amendment cause you drank a fifth of scotch.
Nonetheless this seems an eminently reasonable case of happenstance – emotions run so high among the deluded souls who throng to the fame lottery that is American Idol (or UK Idol or Swedish Idol or German Idol). It doesn't take much to get a conspiracy theory going.
However, a furious contestant tells British newspaper The Daily Star, "It's really suspicious that they were at the same record company. Simon claims he doesn't remember him but there's a feeling among some people that this could be a fix. A career in the States could be worth $195 million so there's a lot at stake and people aren't happy."
I wonder if any Idol to date has made that 195 million figure … where in the world does it come from, so specific, so precise, so out of the blue. I mean I doubt Kelly Clarkson is closing in on 200 million personal worth and Clay Aitken would be shopping for a more expensive and more discrete form of man whore with that kind of pocket change.
I'm sorry to hear the American Idol contestant crowd aren't happy. Their constitutional right to the Pursuit of Happiness (not the Will Smith in a wig kind) should never be compromised by British conniving – why else did we fight and win the Revolution against those moobish toffs?
pic via solarnavigator