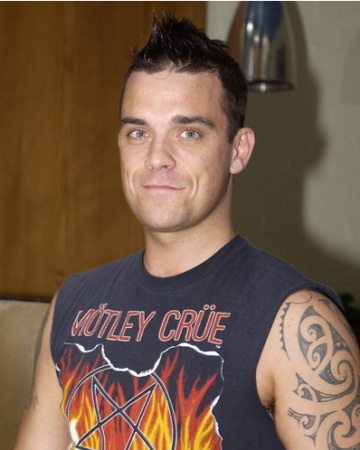 More news from the Robbie Williams Rehab from his ironically-employed drug counselor mother, Jan, in today's UK Sun:
She said: "He's a very public figure and all the media attention at the moment is added pressure on him."
Jan promised to fly out to join him once he has got through the early stages of his recovery.
She added: "I am not going out to visit Robbie yet. Rehab is all about being on your own. But once he gets better I will be over there like a shot."
Not, however like a shot of bourboun or whisky … more like an old shot in the arm of mother love for the poor wee primate posterboy.
Today's coverage has new and scary specifics of how the depression be-deviled monkey boy has danced on the edge of substance abuse- without quite crossing over into the illegal stuff.
The singer finds it impossible to get to sleep until 4 or 5am due to insomnia and is on sleeping pills. He is hooked on the powerful and controversial anti-depressant Seroxat, which has been linked to suicidal tendencies in teenagers.
And daily he gets through an incredible 36 super-strength double espresso coffees, 60 Silk Cut cigarettes and around 20 cans of energy drink Red Bull.
rb Williams seems to have spun out on a very contemporary convergence of old skool Valley of the Dolls, new skool pharmaceuticals and post-rave come down beverages. There is just no rest or safe haven for the rehabbed these days – your Starbucks and corner bodega can join forces to do you in. Still, at least he has avoided the Anthony Kiedis pitfalls of internet sex addiction – opting instead for actual sex with local starlets. Very generous of Mr. Williams as they earn pocket money selling the stories (excellent Robbie Sex – sad Robbie crying) while he's away in the Betty Ford. Well not actually Betty Ford:
Robbie is believed to have checked into the exclusive Meadows clinic in Wickenberg, Arizona. It is the same rehab centre which helped supermodel Kate Moss deal with health problems in the past.
That's got to be the least promising recommendation for a clinic presently available- though it works as a cross promotion for landing a Burberry campaign when he gets out. What's next – The Paris Hilton Promise Keepers – Courtney Love Lamaze Classes – The George Bush Inter-Faith Jamboree?
pic via posternet