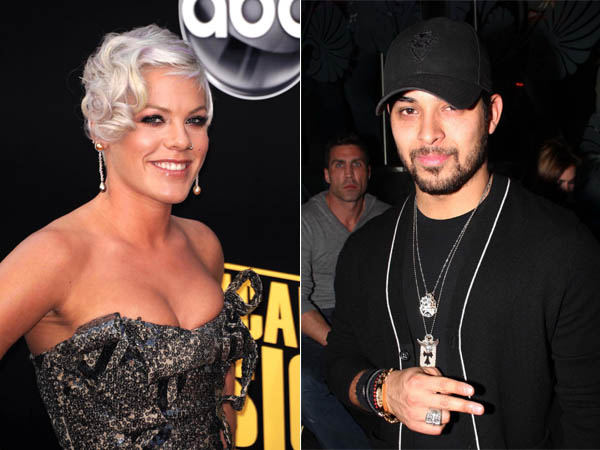 Remember that Wilmer Valderrama guy? He pretty much dropped out of sight after dishing to Howard Stern in early 2006 about his famous ex-lovers. The guy who probably blabbed his way out of a career and a lot of opportunities to get laid may have found another willing date. Unlike his previous conquests, his latest isn't likely to care if he talks smack about her. Wilmer Valderamma has hooked up with brash singer Pink, according to the National Enquirer:
[Pink], 29, bumped in 28-year-old at an Ultimate Fighting event at the MGM Grand on Dec. 27 – and that led to an even later night at the Sin City hotspot LAX…

At LAX… they [were] seated into a VIP table onstage and tossed back shots of Patron tequila followed by drinking Duckhorn Merlot.

"Pink and Wilmer were definitely feeling no pain, and they got very touchy-feely," according to an eyewitness.

The two – both notorious partiers – seem to be a natural match.
[From The National Enquirer, print edition, January 19, 2008]
Maybe it led to more for these two, or maybe they just got wasted together and left it at that. Usually that type of encounter leads to a regrettable night in a hotel room and a wicked hangover. Pink is pretty unapologetic about her love of partying and isn't like to take it to heart if that happened and Valderamma was just out for a good time. You can't imagine that anyone would consider that guy boyfriend material at this point anyway.
Valderrama is the voice of popular children's cartoon "Handy Manny" on the Disney channel and has an upcoming role in the ChiPs movie as Ponch. His involvement does not bode well for the big screen version of the popular 70s television show.