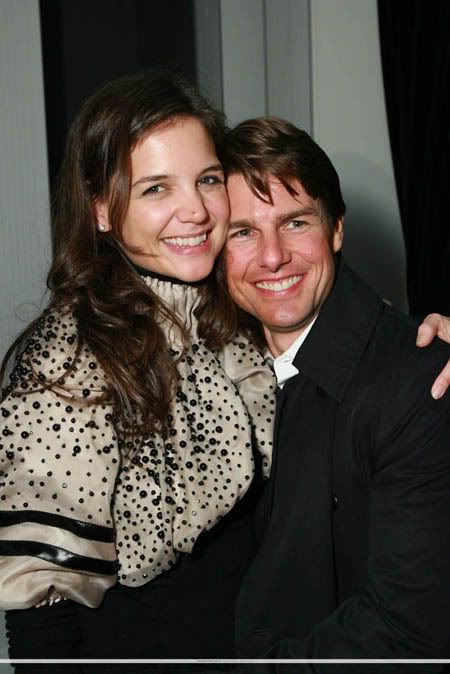 Tom and Katie sure looked happy at Jada Pinkett Smith's party on 2/9, but recent tabloids have them fighting over various issues related to Katie's newfound independence.
Last week we reported that In Touch was calling her a nag, and the February 12 issue of Star claims that Tom is livid over the fact that Katie wants to take baby Suri on a three month film shoot with her.
They also claim Tom wants another baby right away, but that Katie is putting him off in favor of trying to get her career back on track. Tom is even trying to control Katie's career and is rejecting potential roles for her, but Katie isn't having that:
Sources say Katie, 28, is coming out of her shell and asserting herself. And after more than a year on hiatus, she's even returning to work, having just joined Diane Keaton and Queen Latifah in signing up for the crime caper Mad Money, which starts filming in Shreveport, LA, this spring. Naturally, she wants to bring Suri with her, but Tom has other ideas. "Tom is very angry about that," says the source. Why? [Tom] will be busy running a movie studio, United Artists, back in L.A. and can't afford to spend much time in Louisiana…

"He's going to make sure Katie has a security force and Scientology minders with her," says the source. "He'll visit Louisiana some, but when he's not there he's going to be sure he has eyes and ears listening in for him!" (The couple's rep denies this story.

Where Suri will be living this spring isn't the only issue the couple is fighting over. For the last few months, Katie's been reading scripts, but, says another insider, "Tom rejected everything! They were either not good enough or not hit-movie matieral."
[From Star magazine print edition, February 12, 2007]
This could be true that Tom and Katie are fighting over her career and where Suri will stay, but they seem to be keeping up appearances well as usual. If Katie is breaking out of her brainwashed shell, there are bound to be some problems between them.
One thing Tom is no longer in control of is his young bride's height. CityRag points out that Katie no longer appears shorter than Tom like in their wedding pictures, and seems to be wearing heels in these latest candids.
Thanks to KatieHolmes.com for these pics and Sammie's Effluvia for the story.