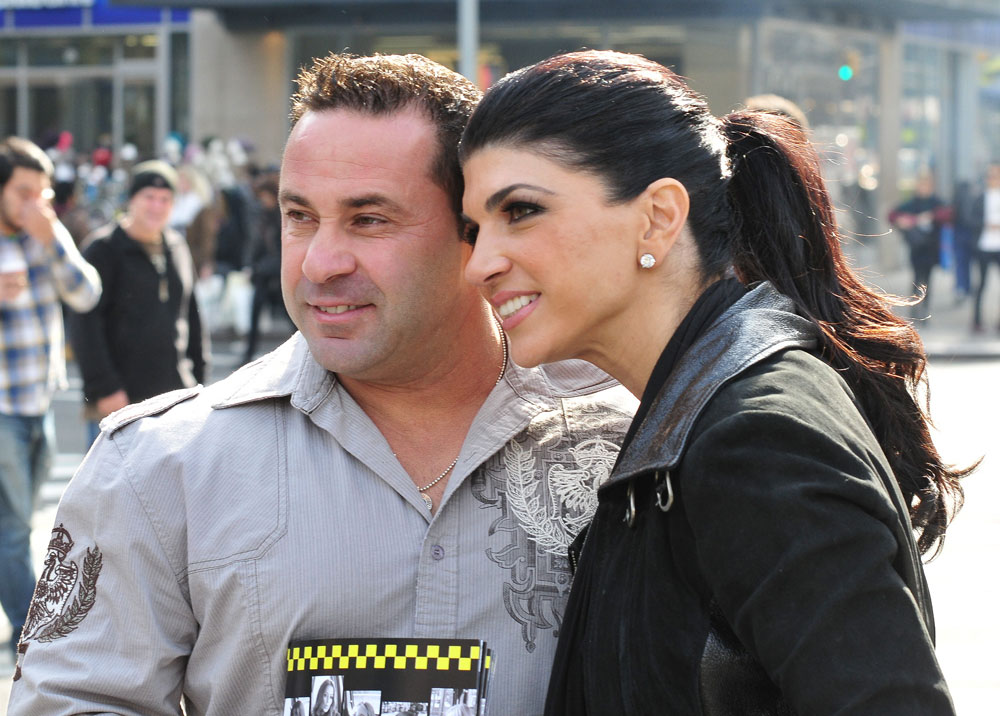 This is just a pipe dream from a mafioso reality show husband from Real Housewives of New Jersey, but it's still rather mock-worthy. You know how Teresa Giudice's shady husband Joe, the cheater, drunk-driver and identity stealer, is pretty close to being sent to prison? He has to have his trial still, but rumor has it that there's plenty of evidence against him. I mean he obtained a driver's license under his brother's name after his got suspended for drunk driving. He's pretty much cooked. (Especially since he lives on the East Coast instead of California.) Well Joe thinks he can have his own reality show from prison so that he can be famous in his own right, and not just because of his combative, delusional, trashy wife. (There are so many more adjectives I can use for Teresa.) The thing is, there are allegedly producers interested and they think they can convince the New Jersey prison system to let them film there.
Sources say Joe Giudice, who could be tossed in the slammer for more than 10 years, is scrambling to set up a reality show behind bars.

"The show would focus on Joe's day-to-day life in prison," said a pal.

"It would follow him as he comes to grips with being stripped of his freedom and interacting with other inmates."

The beleaguered businessman's legal woes date back to December 2011, when a grand jury in Passaic County, NJ, handed down a two-count indictment against him for allegedly obtaining a fraudulent driver's license using his brother's name.

Giudice, 42, faces 10 years behind bars for the first count – wrongfully using identifying information of another person. The second count, impersonation, is punishable by up to 18 months. His trial is set to start July 15, and prosecutors are confident Giudice will be convicted…

"Joe has already spoken to producers who've said they believe they could work out an arrangement to film at a New Jersey state prison," said another source.

"Joe wants the show to be a 'Housewives' spinoff on Bravo so he could include scenes of Teresa and maybe even other cast members visiting him. Filming would also make doing his time a little easier. It would break up the daily routine and give him something to look forward to."

The father of four has apparently already started outlining possible plotlines for his proposed "Joe-in-the-joint" series.

"He's got a cafeteria scene, a visitors' room scene plus scenes from the exercise yard and in his cell," said the source. "Joe envisions himself sitting around with his posse and dispensing advice like the godfather. And if Joe is convicted, he wants to fire his lawyer in the opening scene."
[From The National Enquirer, print edition, June 24, 2013]
HA! Joe thinks he's going to be like the Godfather in prison, when in reality he's going to have to kiss someone else's ass on the daily. I would say that there's no way they can get permission to film in prison, but MSNBC does have that show "Lockup" and I've seen prison documentaries on Current.Tv. Plus Spike.TV has a show called "Jail." I'm not familiar with "Lockup" or "Jail" but I would imagine that they're realism-type shows and don't involve invented plot lines. (You know they do that with Real Housewives.)
No one wants to see Joe in prison but I wouldn't be surprised if this got made somehow. There are all sorts of bizarre reality shows, and some of them are much more entertaining than you would expect. People would love to see Joe get his ass kicked that's for sure. Maybe he's so scared about it that he hopes some cameras will offer him protection from the gangs and beat-downs. It's not going to happen.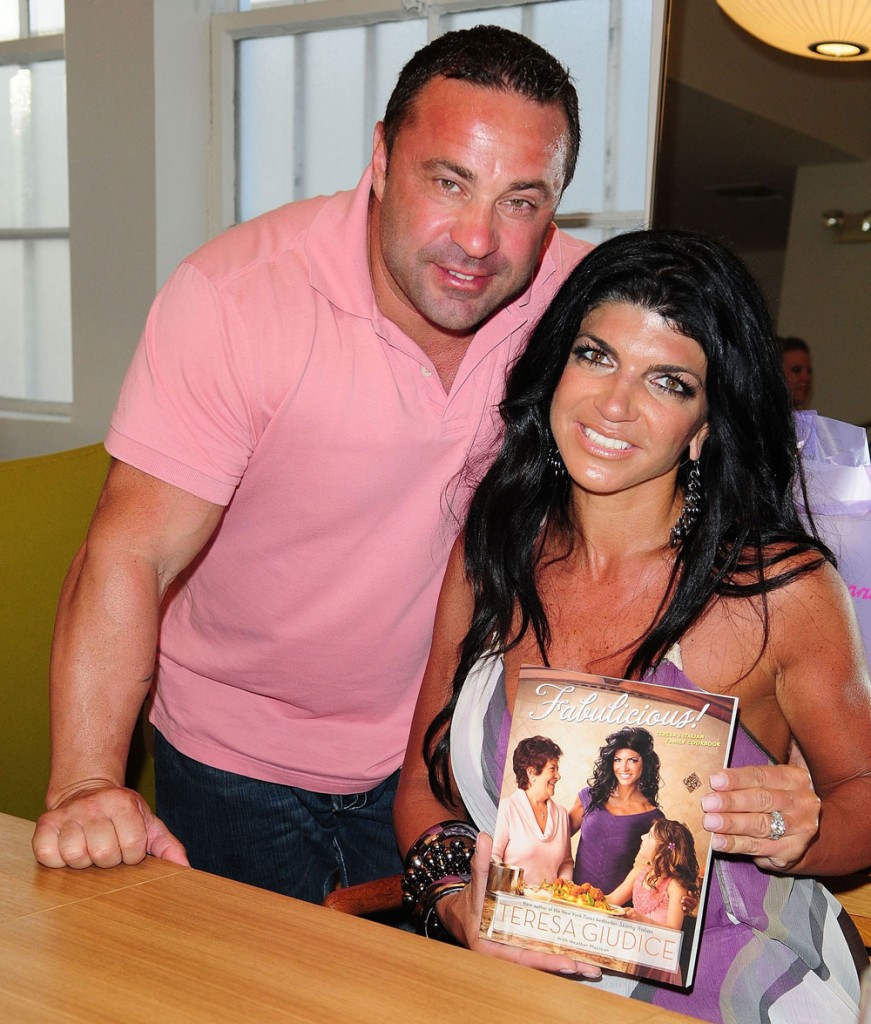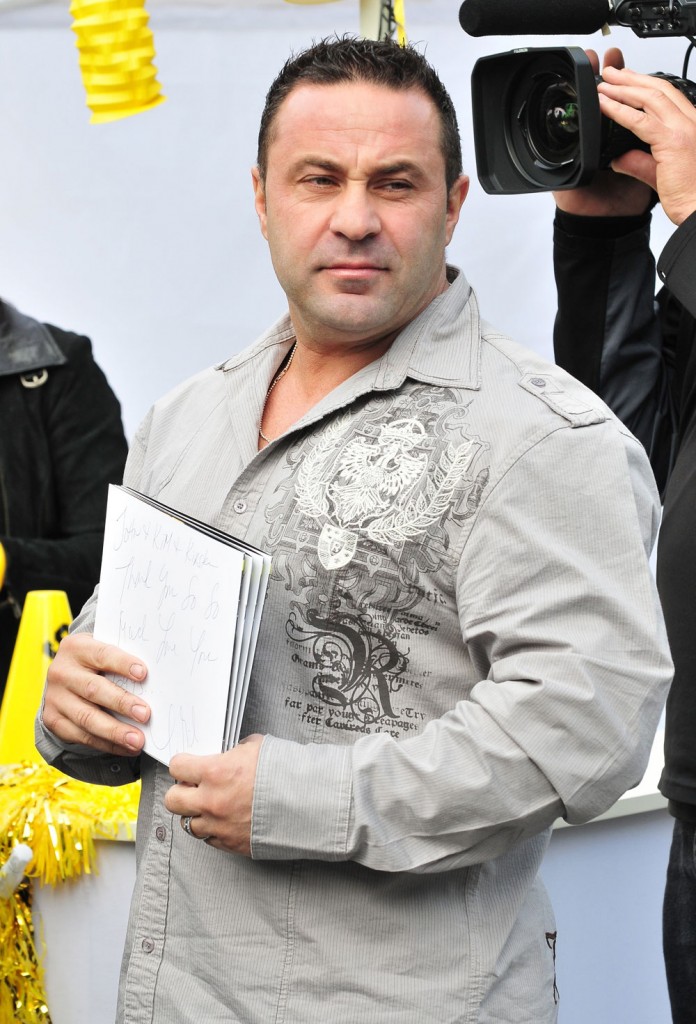 Joe and Teresa are shown in 2011. Credit: WENN.com