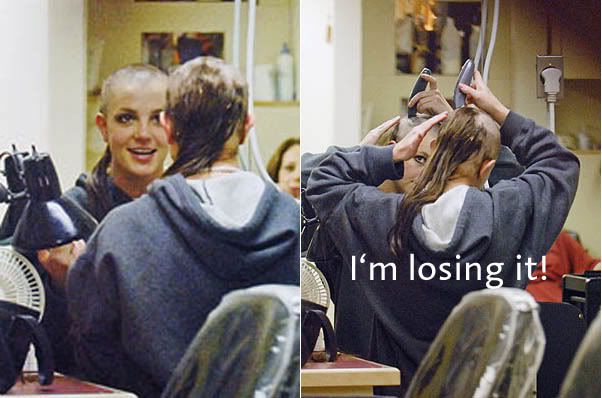 There's a rumor going around that Britney was raped "at a club," which prompted her to shave her head. Commentors on aggregate news site Oh No They Didn't are gossiping about it.
There are several reasons for this story:
1. Someone reported on Oh No They Didn't that their "uncle" works at Cedars Sinai Medical Center and that Britney was checked out at the emergency room there and released. They spelled Center the British way, though, with the r before the e, like Centre. If their uncle worked there, don't you think they'd spell it the US way, and if they made a genuine typo wouldn't it be less like an alternate spelling? I know I don't spell stuff the British way by mistake. (It's possible that the reporting person who made the post and wrote out Centre is British, because they say that the information is from this other user, and that the reporting person, not the source, is the one who spelled Centre that way.)
The person who this information is from has no personal details on LiveJournal and is only a member of two groups.
My uncle is a nurse at CSMC and texted me 10 minutes ago saying Britney Spears was admitted about an hour ago. He's going to text me when he finds out why and any more information. I'm scared! I don't know what's going on with her.

I don't have many details. My uncle called and said she just left. He didn't see her or deal with her, one of his friend co-workers was around her for a minute. Somebody she was with brought her there and admitted her. His friend said she acted like she wasn't "there" and seemed disturbed. Because it's confidental, he doesn't know what she was admitted for or what she saw the doctor about, but because she's already gone home, that usually means nothing major. Oh, almost forgot, she was WEARING A DARK COLORED WIG. I'm so freaked out. I just want her to be normal and cute again like pre-Slave 4 U.
2. Britney told the tattoo artists that she shaved her head because "I don't want anyone touching me. I'm tired of everybody touching me." To me that just meant she's tired of getting her extensions done every few days, but people are jumping to the conclusion that it's a sign she was raped.
3. Britney's manager Larry Rudolph has made a statement about her shaving her head, saying she went through a "tragic thing" and that this was cathartic for her, and people are jumping to conclusions:
"Britney has been through a tragic thing that hopefully will never happen again, shaving her hair was a sort of therapeutic thing for her."

Larry also goes on to speak about Britney seeking help "Britney knows that she needs help and is already going through counselling, she knows what needs to be done and is slowly re-building herself step by step."
4. Something made Britney leave Miami in a big hurry. She originally planned to spend a full week at the Four Seasons resort there with her kids, but left after just a few days. A source told Us Weekly that "something happened" that made her want to hightail it out of there. Now, I think one of her kids could have been sick again or something. Jayden is said to have breathing problems. Maybe she just got sick of it there, but people are jumping to conclusions and filling in the blank about what that "something" could be.
---
The general consensus is that this is pure conjecture and is not true at all. It is assumed that Britney has bodyguards with her at all times, and that some other "tragic thing" prompted her head shave freak out.
Britney's aunt died of breast cancer on January 21st at the age of 59. It's likely that this is the "tragic thing" that Rudolf is referring to. Shaving her head may have been a way to show solidarity and honor her aunt, who may have lost her hair to the disease before she passed. Or maybe Britney was just sick of the media attention and her ratty extensions and was coked out of her brain.
The video of Britney being accosted by an x17 paparrazo has her saying "Because of you" when asked why she shaved her head, perhaps meaning that she hates the constant media scrutiny into her every move.
And the tattoo parlor employee where Britney got two tattoos later that day said that Britney explained that she went bald because she was "sick of it all"
She basically just said that she was tired of having things plugged into it and she didn't want anyone touching her, tired of people touching her, sick of it all, whatever it all is… She seemed very distraught and disturbed, she was very scatterbrained and wasn't really answering many questions… She was very upset… she really wanted to be left alone.
[Thanks to Celebrity Baby Blog for that transcript of the video below]
It just looks like Britney is losing it – her hair and her sanity, and I doubt this rape rumor is true. Why can't she fly to a nice island somewhere and relax? Oh wait, she tried that. I do hope she gets better and that she's able to accept help. She's certainly crying out for it.
Pictures from People and illustration from Gallery of the Absurd.