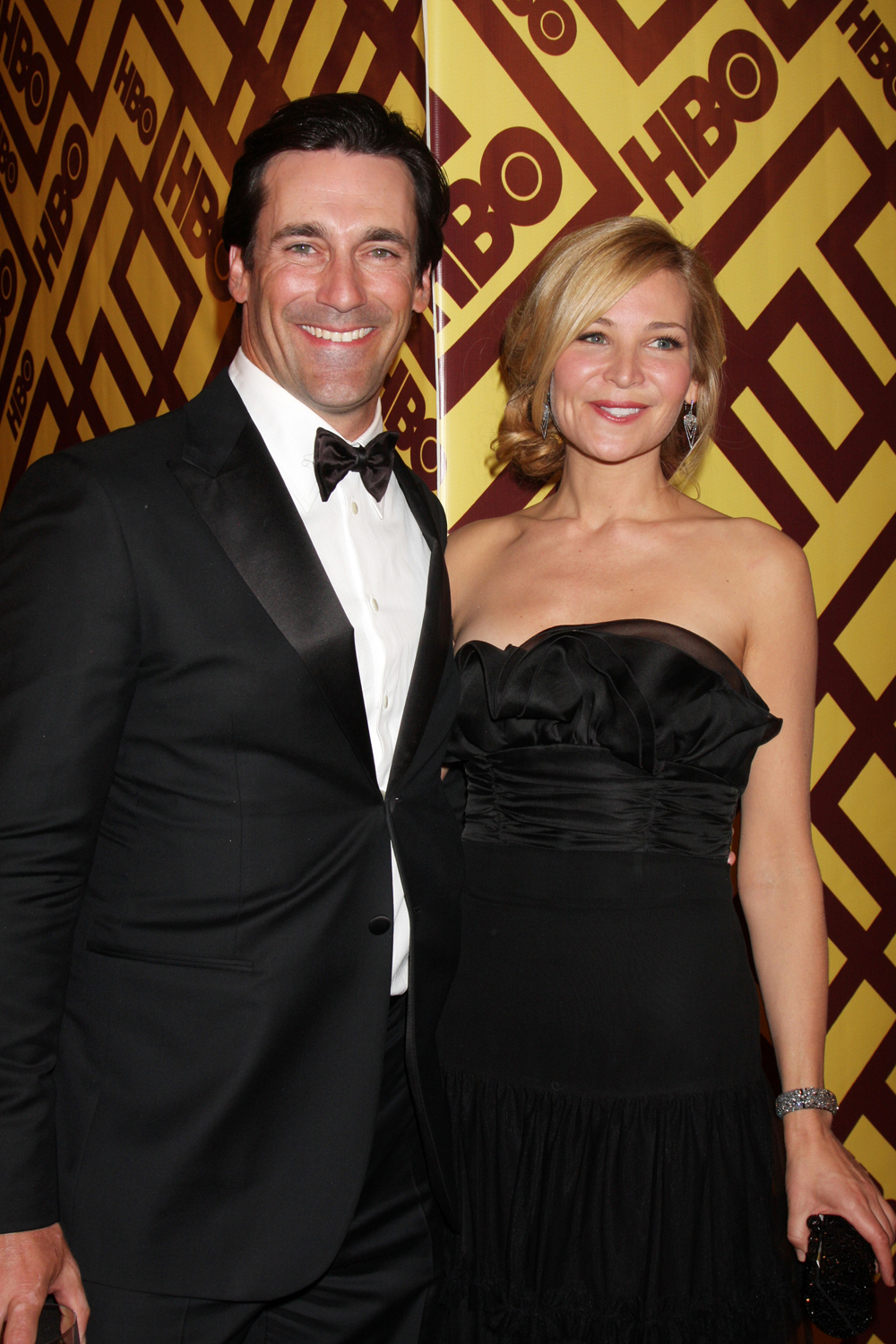 This news makes my life. Apparently Mad Men's lead actor (and total mind-blowing hottie) Jon Hamm got thoroughly drunk last night at the post-awards show parties. Not only did he get hammered, he talked to reporters! This is a true sign that Jon Hamm keeps it real – if he was some massive celebrity, he would have flunkies keeping his drunk ass away from the journalists. In his defense, Mad Men won Best Drama Series last night, which it totally deserved.
Two years ago, several Golden Globe Awards after-parties raged at once at the Beverly Hilton Hotel, with movie and television stars co-mingling, braving the chilly night air and sometimes waiting in line for hours to get into lavishly decorated bashes.

On Sunday night, a year after the writers' strike shut down the awards show ceremony and its onsite parties, the weather was much warmer and alcohol flowed again throughout a spate of shindigs at the hotel, though fewer than before and not quite so extravagant.

Still, the current economic recession didn't stop post-Globe revelers from indulging in booze, food and the sheer will to make merry.

Clutching a tumbler of whiskey, his hair askew, "Mad Men" actor and nominee Jon Hamm grinned next to his wife, surrounded by cast members at an intimate, exclusive bash for the AMC '60s-themed show, which won a best TV drama trophy for the second year in a row. Retro tunes blasted overhead as guests ate mashed potatoes served in martini glasses. Decorations were minimal.

"To win again is great. We're going to light the lamp. We're going to party until late," said Hamm, a little unsteady on his feet.

Hamm pointed out that even with layoffs within the entertainment industry and beyond, a party could provide an economic boost.

"It employs a lot of people. I was a caterer and waiter for a long time of my life," he said. Hamm's co-star Michael Gladis, sipping on a scotch and soda, said he had been drinking for hours.

"We're good at it. It's all about pacing," he joked, noting the show's characters' penchant for at-work boozing.
[From The Associated Press Hosted by Google]
Haha, it's like Hamm is doing "research" for his constantly drunk character. Did you notice the passive-aggressive tone of co-star Michael Gladis? Like he was thinking, "Jesus, Hamm's drunk again!" I wish Jon would do "research" on the womanizing part of his character. He could start with me!
Here's Jon Hamm and Jennifer Westfeldt arriving at the HBO post Golden Globes party at Circa 55, at the Beverly Hilton Hotel last night. Images thanks to WENN.