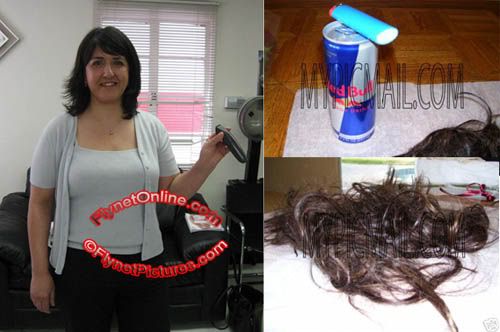 The owner of the Tarzana, California salon where Britney shaved her head comped her on the buzz cut, but hoped to cash in big by selling Britney's leftover hair plus extensions, a 1/4 empty can of Red Bull she drank from and her old lighter on eBay. The auction has been removed, but they did promise the shit was ABSOLUTELY AUTHENTIC!!!! and said you can come pick it up yourself to see. They were overshooting quite a bit by asking for a million plus for the hair, which certainly would go for five figures to Golden Palace or something, but even six is pushing it:
!!!!BRITNEY SPEARS HAIR!!!!
(and extensions)
PLUS Her Redbull and Bic Lighter

You have heard the story on the news… No need to repeat it here.

This is the auction you have been waiting for. I am selling the hair as well as the 3/4 full can of Redbull she was drinking and her blue Bic Lighter. I am selling this on behalf of Esther and her family.

We are offering it for sale here at what we feel is a realistic price. This is a piece of history that can not be duplicated.

THIS IS ABSOLUTELY AUTHENTIC. THIS IS NOT A SCAM. BUYER IS ENCOURAGED TO DO A LOCAL PICK UP IN TARZANA, CALIFORNIA AND MEET WITH ME AND ESTHER. ONCE AGAIN, THIS IS ABSOLUTELY AUTHENTIC AND THIS IS THE ONLY REAL LISTING. I THINK THE PICTURES SAY IT ALL.

Payment is to be made by cash, money order or cashiers check ONLY. NO PAYPAL.

Due to the unique nature and high value of these items, buyer is to be responsible for any shipping arrangements. Local pick up is highly encouraged
You think she could throw in the clippers too if she was asking over a million.
Although there's no mention of it in the now-defunct auction listing, an earlier story had salon owner Esther Tognozzi saying she'd donate an unspecified "portion" of the proceeds to the Britney Spears Foundation, which strives to use entertainment to make a difference in children's lives.
Other than that "tragic thing" her producer mentioned, Britney may have had a more practical reason to shave her head. Word is that she was already well on her way to going bald naturally and had several bald patches on her scalp from repeated peroxide treatments. It's not surprising considering how often she changed her hair color.
Salon owner Tognozzi said that after Britney buzzed her head she said "My mom is going to freak." She also says she asked Britney if this was a new beginning for her, and she answered "something like that."
While there are no current auction listings by the seller, presumed to be Tognozzi, they have changed their eBay id from cornorstore to buybritneyshair suggesting they might sell it off lock by lock for maximum profitability. Do you want some?
Pictures from eBay listing and Flynetonline.