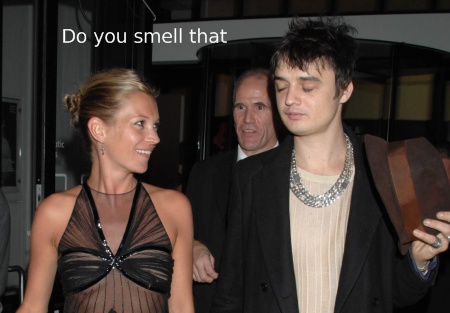 Putting the Cooties back into their brand name – Coty announced that part time model and full time Pete Doherty-enabler Kate Moss will be joining up with them to put out her own line of signature fragrances.
According to Coty, the first fragrance for Moss will capture her unique style and deepen her universal appeal. "As a one-of-a-kind modern beauty icon, Kate Moss carries clout and credibility among photographers, fashion designers and the beauty industry. This has made her a leading beauty face of the new millennium, said Bernd Beetz, CEO, Coty Inc. "There is no one better to embody a new fragrance than Kate, who epitomizes the look and feel of today's fashionistas. We are very excited about this fragrance collaboration and look forward to a long and fruitful partnership."
via Oh No They Didnt
Poor Bernd Beetz …named after an overcooked winter vegetable and also unable to recognize the difference between the last millennium and this one. Clout and credibility are clearly the new fading charm and unconvincing saleability.
It turns out deluded views of reality and a complete inability to sense which way the wind is blowing make Coty McCooties Inc. and Burnt Parsnips the perfect match for ol' Mossy:
"For me, Coty is the ideal partner to create my own scent," commented Moss. "I've been delighted to work with Coty over the years and am pleased to collaborate with them on my first fragrance."

The yet-to-be named fragrance is set for launch in autumn 2007 throughout Europe, the Middle East and Australia with subsequent plans to extend to the United States, Canada and Latin America. The line will include eau de toilette, eau de perfume and ancillary products.
The anticipation fairly burns as the imagination fairly boggles:
A grotty fragrance that opens with fresh and mouth-watering notes of dirty weekend dishes, hypodermics and unwashed hair. The very Mossy heart note is composed of flip flops, ferret teeth and bad judgement, followed with a woody and sweet end note of shambles, babies and libertines.
Suggestions for the Fragrance's name should keep the Internet busy for days.