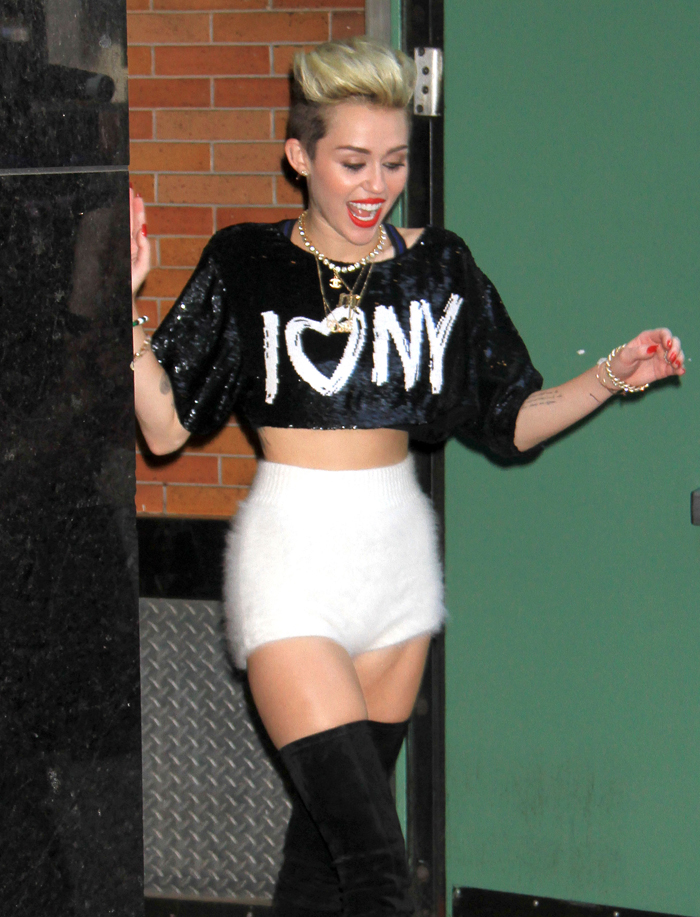 These are photos of Miley Cyrus as she prepares to perform for "Good Morning America" in Times Square yesterday. Miley totally got down by twerking while wearing a fuzzy diaper, and I'm sure that the television audience at home was all like, "Wha…t?" Make no mistake though — while we are all giggling at Miley with her stellar legs and cringeworthy new video for "We Can't Stop," Miley is toking the last toke with a new VEVO viewing record. Yes, Miley scored 10.7 million views in 24 hours, which means that she's surpassed the previous record held by Justin Bieber for 10.6 views for "Beauty and The Beat."
So what does this mean? Miley is succeeding through her new sexy image. Yes, those of us who have witnessed her crooning "Lilac Wine" or "Jolene" will probably never see the wish of a Miley-recorded country album come to fruition. How did this happen? Well, I've been thinking about this (really), and the only explanation I can come with is that Miley signed with Larry Rudolph (Britney Spears' manager) about three months ago. Rudolph is a freaking PR genius and not only masterminded Britney's original entrance onto the pop music scene in 1999, but he also engineered her post-KFed comeback in 2008. In other words, Miley will likely secure mega sales for her upcoming album, and here's what she had to say to the haters who made fun of her weird-ass video: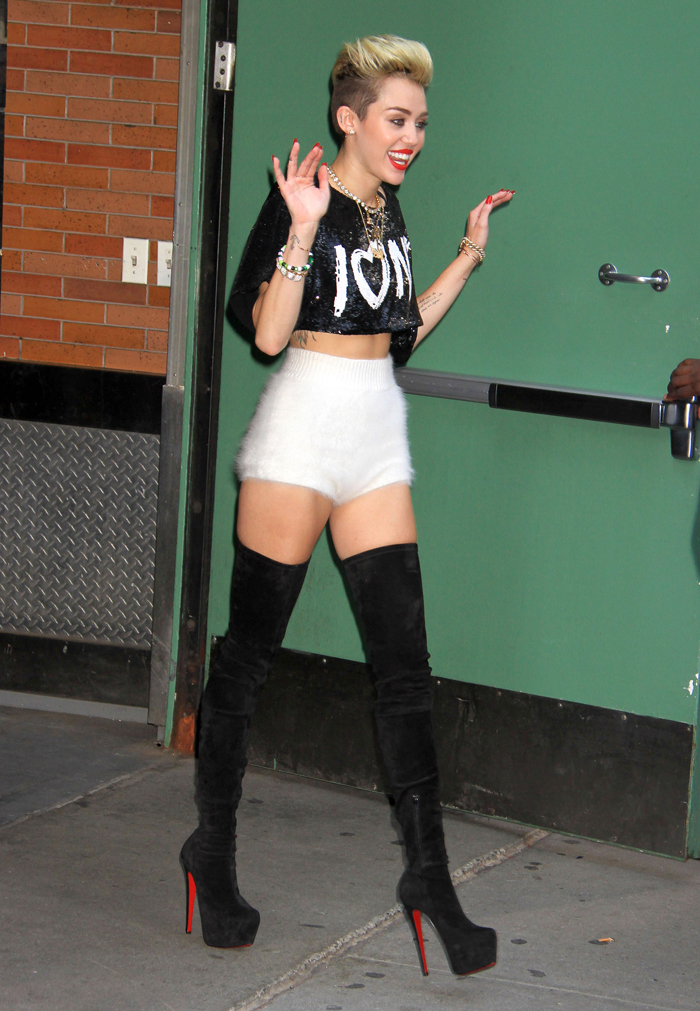 On beating Justin Bieber's VEVO record: "I've got a really bomb fan base, the Smilers. They're the ones that are getting [my 'We Can't Stop' music video] to be at 33 million views. Haters are going to hate, but haters are also going to click on your YouTube video to watch it, so I don't really care. You helped me break the record. And if you were watching just to hate on me, now I hold the record, so I win."

Is she still engaged to Liam? "I'm wearing a ring, so…"
[From GMA]
I like how Miley never actually comes out and says whether or not she and Liam are engaged. She just lets the ellipses do the talking, which is probably a very smart PR move as well. Here's her aforementioned "GMA" performance in case you're curious:
In addition, Miley also stopped by (in a pantsless state) Jimmy Kimmel to talk about her friendship with Snoop Dogg, with whom she recorded "Ashtrays and Heartbreaks." Miley says they basically bonded over their mutual love of pot: "We're more alike than you think … we're very similar. That's because he's so high he doesn't know what his name is. Me too, so it's fine! We both are. That's why we get along so well, I guess." Video of Miley's Kimmel appearance can be found here and there. Miley has definitely won the PR war for now.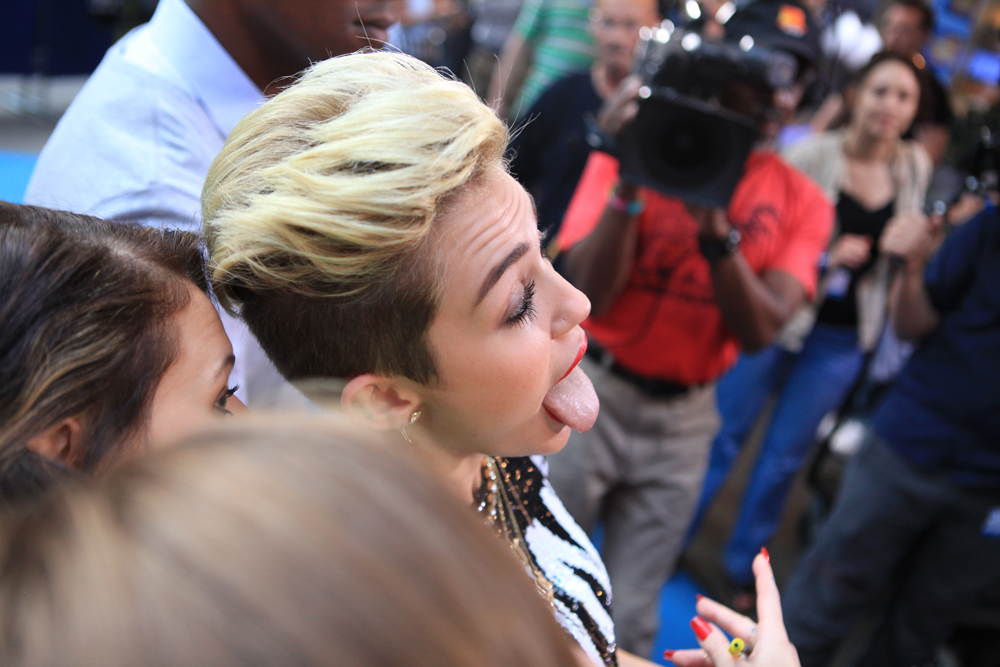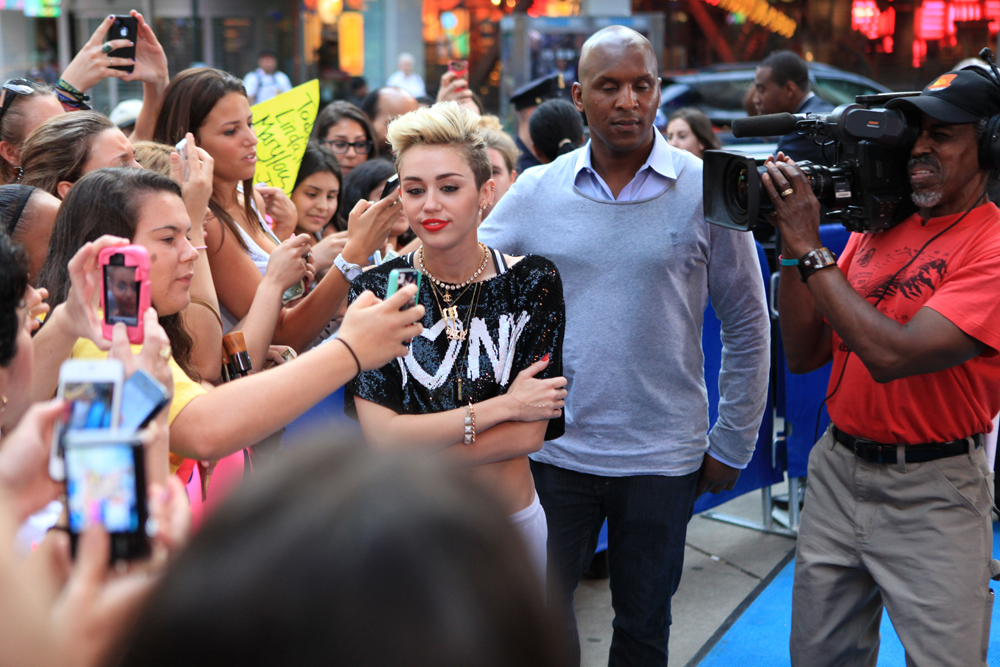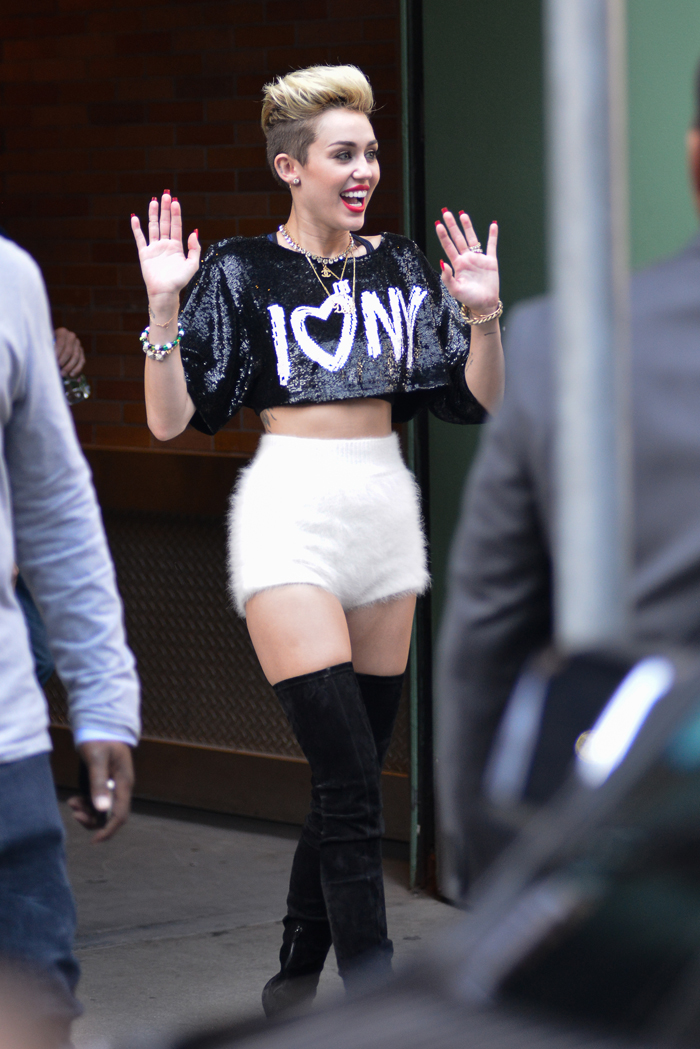 Photos courtesy of Fame/Flynet and WENN