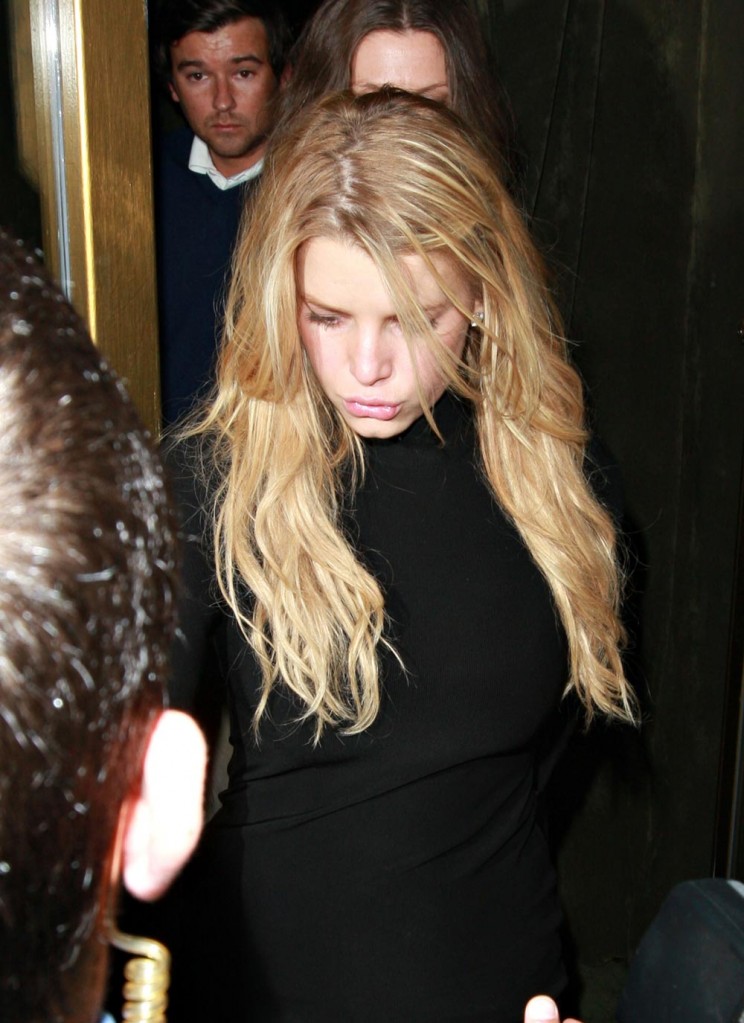 This could be completely fabricated as it originates in Star Magazine, but supposedly Jessica Simpson only washes her hair two to three times a month on the advice of her BFF hairdresser, Ken Paves. Most of Simpson's hair is fake, but the part that isn't is said to get rank:
Jessica Simpson keeps her blonde locks looking gorgeous by listening to her mane man, celebrity stylist Ken Paves. So when Ken – who also works with Eva Longoria Parker and Jennifer Lopez – told her to shampoo only two to three times a month, she took his advice. Unfortunately, though, it has gotten the singer into some hair situations. "Jess' tresses are often greasy, but she hides it well, an insider tells Star. "She wears hats or reaches for the Hairdo, the clip-on extension line she created with Ken." And if her hair starts to smell a bit funky, adds the insider, she just spritzes it with perfume – from her own line, of course!
[From Star Magazine, print edition, January 19, 2008]
The NY Times had an article about a year ago covering a supposedly new trend to just get a professional wash and blow out once a week and to not wash your hair until the next salon appointment. Blue-haired old ladies aren't the only ones taking advantage of the convenience of letting someone else do their hair and not bothering with it the rest of the week. Clients use powders and perfumes to keep their hair fresh in between appointments and say that the hair adjusts, producing less oils and suffering less damage from chemicals and processing. Shampoo is just unnecessary, they claim, as it strips the natural oils that we try to put in again with artificial conditioners. It sounds strange, but shampoo is a modern invention and maybe we don't really need it at all.
I once spent about six months washing my hair every other day on the advice of my hairdresser. I eventually got tired of how it looked on the off days and ended up going back to washing and styling it every day. It saved me some time and I can still go a day without washing my hair, but I have to do anything special I prefer to wash it.
It may be cultural to wash your hair so much and who are we to judge? Simpson's hair usually looks ok if a little messy. If these details about her grooming habits are true, she's not as extreme as some people. This British woman claims not to have washed her hair in 11 years.
[Thanks to the Huffington Post for covering the hair washing story last year]
Jessica Simpson is shown on a night out with her sister, Ashlee, on 1/8/09. Credit: Fame. She is shown out at Bar Deluxe on 1/9/09. Credit: Splash News