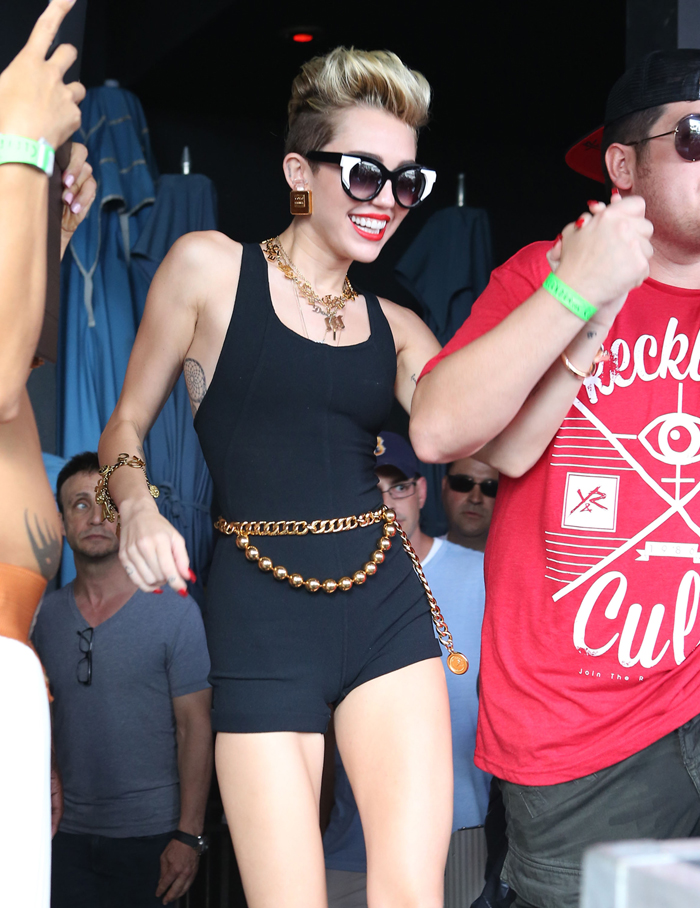 I figured this post was a good excuse to use some of the Miley Cyrus photos that we missed over the past week or so. These pictures show Miley in Miami (where she attended the iHeartRadio festival) at Mackapoolooza on Friday, 6/29. First of all, those legs are flawless. Secondly, Miley has been wearing a lot of solid black and/or white lately, hasn't she? I'm sure there's a hidden message somewhere, but it shall remain a mystery. Miss Miley was also spotted getting down at the Cameo club on both Friday and Saturday evenings last weekend, and she was said to have enjoyed "playfully slapping the derrieres" of several go-go dancers in the club's employ. I guess Liam is alright with this sort of thing, and speaking of the youngest Hemsworth, Miley is currently vacationing in the Bahamas without her so-called fiancé. Strange?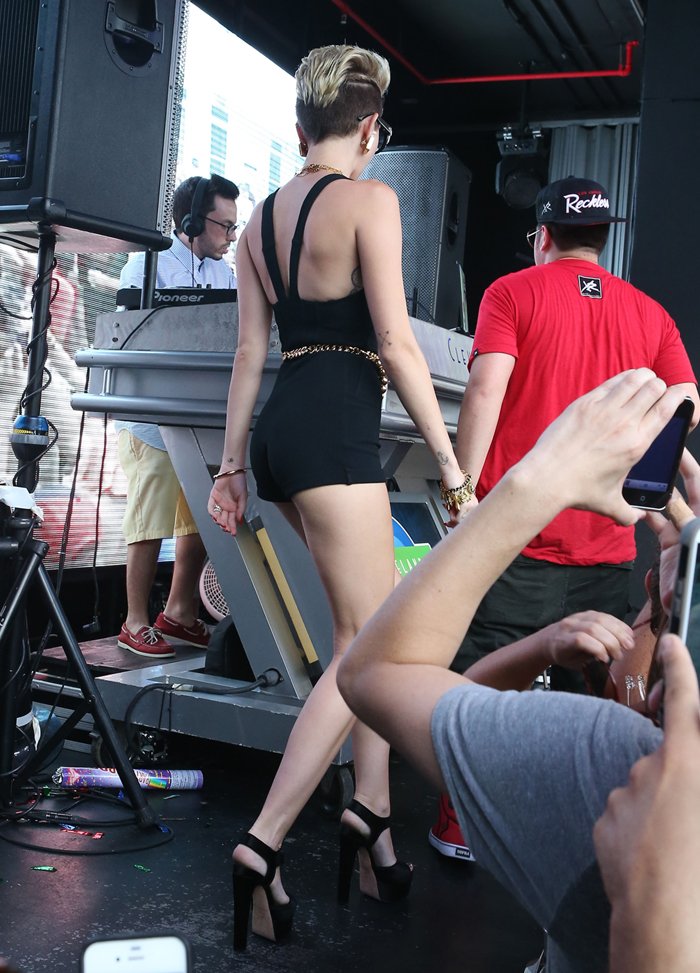 Miley Cyrus is still wearing her engagement ring, but increasingly, her protestations that things are just peachy with Liam Hemsworth don't quite have the ring of truth. After partying in Miami at the iHeartRadio Music Festival, she jetted off for a vacation in the Bahamas, while her boyfriend was thousands of miles away in Canada.

Twitter user Brittainy Trevathan snagged a pic with Miley at the Hope Town Harbour Lodge in Hope Town, on the Abaco Islands in the northern Bahamas, on Saturday, June 30. Rerportedly vacationing with "a guy named Stephen and a girl," Miley looked low-key in a baggy sweatshirt and no makeup. Other twitter users confirmed that she'd rented a cottage in the picturesque village hotel, but she seemed to be looking for relaxation after her recent jet setting, staying mostly on the property.
[From Radar Online]
Hmm. I honestly don't know what's going on with Miley and Liam, and if they weren't spotted looking rather glum on a date together a few weeks ago, I'd think they were completely over. But I guess they might be giving a shot, in which case, Miley's solo vacation doesn't look good. While it is true that Liam is currently in Edmonton, Canada filming Cut Bank, it still looks odd that his betrothed is partying it up without him in attendance. As far as we know, they spend little to no time together, and they're only still "engaged." Just think of how bad they'd be as a couple if they actually got married. Does that sound cynical or merely realistic of me to say? I just worry about Miley.
Here are some photos of Miley in NYC last week while sporting … country-gangsta chic.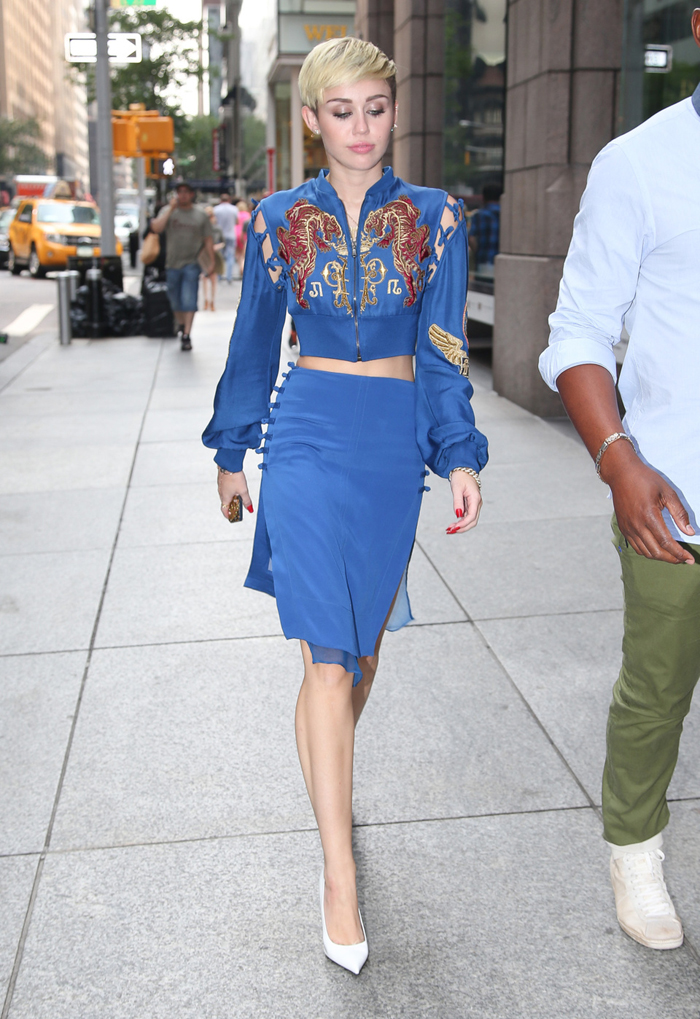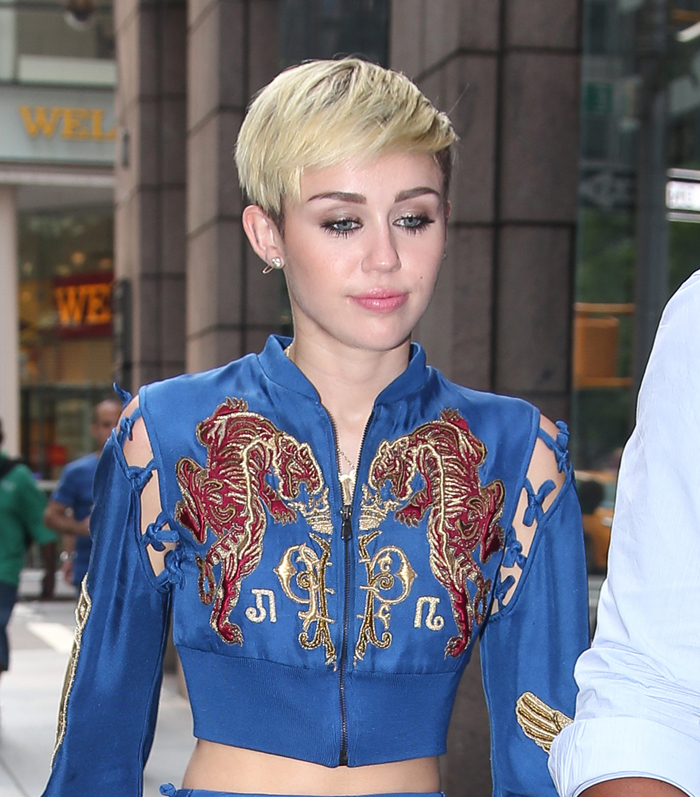 Photos courtesy of Fame/Flynet and Pacific Coast News