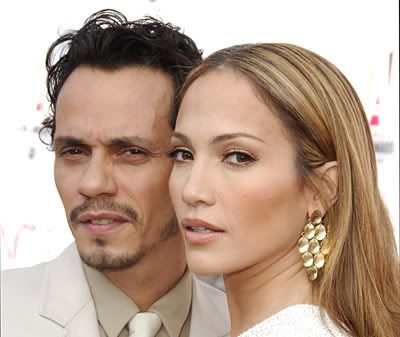 Perhaps Jennifer Lopez has stayed with Marc Anthony for so long because she looks so damn good standing next to him. Hell anyone would look good standing next to this man. If she's having trouble getting pregnant, it's probably due to Marc, since he's so obviously deficient of key nutrients. Maybe he has an intestinal disorder which would explain his foul mood and undernurished appearance.
Lest Angelika accuse us of poor research, Lopez and Anthony attended yesterday's NCLA ALMA awards, which honor "outstanding Latino artistic achievement in television, film, and music and the enhancement of the Latino image in the entertainment industry." The ALMA awards were hosted by Eva Longoria and will be aired Monday night June 5th at 9:30 EST on ABC. They must be right after David Blaine's dumb special.
Anthony was honored for excellence in music:
Among the night's highlights was a presentation of the CELIA CRUZ Award for Excellence in Music to the internationally renowned singer MARC ANTHONY. As he was accepting the award, the singer gave his famous wife JENNIFER LOPEZ, who was there supporting her hubby, a romantic shout out.
Our friends at yeeeah point out that Lopez has grey hair, but I'm younger than her and have that problem a few days a month, too, so I shouldn't mock. I also have much less access to professional stylists, so she's fair game: dye your roots, Jen.
Here are J.Lo and Marc Anthony looking serene and scary.