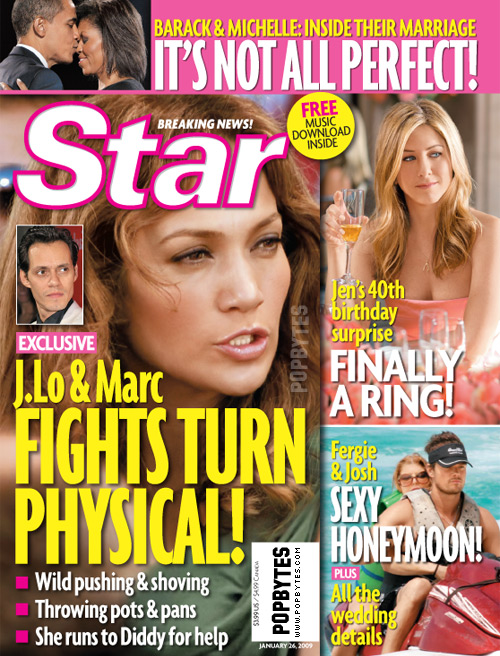 So the drumbeat of divorce just keeps on banging away for Jennifer Lopez and Marc Anthony. Star magazine's cover story this week is all about their impending divorce – and how J.Lo is running back to P.Diddy! According to Star's sources, Marc Anthony has something of a nasty temper, and he's verbally abusive to Jennifer. He says derogatory things about her post-pregnancy body, and Jennifer has had enough. There's also pushing and shoving, and other women calling the house asking for him.
Screaming. Pushing and shoving. Throwing things. Jennifer Lopez's marriage to Marc Anthony is exploding — and she's run back to Diddy for help!

In the Jan. 26 issue of Star — on newsstands now! — we report that after months of fighting the couple's fiery marital brawls have escalated to a whole new level. Sources close to the couple say that the twosome's emotional war of words has now crossed the line and become physical.

"They love hard; they fight hard — and sometimes that has led to pushing and shoving," reveals an insider close to Marc. "They throw things and scream and just go bananas. It's been war in their house!" And while Jennifer is known to let loose on him, another source says Marc "can be really mean. He's a macho guy with a horrible temper and can say awful things."

What triggers these blowups? A number of things — from various women calling their home to speak with Marc to his comments about Jennifer's "chubby" post-baby body. And it's not all him, another source insists the physicality of their relationship is just Jen's way of getting her husband to pay attention to her.
From Star Magazine
Could this be a strategically-placed story by Jennifer's people to make Anthony look like the villain? Because all of the juicy gossip I've heard about their marriage is that Jennifer is tired of being a wife/mother, and wants to get back to her super-stardom. It does seem like all of Star's "sources" are pro-Jennifer, doesn't it?
But suspend disbelief for a moment. I wonder if there's any truth to any of it. I could buy that Marc Anthony has a nasty temper, and that he's very macho. To be fair, I bet Jennifer has a nasty temper too. But when it gets to the abuse – the verbal abuse, the pushing and shoving, you just don't know whether to take it seriously. I truly hope that this is all just tabloid crap.
Header image thanks to popbytes. Other images from Sunday's Golden Globes from WENN