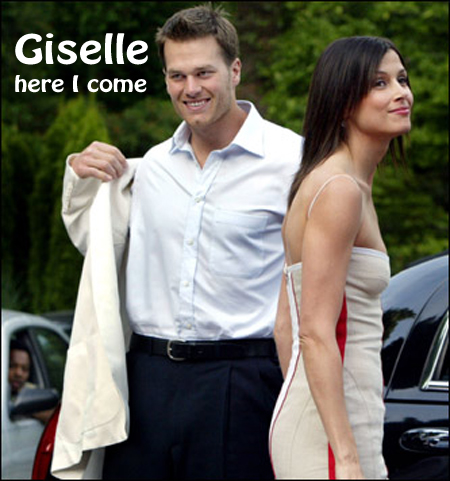 Its The Story of a Man Named Brady Who was Busy with a Bundchen of his Own.
But as Tommy Brady is learning … it's best to be off with the old before you are on with the new ….and if you going to Go Long Mr. Football … you better go longer than Bridget Moynahan's last period. Can I get an Amen!
IT'S getting nasty between New England Patriots quarter back Tom Brady and his pregnant ex, "Six Degrees" actress Bridget Moynahan. Pals of Brady claim Moyna han didn't bother to tell him she was announcing her pregnancy via Liz Smith's column in The Post on Sunday. "Bridget didn't even bother to tell him she was going to go public with this," said a friend. Some say that Moynahan, three months expectant with her first child, "may have gotten pregnant on purpose. She is 36, wanted a baby, and Tom was dumping her. It's a little suspicious."
There's a little too much Frat House flavor to those comments for comfort – a the tail end of a three year relationship a baby is time for a serious conversation, not teenage she tricked me lines. The suspicion is that Brady is flying a little too high on Air Giselle to be bothered stepping up properly … and there's a little tarnish on Boston's golden boy already … treating a nice Irish girl so shabbily.
Biddy Moynahan's camp makes a much stronger case:
But a friend of Moynahan said, "Please. They dated for three years and they broke up in December – right around the time he found out she was pregnant and he immediately started dating Gisele Bundchen. Who's the gross one here?"
Exactly … the pregnancy breakup is no one's winning move.
A rep for Moynahan said, "We got calls [about the pregnancy] and confirmed them, but he did get a heads-up." Brady is meanwhile in Paris with Bundchen , who will walk in the Dolce & Gabbana show in Milan next week. According to Brazilian gossip Anderson Antunes of Web site Glamurama, Bundchen has gained 14 pounds to weigh enough to be able to walk in the show.
Wow — every girl around Mr. Brady starts packing on the pounds.