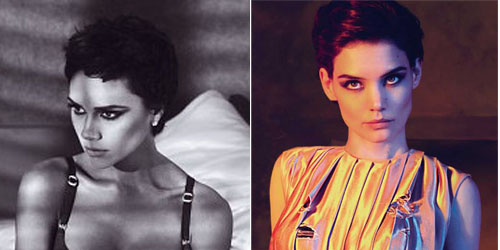 Victoria Beckham is now posing in an underwear ad for Armani, just like her athletic other half. Posh's ads are black and white and meant to be evocative. She wears smoky Cleopatra-style eyemakeup, her hair her trademark pixie style. Holy Moly points out that Katie Holmes' new ad campaign for Miu Miu is now out and that Holmes' look and styling in the ad is remarkably similar to Posh's Armani ads. Is this just a strange coincidence based on recent trends in fashion photography and Katie and Posh's similar look, or is there more too it?
The heat is on for best friends-turned-rivals Katie Holmes and Victoria Beckham…The pair have both modelled for different fashion labels (with the pictures being leaked on the same day) and look almost identical (except unfortunately it's Posh in her underwear).

Katie and Posh became bosom buddies when Posh moved over to the States with David. And despite the pair reportedly falling out over Posh and Becks' reluctance to join Scientology (proving that someone in that relationship must have a brain cell) Katie is still morphing into Victoria Beckham.

Because in her latest ad campaing for Mui Mui, she could be Posh. Just younger and slightly better loooking. And as she copies Posh's hair, figure and style could David Beckham end up with a stiletto being thrown at his head before the week is out (just like in Single White Female)?
[From Holy Moly]
I don't know if Katie and Posh have a rivalry going, but they definitely aren't close girlfriends like they seemed to be when they hit Paris in late 2006 and early 2007. Their families did hang out together in New York over Thanksgiving, but Posh was notoriously absent from one of her husband's soccer matches in LA that Cruise, Holmes, and their three children attended. Maybe they just got busy and grew apart as many friends do. It does seem suspicious that they stopped hanging out around the same time that Katie started looking more like Posh in her hairstyle and fashion. She's since tried to mix it up with some grungy mismatched separates that just fall flat.
These two don't seem like they would feud over a silly issue like having similar ads out. It's something they probably don't have much control over as the shoots were styled and photographed by professionals. You wonder if some of the same people were involved. Posh's ads were "shot by fashion photographers Mert Alas and Marcus Piggott," according to the Telegraph. but I haven't been able to find out much about Holmes' ads.
Update: Vogue UK confirms that the same photographers, Mert Alas and Marcus Piggott, also shot Katie Holmes for Miu Miu. That would explain the similarity.