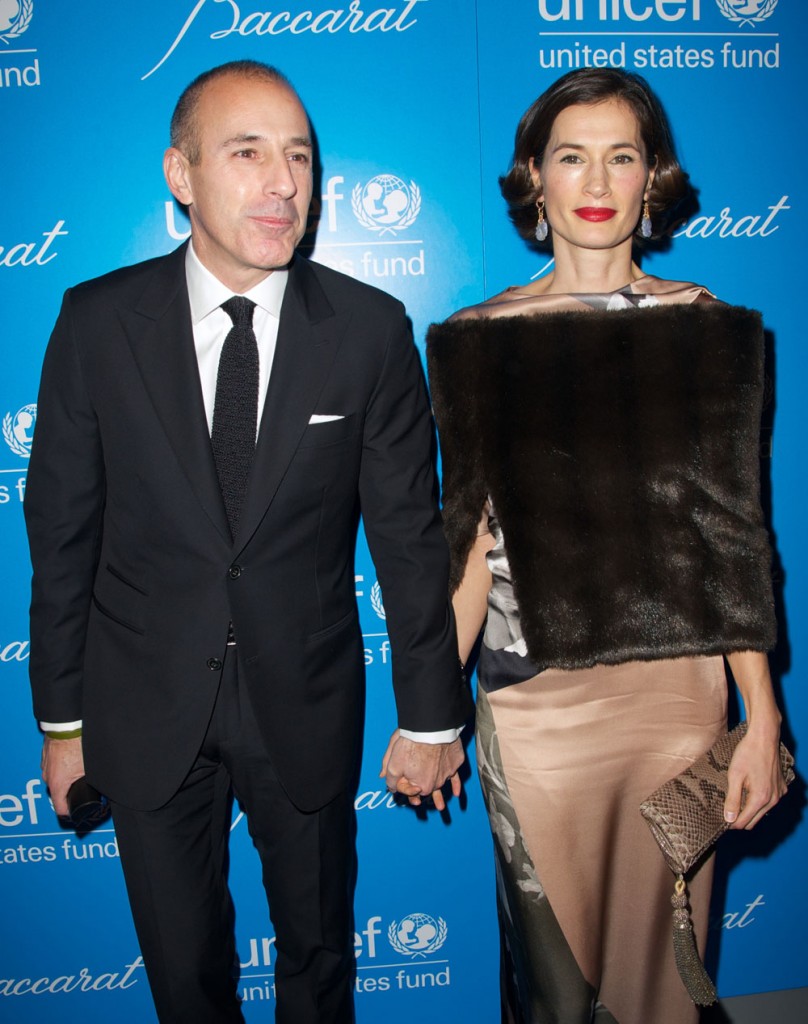 Matt Lauer and his wife in November, 2012
The National Enquirer has a new story about Matt Lauer's maybe-inappropriate relationship with a 20 year-old intern named Lucie Fink. Fink tweeted recently that she had lunch "alone with Matt Lauer" at the Four Seasons, adding that "He is SO nice… my new mentor." The Enquirer claimed, as they do, that Lauer's intentions are not honorable and that he sent Fink "flirty" texts telling her not to wear "Daisy Dukes" to work.
Now Lauer is really on the defensive. His excuses seem completely plausible to me, and I think he's telling the truth. Still, it's hilarious to see his friend get all indignant on his behalf, as if he's above such behavior.
Today show host Matt Lauer is 'furious' at claims that he flirted with a pretty college student while giving her career advice.
The TV stalwart, 55, took budding journalist Lucie Fink to lunch following a request from a friend.

But he has now been left seething that a friendly text exchange sparked by a message from the pretty brunette has become the subject of public scrutiny and been taken 'completely out of context.'

A close friend told MailOnline: 'Enough is enough, Matt is so tired of this.

'There was nothing seedy or suggestive in this meeting. Is this a message that guys should only mentor guys? Isn't that a terrible glass ceiling?

'This in particular hurts because the intentions were so innocent.'

Matt, a married father-of-three, met brunette Lucie, 20, a senior at John Hopkins University, at the behest of his close friend and colleague, Debbie Kosofsky, a senior producer on the Today show.

Debbie, who has been working with Matt since 1986, told MailOnline: 'The Finks are family friends of mine, so I asked Matt as a favor to have lunch with Lucie, because she's pursuing a career in journalism.

'In my 30 years working with Matt, I have seen him mentor and help countless young journalists and broadcasters. He has always been incredibly generous with his time and advice.'

He took Lucie, a budding TV reporter who has made several appearances on the Today Show over the past 15 months, to lunch at the Four Seasons Hotel's restaurant in Manhattan.

And in a text responding to Lucie before an upcoming appearance on the NBC morning show on July 10, published in the National Enquirer today, Matt messaged: 'Bring your 'A' game tomorrow young lady. Look forward to seeing you.'

Lucie replied: 'You know I will! Can't wait. Are you the talent for the segment?,' to which Matt responded: 'Yes! I will be interviewing you. Don't screw it up. And no daisy duke shorts with flip flops!'

However, a senior source at the Today Show revealed Matt says this to ALL interns – calling it his 'pet peeve' when youngsters turn up for their big break dressed for the beach.

Matt met Lucie for lunch two months ago, however his friend said: 'This notion of Matt 'whisking' Lucie out for lunch is ludicrous.

'It was arranged by Debbie, Matt's dearest friend on the show. They have worked together for 30 years and Lucie is good friends with Debbie's son Jeffrey.

'The reason Lucie has done appearances on the Today Show is because of Debbie and she told Matt 'Listen, I'm asking a huge favour, could you please have lunch with her, she needs advice on several internships she's weighing up'.

'Matt would do anything for Debbie, so of course he agreed. He did not initiate this lunch.'

The friend revealed that Matt holds all his business lunches at the Four Seasons, saying: 'Matt is at that restaurant twice a week – he must have had between 50 and 70 lunches there alone this year – that's just where he goes.'

Matt speaks to all the interns,' said the senior Today Show source: 'He takes an active role in helping them and every year he speaks to all the NBC News interns.
'And one of the stories he tells at every one of these meetings is how, 35 years ago, as an intern at WOWK-TV in Huntington, Virginia, he only had two sports jackets, and rotated them every day, so people would know that he took the job seriously.

'What he's been dismayed by over the years is that he has noticed that intern attire has deteriorated.

'At the Olympics last summer, the guys were dressed in basketball jerseys and the girls were in the equivalent on Daisy Duke shorts and flip flops.

He says 'you must show up looking professional, as if you're going on a job interview'.
Aw poor innocent, helpful Matt Lauer! He only thinks about women's ass cheeks in the context of inappropriate work attire. In all seriousness I'm buying Matt's excuse, especially when they have quotes from his colleague admitting that she asked him to help out this young woman. It's still kind of awesome to see him on the defensive, and to watch him scramble to cover his ass. Given that Lauer is known as a philanderer who regularly "takes an interest in" pretty, flirty women at work, it's not a stretch to believe that he would try his chances with a coed. Many powerful men have. The Enquirer wasn't really reaching here.
Here's an interview with Matt and Lucie, thanks to The Daily Mail. She seems so young, but I'm not a dude so I have no idea.