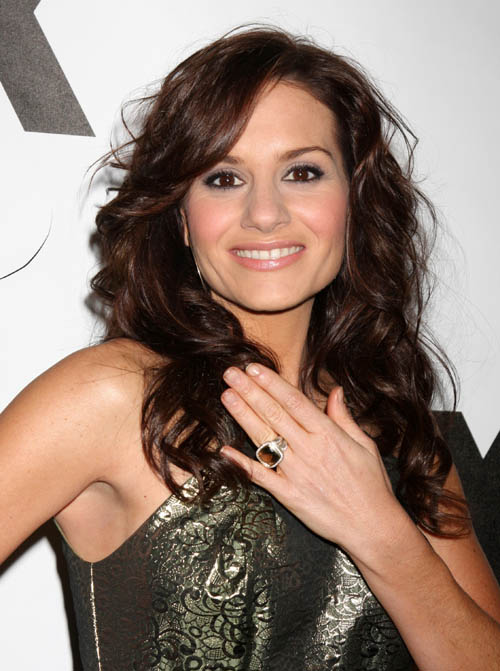 Kara, "look I'm engaged!" DioGuardi, on 1/13/09. Credit: WENN
New judge Kara DioGuardi talked to the man who thought it was a good idea to high five a blind guy, Ryan Seacrest, on his show yesterday. They discussed snotty bikini-wearing contestant Katrina Darrell, now known around the world as "Bikini Girl." Kara basically said that Bikini Girl was a butterface, but she made it sound a little nicer than that. You can tell that Kara hasn't changed her ways and is still annoyed after the incident, in which she re-sang the contestants song and got offended when she was told she didn't sing it any better:
"I love pretty girls," she said on Ryan Seacrest's KIIS-FM radio show Wednesday. "The thing with bikini girl — to be honest, I thought she had a better body than she had a better face."

The two got into a heated spat after Darrell sang Mariah Carey's "Vision of Love." Judges Simon Cowell and Randy Jackson sent her through, but DioGuardi said she didn't think Darrell had "swing." So DioGuardi re-sang the song for Darrell, telling her how she should have done it. Darrell then snapped, "your demonstration wasn't any better."

Former Idol contestants share their wedding pics — and photos of their children!

"To her credit, she's gotten so much attention. It was probably a good call to wear the bikini at the end of the day," DioGuardi told Seacrest. "But we wouldn't be talking about the bikini if she killed the song."

Asked by Seacrest if she'd send through a "pretty" girl before a "cute" girl, DioGuardi said, "It's hard to say. But pretty and cute … they're important. It's a visual medium. You're going to see people on the covers and in the press.

"Of course, I want a pretty girl," she said, "but I'm not just looking for a pretty girl; I'm looking for an incredible voice, great stage presence. I'm a big champion of women. I'm not the kind of woman who's going to drag a woman down."
[From US Magazine]
My opinion of Kara didn't change after watching last night's episode from Kansas City. Kara may say superficially nice things to the contestants, but she's not a down to earth person like Paula and there's no heart in it. She uses "sweetie" and other terms of endearment as a way to couch criticism and subtly put people down, and she just sounds insincere. Maybe that's why she didn't like bikini girl – she saw another woman with an attitude and got competitive. There are all sorts of ways she could have handled that incident better if she didn't agree with the male judges, like telling them to close their eyes while the contestant sang. Instead she took it personally, came off as petty, and is now defending herself. American Idol could have done much better choosing a judge. They resort to mocking special people in every audition episode so I guess we can't expect class and professionalism from their panel, either.