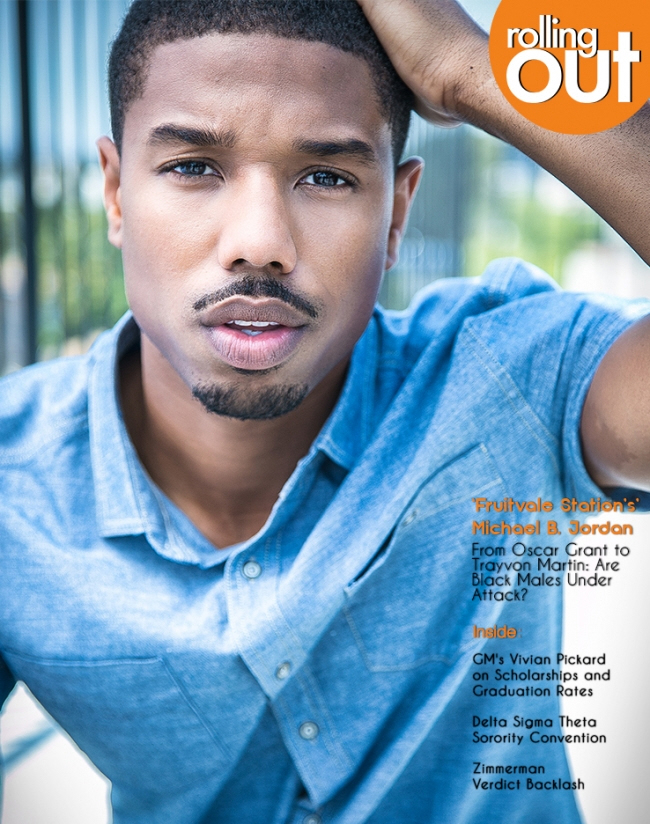 These are some photos of Michael B. Jordan, star of Fruitvale Station, from a photoshoot he did with Rolling Out Magazine. I went to see Fruitvale Station this weekend, and I'm still thinking about it this morning. I had dreams about it. I don't want to push the film as "the greatest film of the year" or something like that, although it is a great film, an important film, a unique film full of extraordinary performances and telling a unique and important story about humanity. In case you don't know, Fruitvale Station tells the true story of the last day in the life of Oscar Grant, a 22-year-old black man who was killed by a police officer on New Year's Day, 2009.
Michael B. Jordan plays Grant so beautifully, with so much depth and nuance, and what I really loved – and this was the product of an excellent script too – was that Oscar was neither all bad nor all good. He had already served time in prison, and you see him threatening his former boss, lying to his girlfriend and coming to terms with whether or not to sell drugs. But he also loved his girlfriend (played beautifully by Melonie Diaz), he adored his mother (played by the extraordinary Octavia Spencer, who will likely get another Oscar nomination for her performance) and he was a loving and hands-on father to his little girl. Personally, I think Jordan should get nominated for every award for his performance, and there is no way (in my mind) that he shouldn't be one of the biggest contenders this awards season. And if you go to see it… just be prepared to cry. It comes in waves.
So now that Jordan is one of my new favorite people in the world, I checked on his Twitter – he basically uses it to promote his work, thank God. And I also looked up this Rolling Out interview – you can read the whole thing here. Here are some highlights:
On the night George Zimmerman was acquitted of the murder of Trayvon Martin, Michael B. Jordan experienced an all too familiar feeling. The 26-year-old actor was attending a sporting event when the verdict was announced.

"I was at the L.A. Dodgers game with my girlfriend," Jordan revealed to rolling out. "And once the verdict was read, you could see how it affected the crowd. You could see the people in the audience, one person finding out from the next. People were just talking to one another about the verdict. After the game, I had to go to a Q-and-A session for the film. My heart was hurting so bad that I thought about skipping the interview. I didn't know how to respond or express myself in a manner that I should have. But I sucked it up and went to do the interview. I spoke my peace. But it was hard. To look at the evidence and he's not guilty, that's tough. It's really tough."

The Zimmerman verdict was tough for millions across the nation. But for Jordan, it was a case eerily similar to the Oscar Grant murder, which is examined in his new film, Fruitvale Station.

On New Year's Day 2009, Oscar Grant was detained by police while at the Fruitvale Bay Area Rapid Transit station. While handcuffed and unarmed, Grant was shot and killed by BART police officer Johannes Mehserle as shocked passengers recorded the incident on their cellphones and watched in horror. The case caused outrage in Oakland, Calif., and across America. However, Mehserle, who was convicted of involuntary manslaughter, only served 11 months in prison for the murder. Mehserle is currently free and attempted, to no avail, to get his conviction expunged from his record after his release.

"It could have been me," Jordan says of the untimely deaths of Grant and Martin. "Around the time I read the [Fruitvale] script, Trayvon Martin's shooting had just happened a week or two before. I remember when Oscar Grant died in 2009 and how frustrating it was during that time. And then the Trayvon murder occurred, it was like all of this was happening again. I'm from New Jersey and Oscar is from Oakland, but the same things are occurring. When I was younger, I always hung out with my boys. So we could've experienced a situation that was similar to Oscar Grant's. Being from the inner city, you have to do the best with what you have — even when the odds are stacked against you. People from outside your community may judge you because you may look different, walk a little different, or talk a little different. But, dealing on a more personal level, after I got a chance to get to know Oscar's story, I saw a lot of similarities between Oscar and I. With the film, I really wanted to give him a voice. It's kind of fun for me to dive into those characters as well."

"We hope that we will create something that can stand the test of time," Jordan says. "As far as opening numbers are concerned, it doesn't really affect the project. Hopefully, this movie will cause people to make a change on how we look at each other when it comes to violence. I hope it has a positive impact. I hope it's a project that will be talked about for years and years to come."
I was thinking about Jordan and the early buzz on how many great performances there are from black actors this year, and how there's a real possibility that Michael B. Jordan, Idris Elba and Chiwetel Ejiofor will all be up for lead actor nominations. While I haven't seen 12 Years a Slave or Long Walk to Freedom yet, I hope the Academy voters don't give more weight to Idris and Chiwetel just because they're playing historical figures in period films. Jordan's performance was such a breath of fresh air, so naturalistic and real – he was like a young Marlon Brando or Benicio del Toro.
And this is just a bizarre FYI – the writer/director of Fruitvale, Ryan Coogler, is going to team up with Jordan again… for a reboot of the Rocky franchise. Jordan will be playing Apollo Creed's grandson. For real. You can read about the deal here.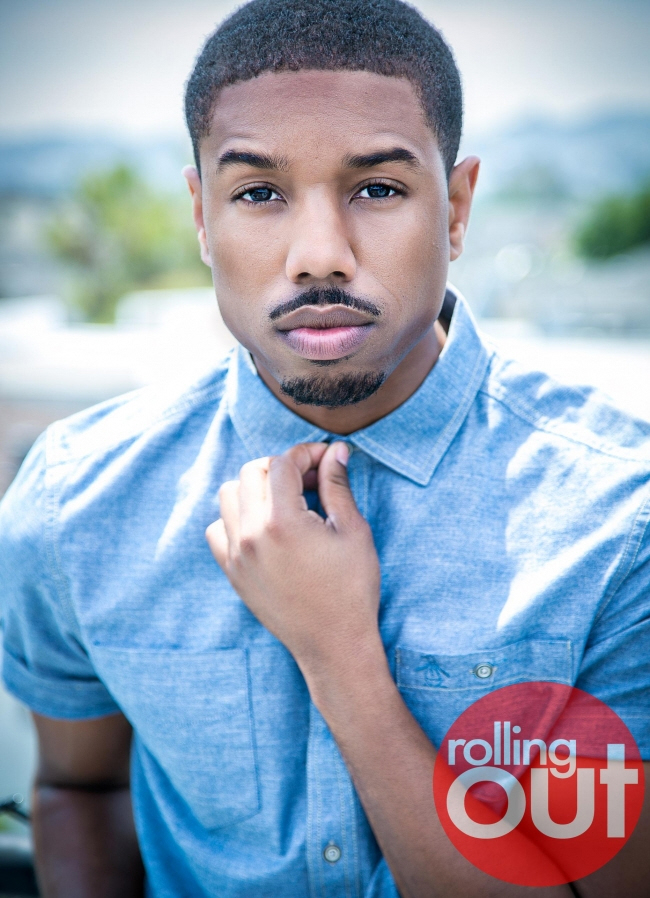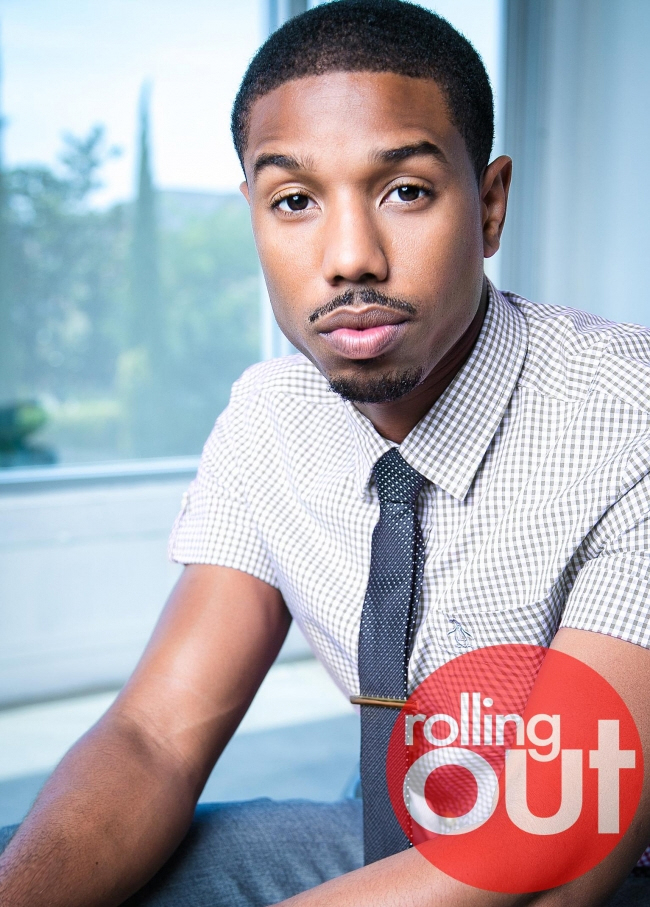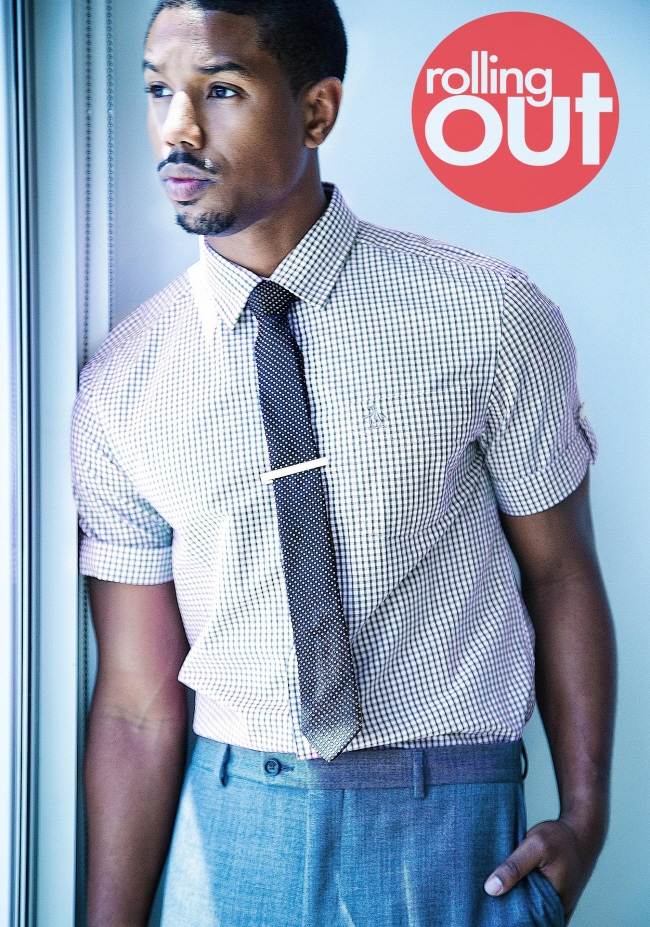 Photos courtesy of Rolling Out.