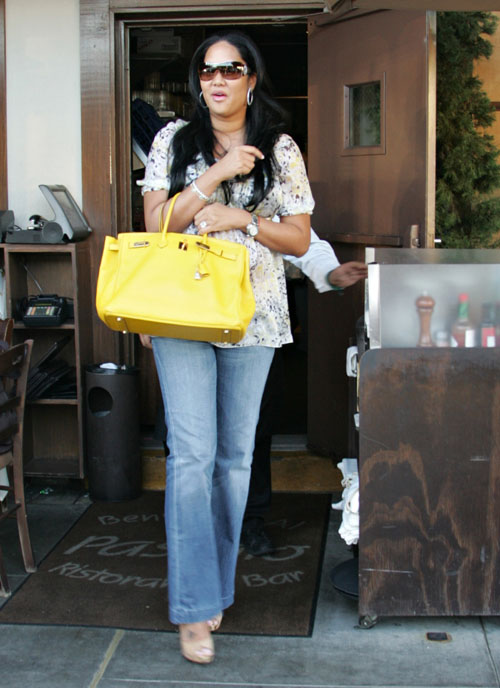 Sources are saying that ex-model and ex-wife of hip-hop mogul Russell Simmons, Kimora Lee, is about to get her reality show yanked because the E! channel and production crew are sick of her diva demands and bullying behavior. This comes as a surprise considering that E! is so eager to work with other celebrity bitches like Denise Richards, Dina Lohan and Ryan Seacrest.
Even though it's a huge hit, Kimora Lee Simmons' reality show is getting the ax – because the former model is too difficult to work with, say sources.

The network honchos at E! Entertainment Television are in negotiations with Kimora to pull the plug on "Kimora: Life in the Fab Lane," because she is "bossy, erratic, and she bullies underlings," a TV insider told The Enquirer.

"Kimora is a nightmare, plain and simple."

She has yelled at the crew on the show, accusing them of deliberately trying to make her look bad with unflattering lighting, says the insider. And also, she "went nuts" when she saw junk food being served while filming because "she's obsessed with her weight," says the source.

After a series of meetings, network execs decided to try and cut their losses – even though they've just begun the show's third season. Kimora is saying she is fine with leaving as long as she gets paid, says the insider.
[From The National Enquirer print version, Jan. 26, 2009]
Considering that Tyra Banks is one of Kimora's best friends, this really shouldn't be too much of a shock. I do wonder how "huge" a "hit" the show is, though – I've barely even heard of it, and have never seen it in my life. But I avoid E! reality shows like the plague. The only program worth watching on that channel is "The Soup." As for Kimora, she might have been able to get away with being a high-maintenance bitch when she was Mrs. Russell Simmons, but her stock as a celebrity isn't what it used to be. True, she is engaged to hottie Djimon Hounsou, but I'm sure he can't maintain her ridiculous lifestyle the way her ex did. If the show gets pulled, she'll have to rely on the huge divorce settlement she got and all the money she makes from her horrendous "Baby Phat" fashion line.
In other Kimora news, she has confirmed her recently-rumored pregancy with Hounsou. This will be her third child, and is first. Maybe this explains her moodiness on set?
Kimora Lee Simmons and actor Djimon Hounsou are expecting their first child together, a source close to the couple tells Usmagazine.com.

Simmons, 33, has two daughters, Ming Lee, 8, and Aoki Lee, 6, with hip-hop mogul Russell Simmons, whom she divorced in 2008 after nearly 10 years of marriage.

"I have a lot of hang-ups in life with men. I'm not very trusting," she told Harper's Bazaar last year. "After my breakup, I thought, 'I don't need anything.'"

But after meeting Hounsou in February 2007, she said, "I have someone who has the heart, the soul, and the hotness."

Added Hounsou , "My first impression has always been the same, that she's a very beautiful lady, very capable and intelligent and smart with great family values. She's the least high-maintenance lady I've ever dated."

Asked if she wanted more kids, Simmons told Us last September, "I would love to. I practice everyday."
Kimora is shown having lunh in L.A> with her fiance, actor Djimon Hounsou, Jan. 14. Photo credits: FAME.