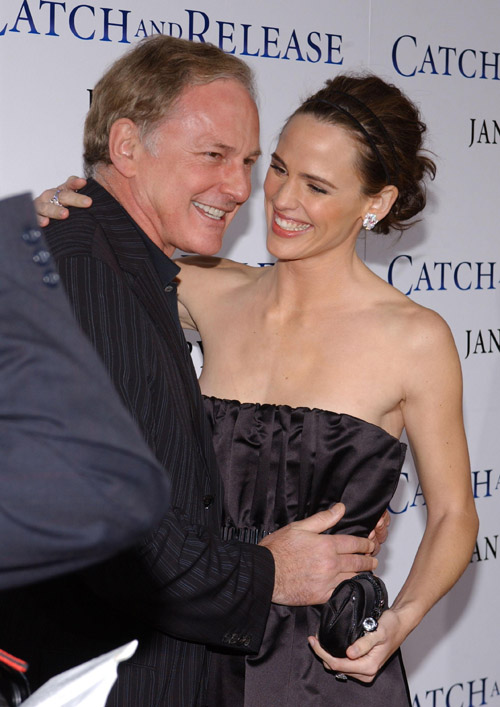 I've always thought it was a little weird that Alias co-stars Jennifer Garner and Victor Garber are so close. He seems to be something of a mentor/surrogate father/best friend to Garner, he one of the few friends that The Garner-Affleck's invited to their wedding, and he often gives quotes to the press on their behalf. So, of course, Garber chimed in about the newest addition to the family Affleck, little Seraphina Rose Elizabeth. Garber also announced to OK! that he's going to meet the baby very soon – he's now like a surrogate grandfather!
Jennifer Garner's former Alias co-star and close friend Victor Garber will finally be seeing the actress' new baby today!

The Juno star and husband Ben Affleck, who just had baby daughter Seraphina Rose on Jan. 6, have invited Victor to see the newborn, he said at the NBC party on Thursday night.

"I'm going to see the baby tomorrow," Victor, who officiated the couple's 2005 wedding in the Caribbean, revealed to OK! "I'm very excited. I can't wait to hold that baby."

Victor cherishes his friendship with Jen and Ben: "I talk to them all the time. It's a wonderful time for them and I am so delighted to be with the children of people I love."
From OK! Magazine
It's a pleasant surprise that Garber and Garner are truly this close, but it seems like an unconventional way to handle the media. Maybe Garner and Affleck feel more comfortable announcing things through Garber, maybe they think it seems friendlier or more like a family. Anyhoo, I really hope the little girl gets the nickname "Sera" rather than "Phina". That sounds better, doesn't it? Victor Garber will meet little Sera soon.
Victor Garber and Jennifer Garner are shown at the premiere of Catch and Release on 1/22/07. Credit: WENN. Here are some photos of Ben Affleck picking up Violet at school yesterday. Credit: Fame.