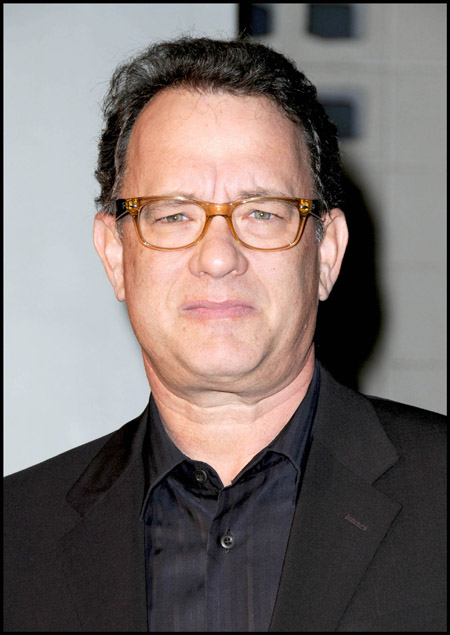 Tom Hanks has come out in full-force for gay rights, adding his name to the list of pro-gay-marriage celebs like Charlize Theron, Ellen DeGeneres, Brad Pitt and Anne Hathaway. At the premiere for HBO's new season of Big Love (Did you know Hanks executive produced that show? I didn't.), Hanks mouthed off to a Fox News columnists about how much he hates that the Mormon Church gave so much money to push Prop 8 through. He's actually really eloquent about the issue.
We didn't know he had it in him! The normally mild-mannered Tom Hanks had some surprisingly strong words for the Mormon [Church] on Wednesday.

The executive producer of HBO's drama about polygamy, Big Love, called parts of the church 'un-American' for supporting Prop 8. "The truth is these people are some bizarre offshoot of the Mormon Church," he told Fox News's Poptarts column at the show's premiere party, "and the truth is a lot of Mormons gave a lot of money to the church to make Prop-8 happen."

"There are a lot of people who feel that is un-American and I am one of them," the star said of the anti gay-marriage law. "I do not like to see any discrimination codified on any piece of paper, any of the 50 states in America, but here's what happens now."

"A little bit of light can be shed and people can see who's responsible and that can motivate the next go around of our self correcting constitution and hopefully we can move forward instead of backwards. So lets have faith in not only the American, but Californian constitutional process."
From OK! Magazine
If Tom Hanks is against you, you need to rethink your position. Hanks is like the Walter Cronkite of this generation – he represents the middle-of-the-road, the lovable centrist in all of us. It's interesting (to me) that most pro-gay-marriage Californians have absolute faith that the California courts will overturn Prop 8. I usually don't go in for "activist judge" conspiracy theories, but there's certainly a possibility that the courts won't overturn Prop 8. Perhaps all of these celebrities should put their money where their mouths are, and pay for a real media campaign to educate and inform about gay marriage.
Tom Cruise is shown on 1/14/09 at the premiere of "Big Love." Credit: WENN