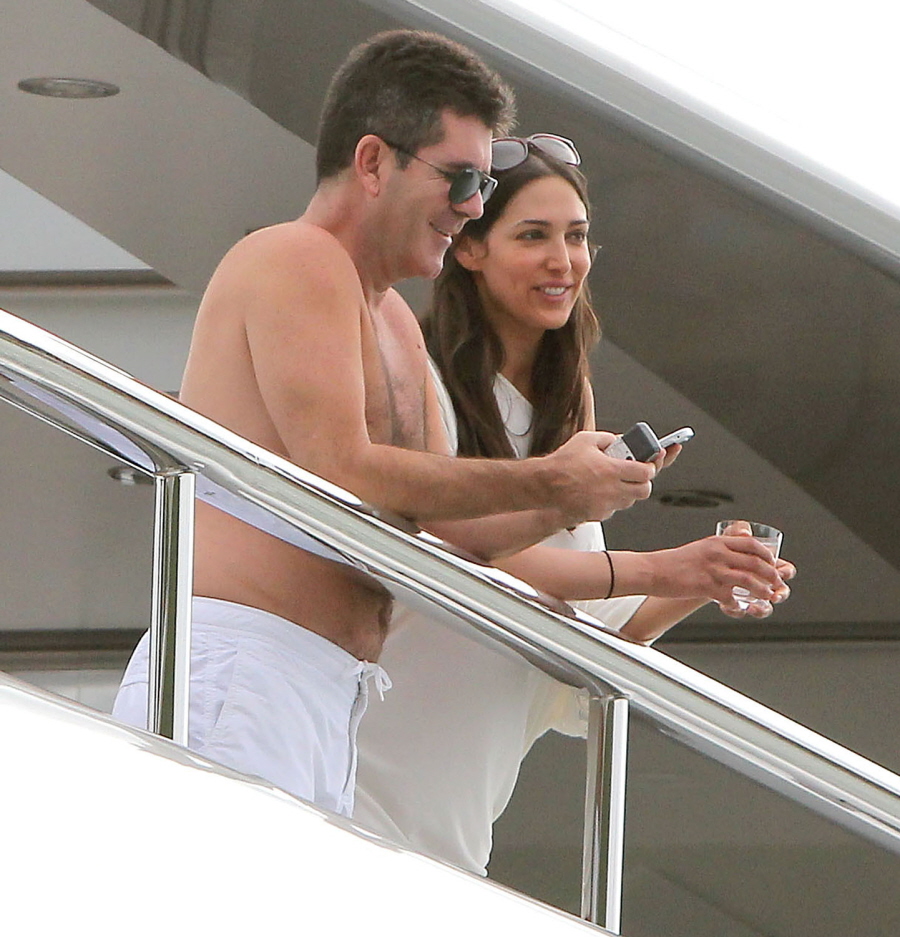 I can't get enough of these Simon Cowell and Lauren Silverman stories. Some of the stories have an oddly pro-Simon slant, and some of them are so obviously leaked by Lauren, it's kind of crazy. Still, I'm going to keep writing about this stuff because it's incredibly fun. As it turns out, Lauren was able to cheat on her husband with Simon by telling Andrew Silverman that she was going to visit her mother. The same mother who is now issuing statements to the press about how her daughter is a "nice girl from Miami Beach" and Simon "needs to do the right thing." Apple didn't fall far, huh?
Married Lauren Silverman carried on her secret trysts with Simon Cowell by telling her husband she was going to Miami to visit her mother. Sources exclusively confirmed to us that Lauren would sneak off with the acid-tongued judge by telling hubby Andrew Silverman she was visiting her mom, Carole Saland — and then she and Cowell would meet up.

Most recently, Lauren flew to England for the final of Cowell's show "Britain's Got Talent" on June 8. It is believed she became pregnant around that time.

One source said, "Interesting that Lauren used her mother as her cover story." Another source said, "At the same time she was telling Andrew they should give their relationship another try, possibly to take them over the ten-year mark" as stipulated in their prenup.

Saland has defended her daughter: "Lauren isn't a gold-digger . . . She's a nice girl from Miami Beach. Her marriage was not a marriage made in heaven and life goes on, people go on."

Cowell was last night believed to be on the way to the UK to visit his own mother, Julie Cowell. He's then expected to head to St. Tropez and vacation with friends on a yacht — leaving pregnant Lauren in the Hamptons.

She and Andrew have been holed up at her family home with their son, Adam. Sources told The Post that all parties — particularly Simon — want the divorce settled as soon as possible, freeing Lauren to be with Cowell. A settlement could come as early as this week and she is expected to take less than the $4 million set out in the prenup.

Bernard Clair, one of Lauren's lawyers, said, "These cheap shots aimed at Lauren and her family by people who believe they are supporting Andrew serve only to sabotage ongoing efforts by our client and her husband to settle this matter. We and Lauren continue to be committed to resolving this matter privately and amicably."

A rep for Andrew referred us to his initial statement, which said, "My top priority is protecting my 7-year-old son while working to resolve all outstanding issues with my wife."
If you were like Simon and worth a reported $350 million, how much money would you spread around so that the husband, your one-time friend, would just go away? I feel like Simon is paying off Andrew so that Andrew will just go away. And I think Lauren is taking less money from Andrew with the understanding that Simon is going to give her a payout too. Still, it sounds like Lauren has a bigger plan besides just getting a fat paycheck from her husband and her baby-daddy:
Simon Cowell's baby mama, Lauren Silverman, who is going through nasty divorce to hubby, Andrew, is obsessed with fame and wants to be a celebrity, and is loving all of the attention from the media, RadarOnline.com is exclusively reporting.

Lauren "has wanted to be a celebrity since she was a teenager. Lauren's mother Carol Saland has been pushing her daughter to be with men that had a lot of money, and were famous. In Carol's eyes, Lauren's husband, Andrew, wasn't good enough for her daughter, even though he had a lot of money," a source told Radar.

"When Lauren told her mom she met Simon Cowell while vacationing, she was thrilled. Lauren loves all of the attention from the press she has been getting since it was revealed she is carrying Simon's baby. She wants to be a celebrity and doesn't plan on giving up the spotlight anytime soon."

As Radar previously reported, Simon's "harem" of ex-girlriends were so suspicious of his mistress Lauren's motives they warned The X Factor judge to "be careful."

53-year-old Cowell remains super close to many of his ex-girlfriends, including pop star Sinitta, Jackie St. Clair and Terri Seymour — all of whom were said to have been "worried" about his relationship with the New York socialite who is now carrying the music mogul's lovechild.

Though Cowell has no plans of marrying the attractive brunette, as a source revealed to Radar, the insider noted "there is simply no question that Simon will take responsibility for the child and make sure the baby is taken care of."
Yeah, I believe it. There are rumors that Lauren wants her own reality show, and just after the "love child" story broke, Lauren was strutting around in front of the paparazzi, wearing nothing but a thin tank top and no bra – go here to see those NSFW photos. Oh, yes. Simon got involved with a hot mess of a woman and it's going to be 18 years until he's free of her.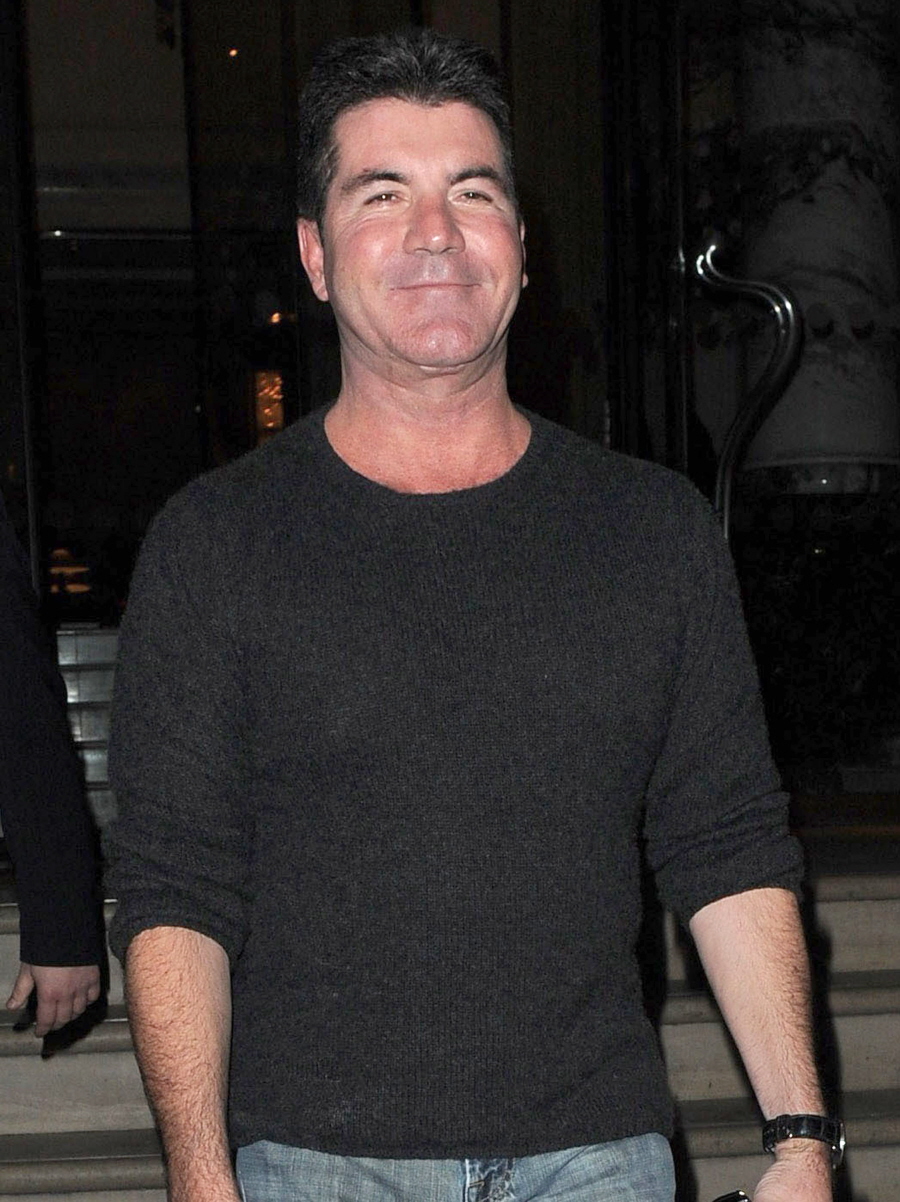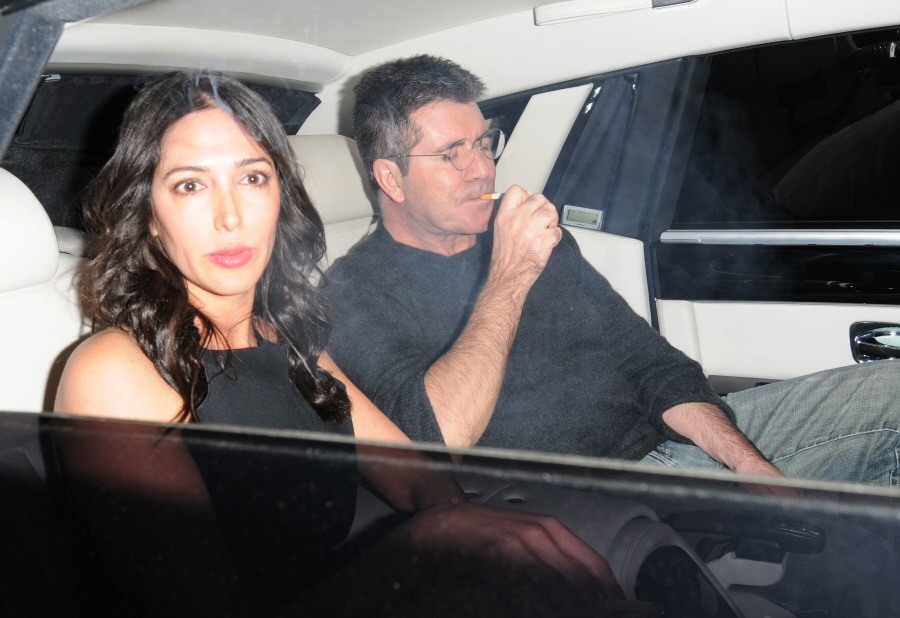 Photos courtesy of WENN, Fame/Flynet.