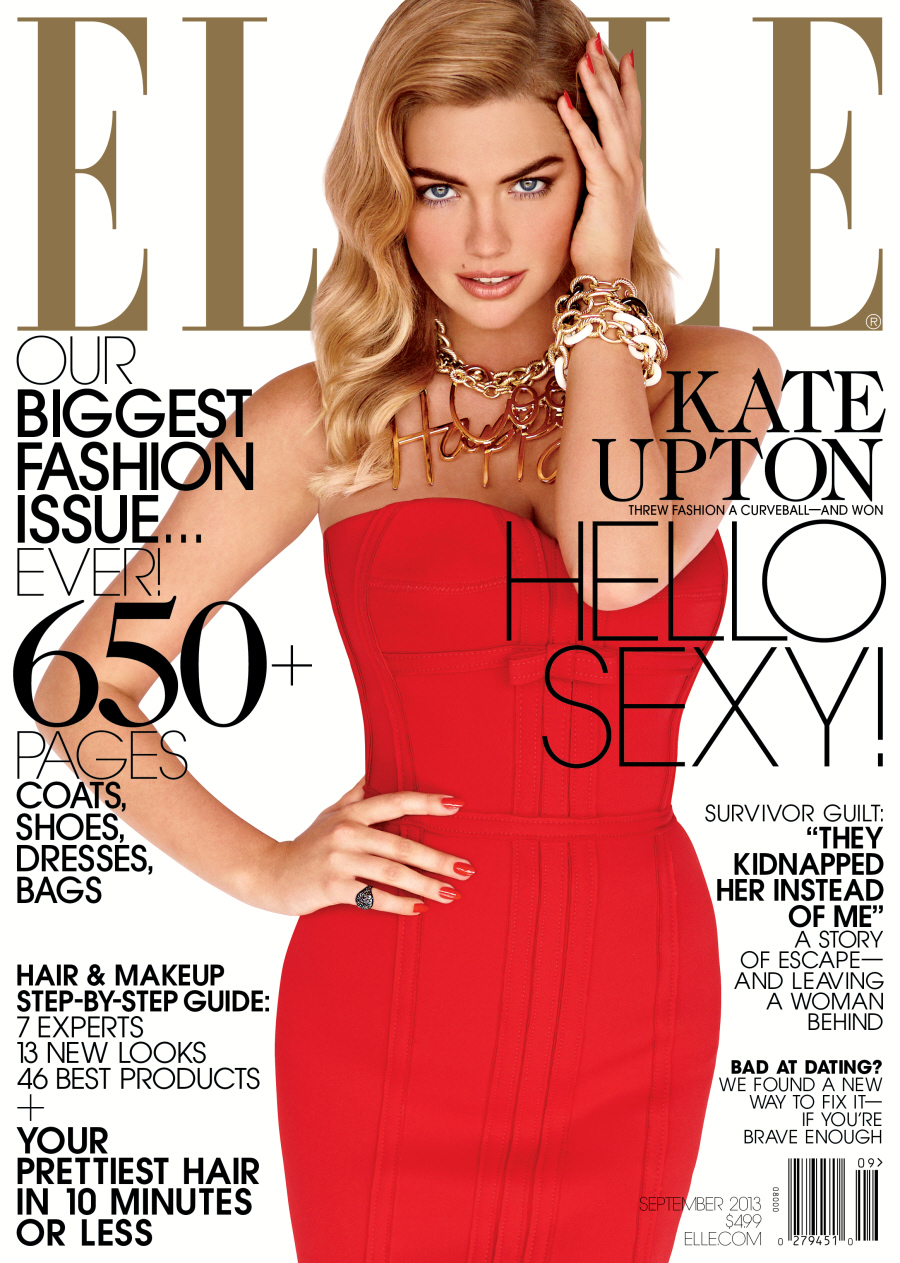 Kate Upton scored a MAJOR magazine cover, y'all. I'm proud of her. She's harmless and she gets a ridiculous amount of bulls—t about her body and her "look". Kate covers the September issue of Elle – you can see the slideshow here. I don't care for the cover image at all. Her hair looks too stiff and the gold jewelry is overkill. But I really like the cleavage-y, shadowy photo a lot. And not just because even I would motorboat her. The quotes from Kate's interview are pretty interesting too.
On people treating her like a "dumb blonde:"
"People deal with models like they are children. They think they can pull one over on you. It's actually funny. I'm always like, I'm about to pull something on you, and you're so focused on thinking I'm dumb you're not even going to know."

On the tiny tattoo of a cross on the inside of her finger:
"I was at a photo shoot and I was wearing a cross necklace that my mom bought me, and somebody made a joke like, 'Why are you wearing a cross? Like you would be religious.' And then they took [my necklace] away. I was really affected by that. The whole thing made me realize that I do want [a cross] with me, at all times."

On the fallout from her first Sports Illustrated cover:
"After my first Sports Illustrated cover, I felt terrible about myself for a solid month. Every single guy I met was either married or about to be married, and I felt like I was their bachelor present or something. I'm not a toy, I'm a human. I'm not here to be used. I am a grown woman, and you need to figure your s–t out."

On dating (she's rumored to be seeing Dancing With The Stars pro Maksim Chmerkovskiy:
"I really have never had a serious relationship in the industry. I'm just having fun. Obviously I have a very busy schedule at this time in my life, and I don't put relationships as a priority."
Call me crazy, but I like what she's saying. I even did a little fistbump for her answer about the men who treat her like a "bachelor present". "I'm not a toy, I'm a human. I'm not here to be used. I am a grown woman, and you need to figure your s–t out." I hope she actually says that to men. I hope she throws that in their faces.
As for "treating models like children"… you notice that in the very next quote, she's talking about someone "taking away" her cross, like a child would say "mom took away my toy." But I get what she's saying. We all infantilize models specifically and women in general. It's interesting to hear her talk about it. As for her religion – she reminds me of Jessica Simpson there. Papa Joe always said that people didn't believe Jessica could be a good Christian girl AND have big boobs.