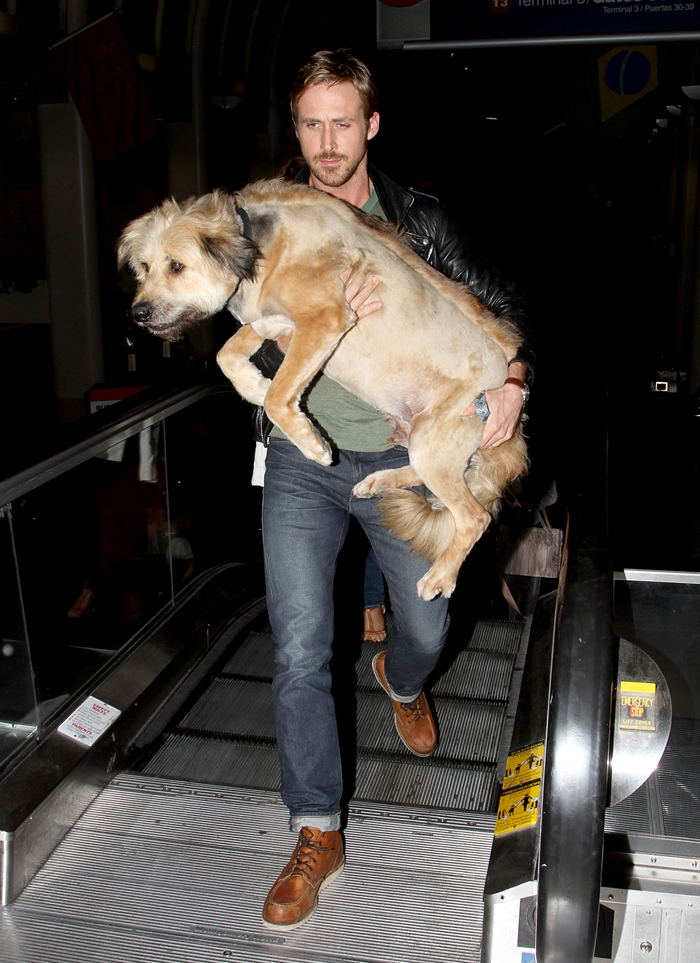 This story is so sad that it made CB, Kaiser, and myself get all sentimental about puppies. These are some amazing photos of Ryan Gosling with his beloved dog, George, in 2011. Ryan is very compassionate about animals and has recently asked people to care about pregnant pigs in small cages, but at heart, he's a dog person. If it were up to Ryan, he'd take George everywhere, and he very nearly does that — remember when he took George to yoga class, and the poor creature peed in the corner and sniffed booties galore?
Now George is getting up there in advanced doggie years at the age of 13, and Ryan is beside himself with anticipatory grief. In fact, these old photos might point towards a potential health issue for George a few years ago because he's half shaved just like when my dog had an ultrasound. I hope George is okay now other than "old age," but Ryan feels like his boy won't make it another year, and he was so afraid of taking him on a long flight to his current film location that he had to take some drastic boarding measures: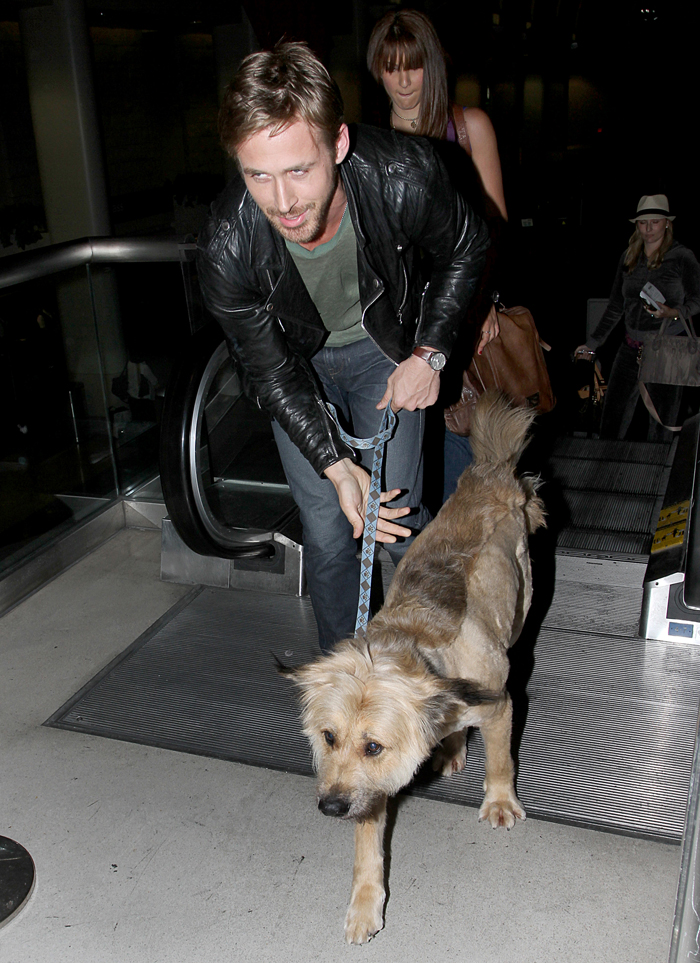 When it comes to their beloved dogs George and Hugo, Ryan Gosling and Eva Mendes spare no expense. While the couple of nearly two years are on location in Iceland filming their movie, How to Catch a Monster, they are spending a pretty penny to allow their pets to stay at Dog Whisperer Cesar Millan's L.A. home, mostly due to 13-year-old George's ailing health. "Ryan is heartbroken over George and doesn't expect him to make it another year," reveals an insider."

"He didn't want to take him on a long flight, so Eva pushed him to allow the dogs to stay with Cesar, who is her friend." The source adds that an emotional Ryan, 32, was still hesitant to leave George but trusted that Eva, 39, knew best. "Ryan is still on pins and needles being away from George," says the pal. "He's fearful that something tragic will happen, so he Skypes with George and Cesar every day." And just when you thought Ryan couldn't get more adorable.
[From Star, print edition, August 19, 2013]
Poor George and poor Ryan. Poor Eva too? I guess. This story is much like Fiona Apple's recent plight where she cancelled several tour dates to stay home with her own dying dog. I guess Ryan wasn't in a position to cancel his film since he's in the director's seat, and producers probably wouldn't oblige. Hopefully, the Skype is helping, but it's never the same as feeling doggy breath on one's face.
This dog is George too, right? It looks like the same dog to me.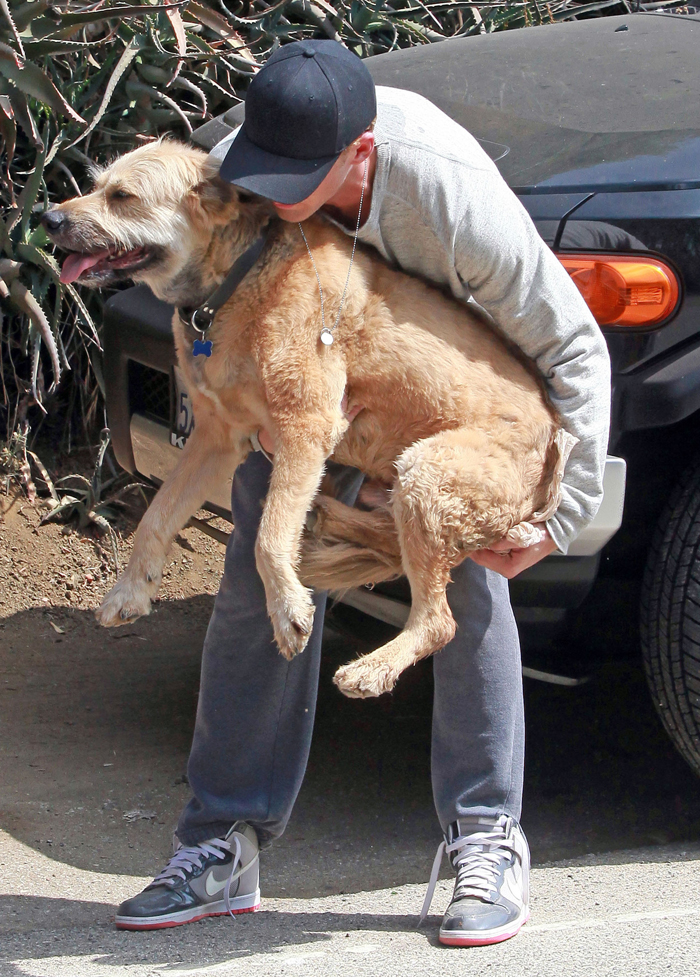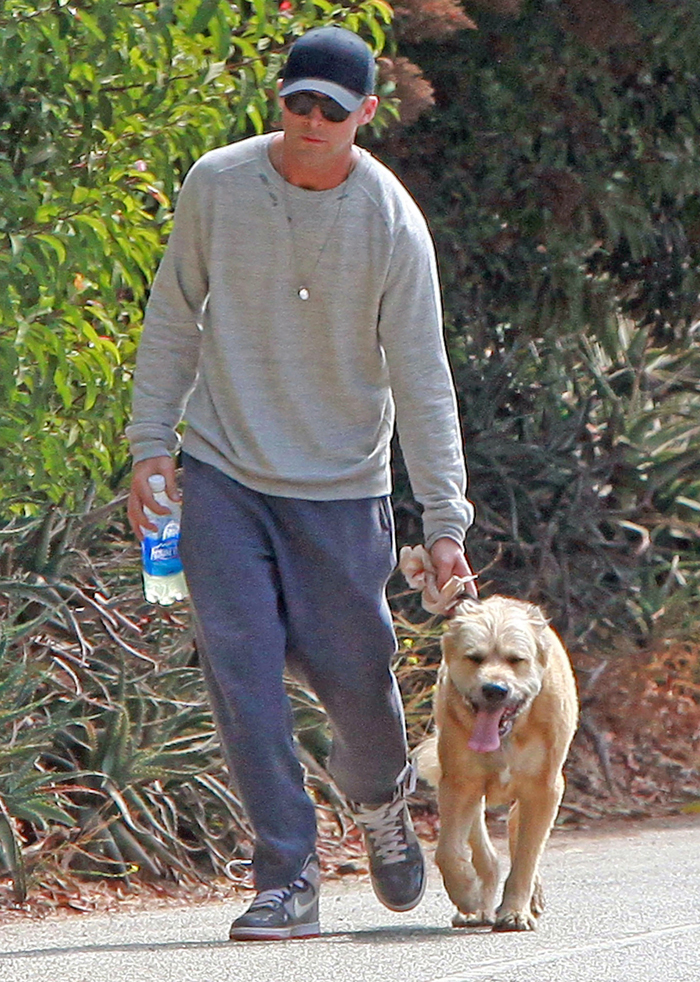 Photos courtesy of Fame/Flynet