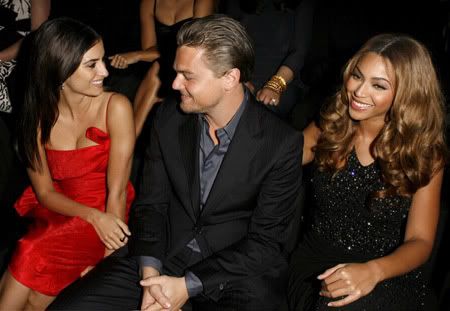 I realize that they already know each other from Hollywood events and such, and they were probably just seated next to each other by chance, but it's still cute to see them talking. Penelope and Leonardo participated in that Oscar roundtable discussion together with Brad Pitt, Cate Blanchett, Helen Mirren, and Forrest Wittaker.
They're both somewhat single, with Leonardo recently breaking up with Bar Refaeli (is this confirmed or are they back together?) and Penelope without a boyfriend as far as I know. Although she's been linked to Orlando Bloom recently they were either just messing around for a little while or they've managed to keep it quiet.
From Leonardo's body language you can tell he's at least interested in her cleavage while Penelope is crossing her legs the other way and looking a bit more reserved. They are seen at The Giorgio Armani Prive fashion show in LA on Saturday at Ron Burkle's estate.
Thanks to sbiscuit at JJB for these pics.