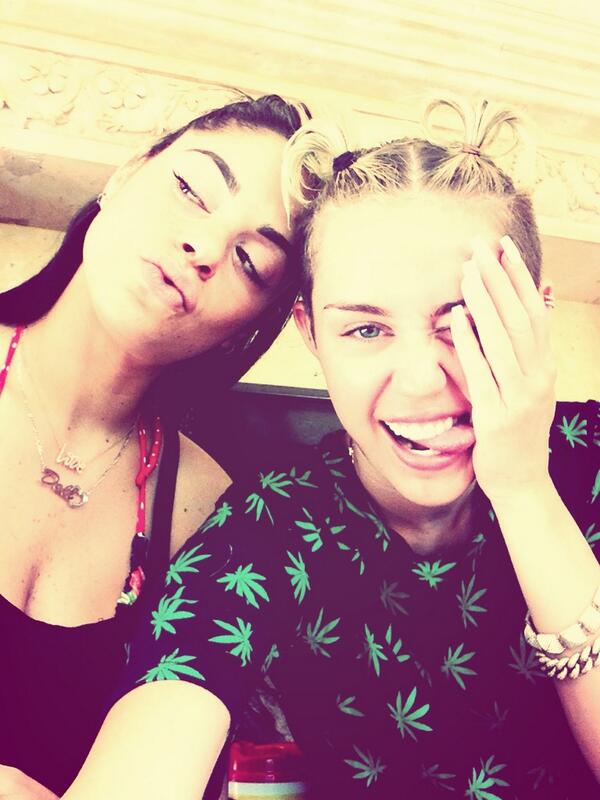 Here are some photos of Miley Cyrus and the Tongue hanging out on Twitter with friends. Yes, Miley is still sticking out her tongue, and she knows you hate it, so she is not going to stop doing it anytime in the next decade or so. Seriously. Nobody seems to like this ridiculous gesture, but if we keep on whining, Miley will keep on pushing that juvenile envelope while wearing a marijuana-print shirt because she's so edgy.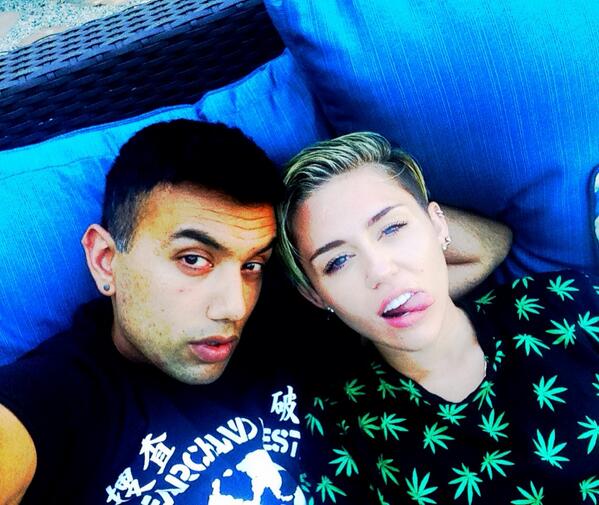 There's other stuff going on with Miley too. First up, she gave a shoutout to her man, Liam Hemsworth, on Twitter by plugging his movie, Paranoia:
Go see @ParanoiaMovie the lead actor @LiamHemsworth is pretty cute 😍

— Miley Ray Cyrus (@MileyCyrus) August 16, 2013
So at this point and after all these months, what do you really think is going on with Miley and Liam? She attended his premiere, and they didn't look like they were into each other at all. Us Weekly followed up with a report that Miley and Liam "acted like strangers." I think they're just afraid to break up with each other and end that precious "first love," but c'mon, kids. Cut that rope.
Miley has also appeared with Kelly Osbourne on an episode of "E! Fashion Police." In doing so, she mostly plugs her mildly NSFW t-shirt for Marc Jacobs' "Protect ths Skin You're In" (which only costs $35, but at least that's less than Goopwear).
On her new image: "It's called puberty. Everyone's done it from the beginning of time. I'm just doing it [in the spotlight] so you're zooming in on it and you're fascinated by it. I don't think people understand how I'm a real human being."

On her risque t-shirt: "I think if I can just use where I am in my career and use myself as a pedestal to do good — even if it means getting naked, 'cause more people are gonna look at it."

She's starting to regret the hair: "I love a good weave. I can't help it. I love a good piece, but I don't really have anything to clip. Yesterday, I wore a rat tail. I have short hair. I feel like I'm speaking on behalf of like girls everywhere, like, breaking this stereotype. But I'm secretly tugging on it every night. I'm not gonna lie."
[From Fashion Police]
Miley talks a good talk about why she did that t-shirt, doesn't she? I get the feeling that she mostly just wanted an excuse to get naked in public without going the full PETA route. As for Miley's "puberty," explanation, I get it, but damn, I'm tired of hearing it.
Here's a photo of Miley and little sister Noah's little Bean. Cute pup.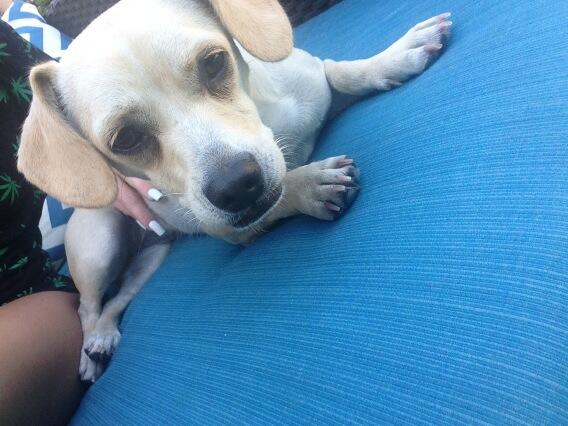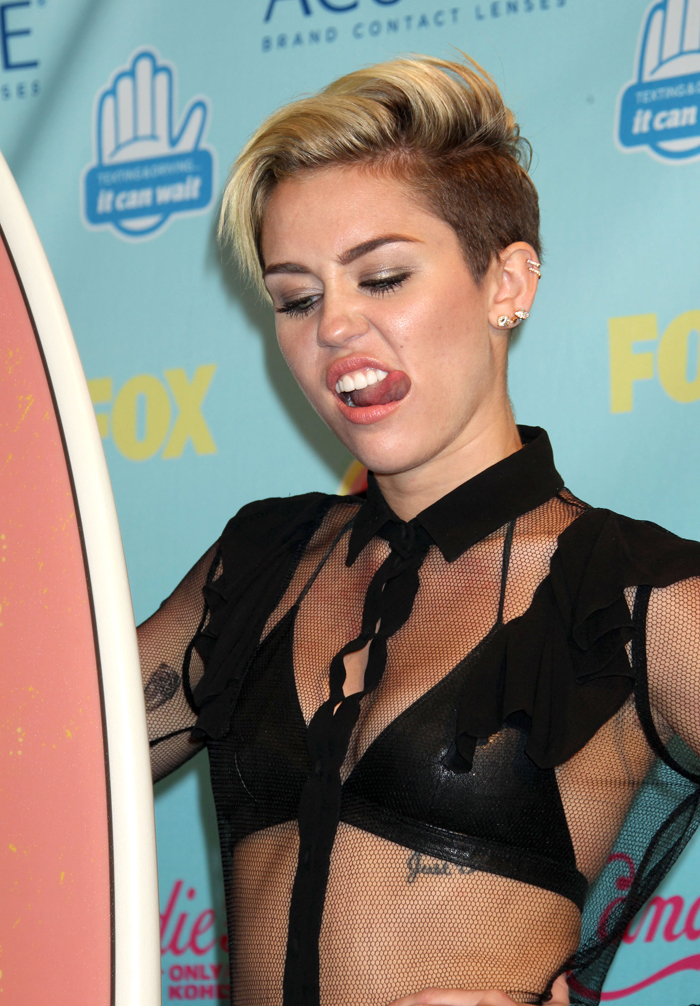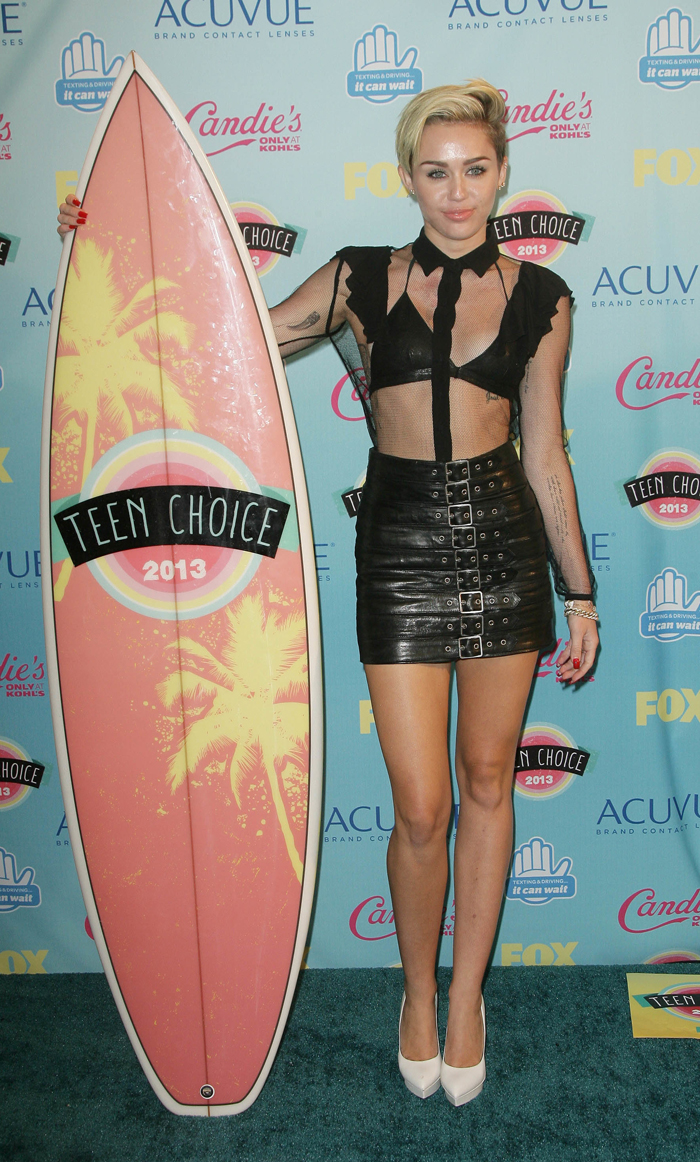 Photos courtesy of Miley Cyrus on Twitter, Fame/Flynet, and WENN