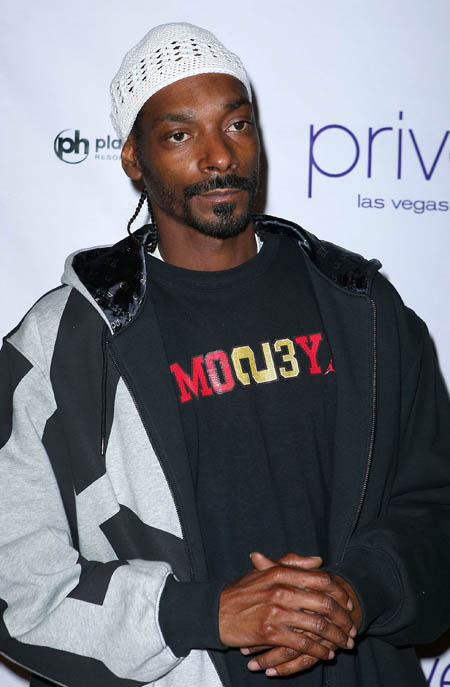 In 2006, Snoop Dogg and his 30-strong entourage caused a riot scene in Heathrow Airport, smashing whiskey bottles in a duty free shop and injuring several officers. Snoop and five of his entourage were arrested. Then in 2007, Snoop was supposed to do a UK tour with Sean Combs (I believe he was "Diddy" at the time), but had to cancel after the British refused to grant Snoop a visa. Now he wants to go back to London to get his creative juices flowing and the government is still denying him entry. Snoop has decided that the best way around the problem will be to ask British celebrities for their help. The only problem is that he references all the Beatles as potential supporters, when only half of them are available:
We can reveal the hip-hop legend has called on heavyweight A-listers Sir Paul McCartney, David Beckham and Madonna to fight his corner.

In an exclusive chat with 3am, the star howled: "I love London and I'm desperate to come back.

"I've called David Beckham, Sir Paul McCartney, hell, I want to get the whole of the Beatles to help me get back in" ….

John Lennon and George Harrison might not return your calls Snoop… don't take it personally. Snoops and Becks became pals after David moved to the States to play for LA Galaxy. Becks even taught him and his kids how to play football on his Sunday night reality TV show Snoop Dogg's Father Hood on E! Entertainment.

Now the Dogg wants Becks to play ball with Gordon Brown. And he adds: "I'm trying to get through to Madonna as well. I'd love them all to write to the Prime Minister to change his mind."

Snoop's visa woes began with an arrest at Heathrow following a fracas in April 2006. His joint mega-tour with P Diddy had to be cancelled when he was banned from entering the UK.

Now he says he's a reformed man and has begged us to come to his aid. He pleaded: "You got to help me too. London was one of the first places I came to when I first made it. The people are so warm and friendly and I need to be there for my creativity."
[from The Mirror]
Snoop needs to be in London the same way that he needs marijuana for his migraines. And someone needs to update him on his music history. John Lennon died in 1980 and Harrison in 2001.
Some Googling revealed that after the Heathrow incident, a British judge overruled the original decision to deny Snoop a visa, and that the judge even said Snoop wasn't at fault. So I'm not sure why he is having visa issues now. Maybe the appeal didn't fully go through. Either way, good luck with getting Madonna to write the Prime Minister. And good luck getting Gordon Brown to listen.
Snoop Dogg is shown on 1/19/09 launching 'We Rock Hip Hop Mondays' at Prive Nightclub in Vegas. Credit: WENN