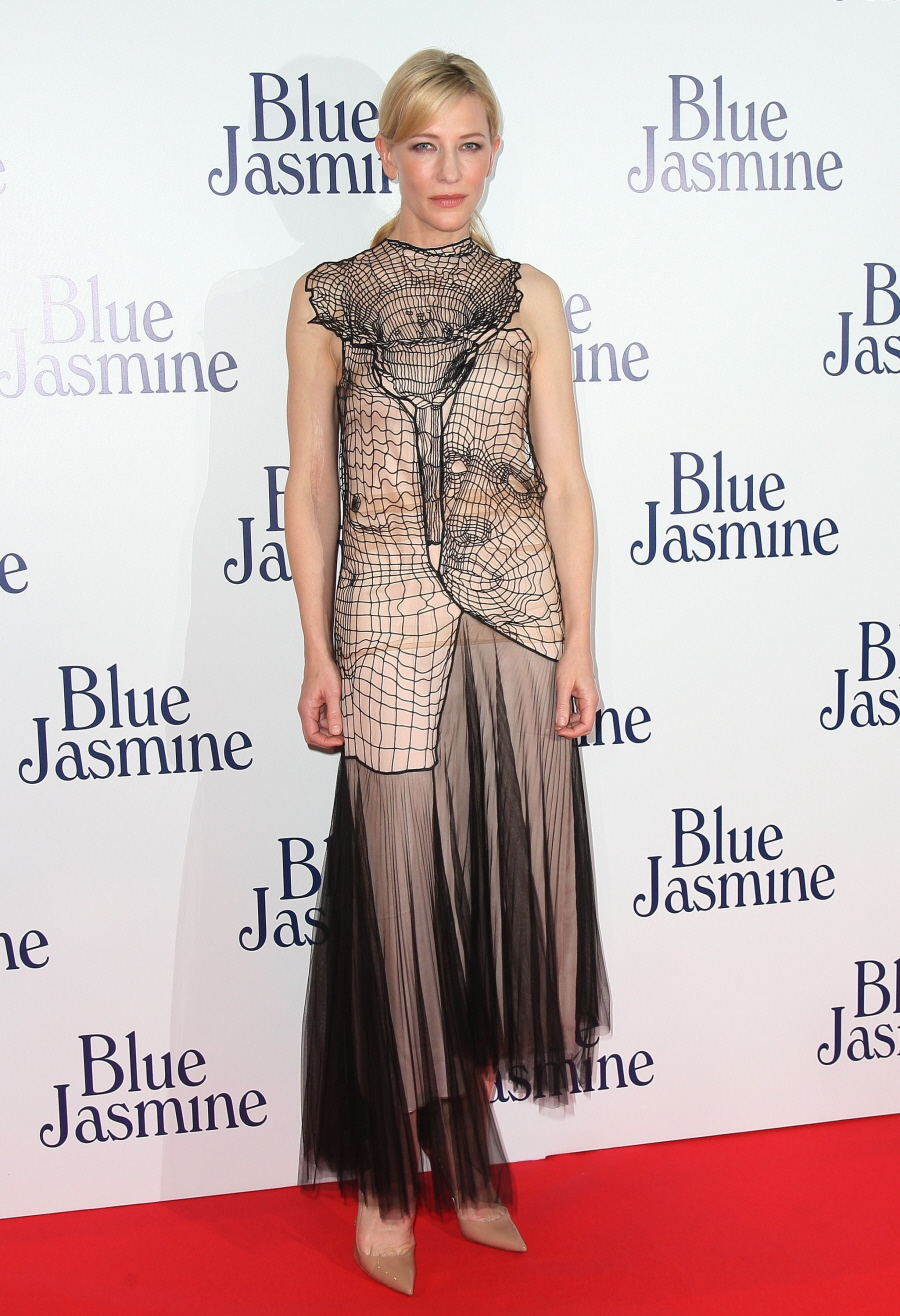 Here are some new photos from the Paris premiere of Blue Jasmine, the new Woody Allen film that critics are saying is one of his best. It's such a good movie and Woody seems so proud of his leading lady, Cate Blanchett, that he's even doing some public appearances to support the film (which is very unusual). Of course, maybe Woody and his wife Soon-Yi just fancied a trip to Paris (which is far more likely). Also in attendance at last night's premiere: Roman Polanski and his wife Emmanuelle Seigner. Gross. You would think that Woody would not want the comparison.
Cate wore this spider-web Christopher Kane Resort 2014 gown. I'm actually not all that crazy about this gown, and I'm saying that as someone who thinks Blanchett could make a burlap sack look elegant and chic. The dress is a weird design, it doesn't look like it was tailored properly, and it does nothing for her lovely figure. Plus, those beige-y nude colors are never my favorite on anyone. Still, I guess Cate is building up our expectations – I definitely think she's going to be Oscar-nominated for this role, and she needs to leave room to really wow us at the Globes, the SAGs, the BAFTAs and the Oscars, right? Right.
As I mentioned in a previous Alec Baldwin post, I went to see Blue Jasmine this past weekend and I really liked it. It's very much like a modern retelling of Streetcar Named Desire (which happens to be the play Cate did in Sydney and Washington DC for more than a year). I would recommend the film to anyone, really – it's not a very "Woody Allen film" at all. It feels like Cate's film. She owns it and it seems like Woody is just going wherever she's going. I also enjoyed the English actress Sally Hawkins – who did a flawless American accent – as her sister, and the supporting cast was pretty good too. There were supporting roles done by Bobby Cannavale, Louis CK, Peter Sarsgaard and of course Alec Baldwin.
Here's another interesting little thing about Blue Jasmine – it's total fashion and jewelry p0rn. Cate's jewelry is AMAZING. And she kept wearing this gorgeous Missoni cardigan that I was lusting after.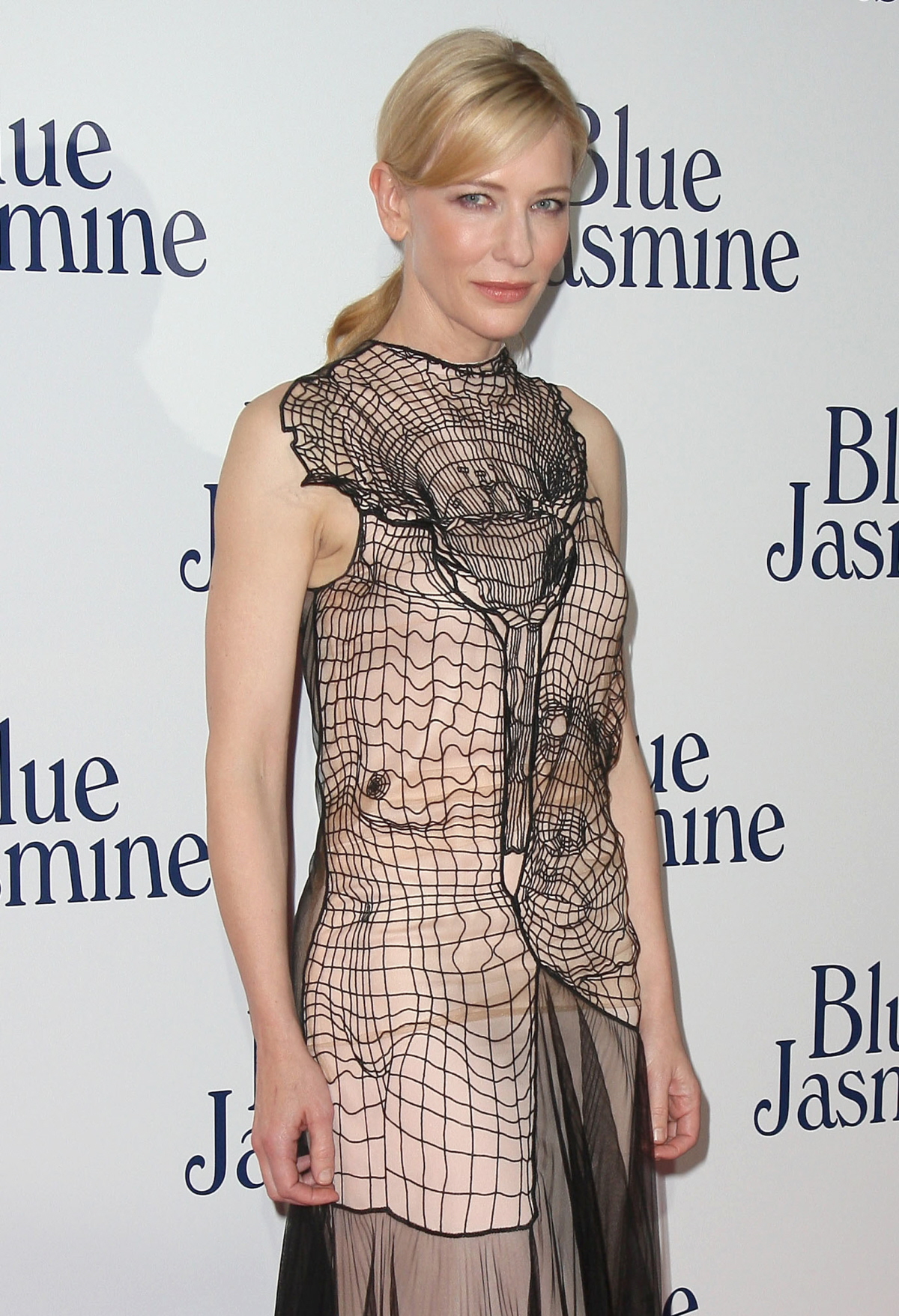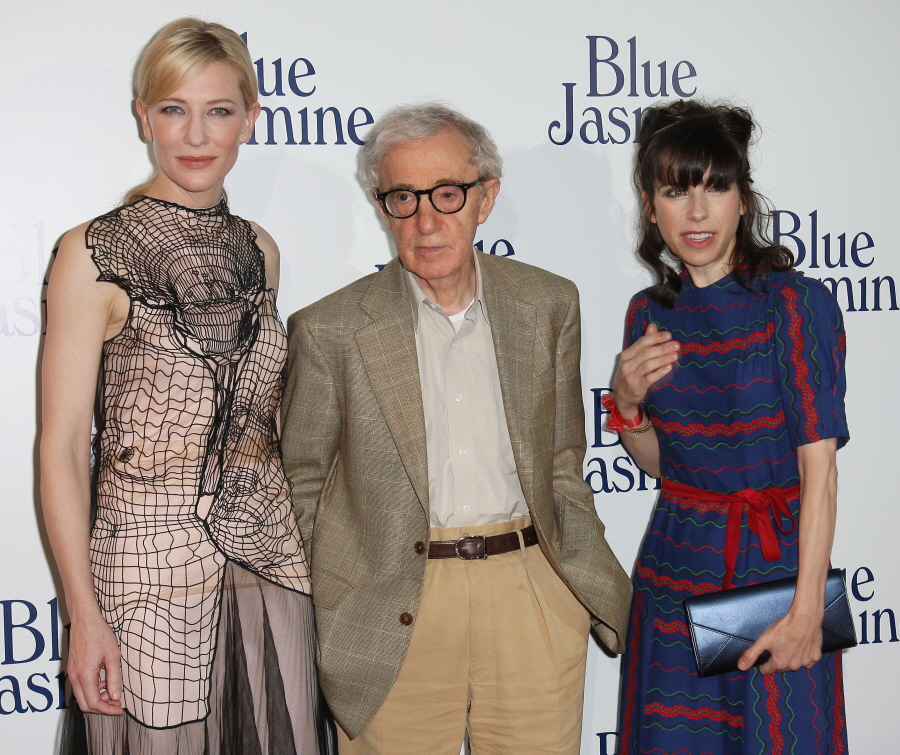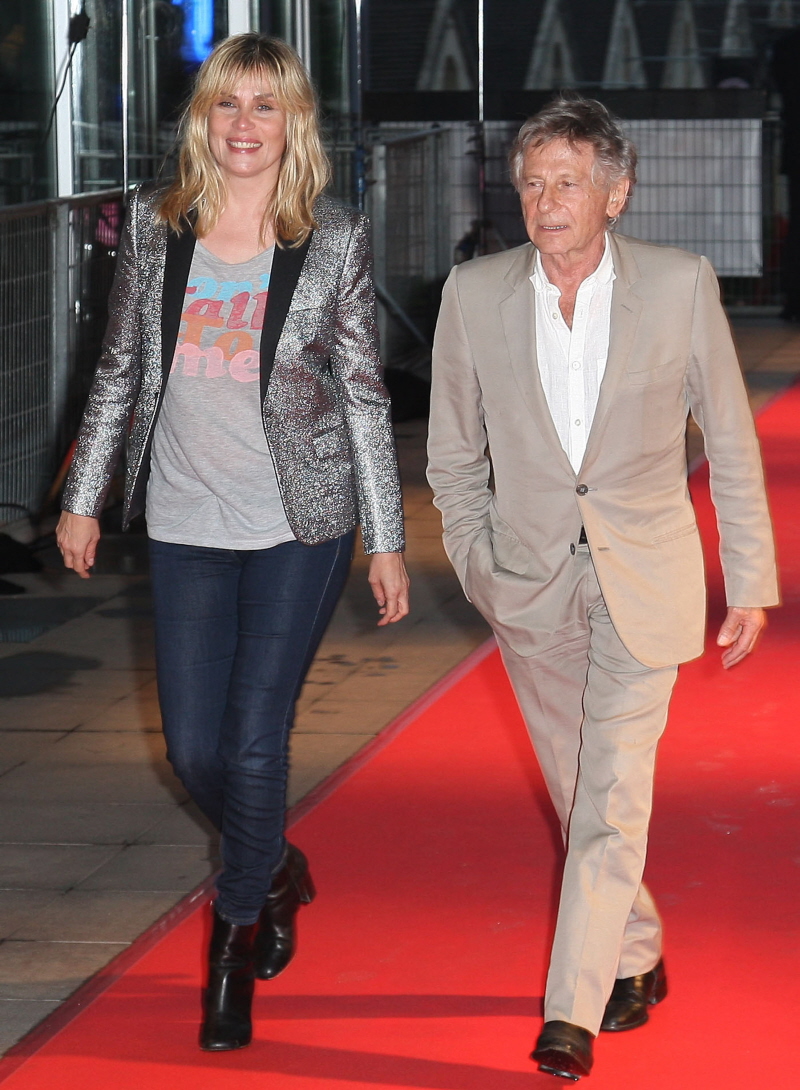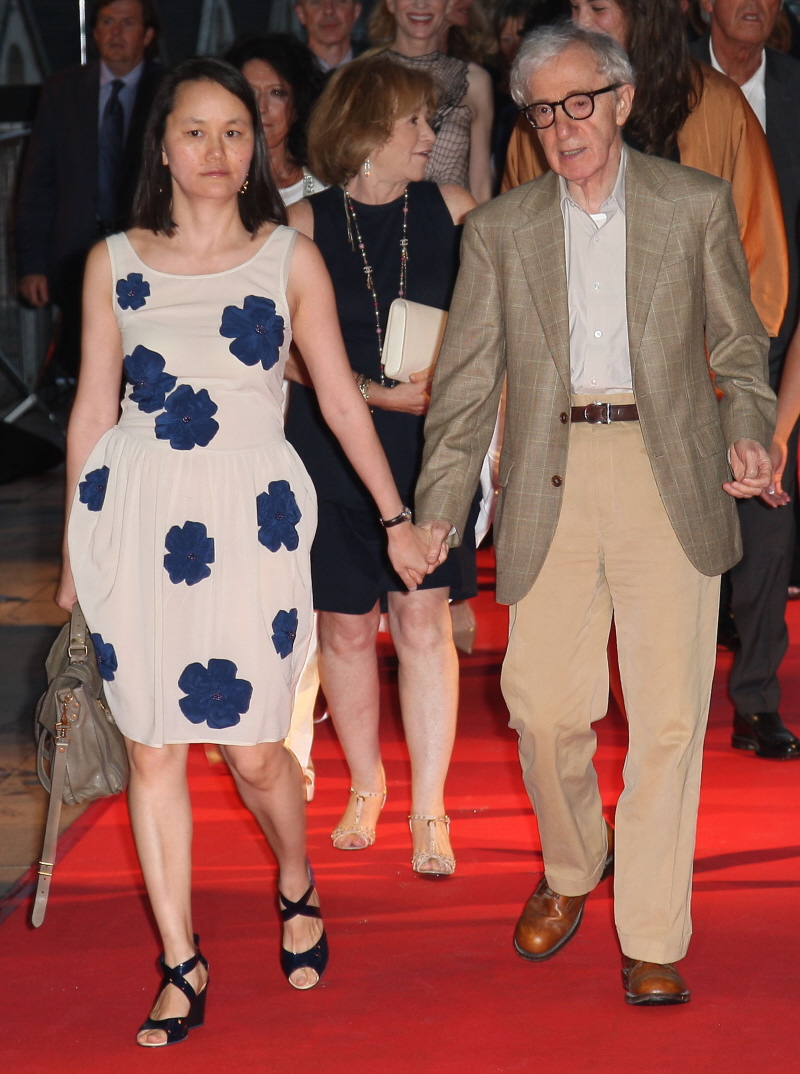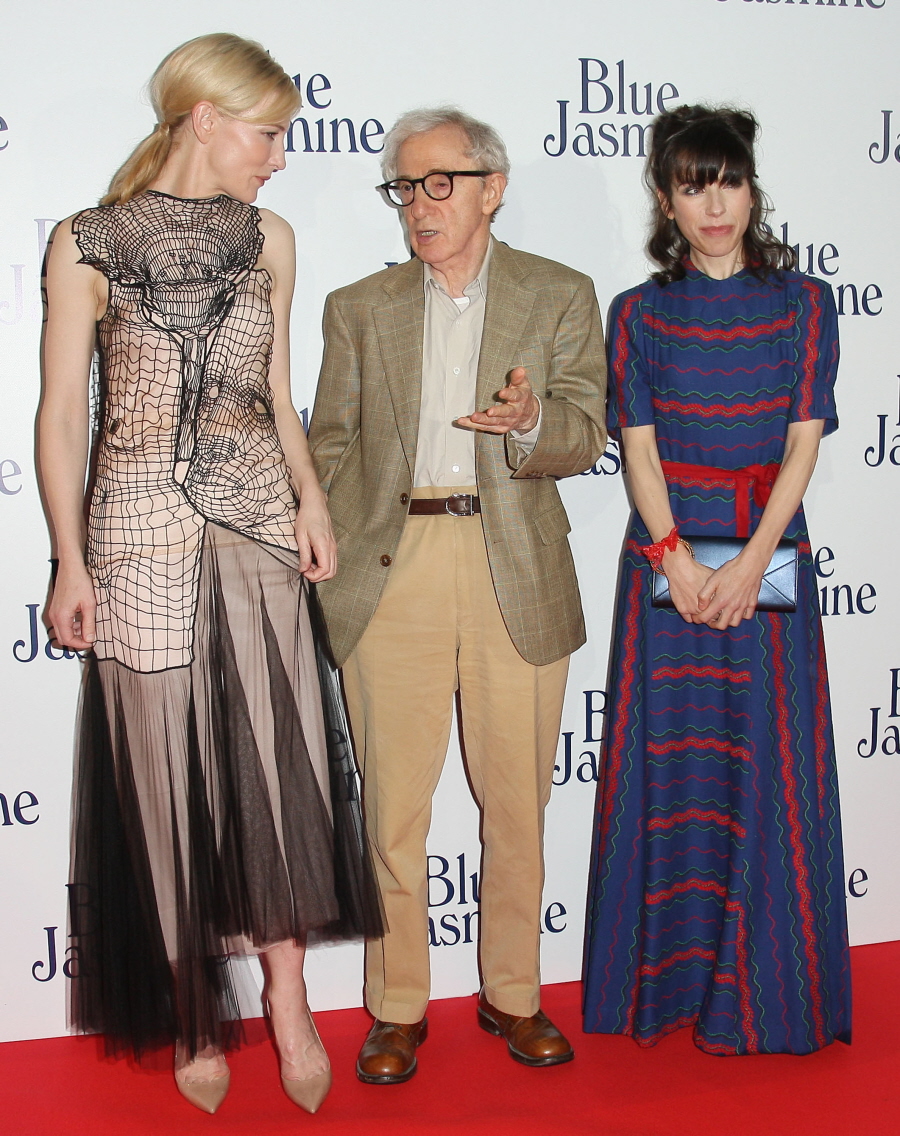 Photos courtesy of Fame/Flynet.