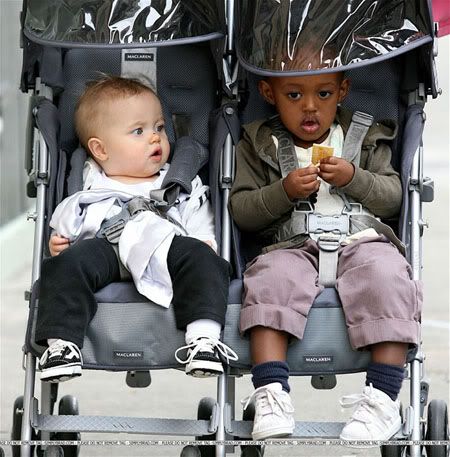 Brad and Angelina may not be adopting another child from Vietnam, as was rumored recently. They did visit a Vietnamese orphanage back in November, but have not filed the paperwork to adopt another child from that specific orphange, a spokesperson says:
Contrary to other, recent reports that Brad Pitt and Angelina Jolie were planning on adopting a Vietnamese child from the Tam Binh orphanage in Vietnam's Ho Chi Minh City, a spokesman for the orphanage tells Star, "Brad and Angelina have not been back to our orphanage since their visit in November. I'd only wish that they were adopting from us! There are many orphanages in Vietnam that they could adopt from, but it certainly is not us."
If that's the case then it's probably just another fake adoption rumor. It could be true that they're looking into an adoption with another orphanage in Vietnam, but I doubt it.
It looks like they have their hands full with the three they have. Maddox seems to be in Kindergarten during the day as he just turned five last August, and Brad and Angelina have been spotted out several times in the past few days with their two little ones, Shiloh, 9 months, and Zahara, almost 26 months.
This latest pictures of Brad, Angelina and the babies is quite cute and I love how Brad has Shiloh in the front carrier. Brad and Angelina seem to be getting out a lot in their new hometown of New Orleans. Angelina and Brad have been photographed enjoying the atmosphere of the French quarter from their porch. There is some concern for their safety as a neighbor was murdered earlier this year in a robbery, but they probably to have plenty of security.
Angelina is currently near Dafur on a UN peacekeeping mission, which is said to have kept her away from The Oscars.
Thanks to SimplyBrad, Celebrity Baby Blog and Oh No They Didn't for these images. Isn't that picture of Shiloh checking out Zahara's cracker adorable? These two were said to be out with their grandmother, Brad's mom, that day.