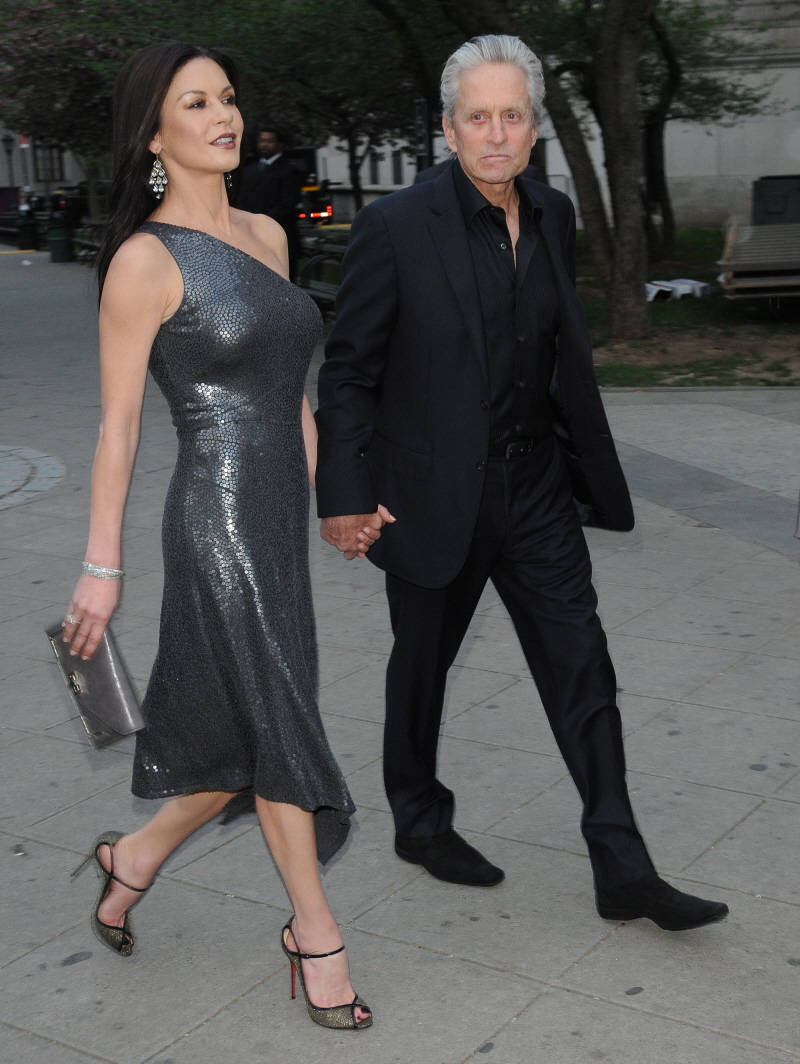 Many of us were not surprised by this week's People Magazine cover story, in which "sources" (re: publicists) claimed that Catherine Zeta-Jones and Michael Douglas have informally separated. The rumors have been rolling about Zeta and Michael for weeks/months. I think most people understand that they've been through a great deal over the past few years, what with his cancer diagnosis and treatment and her mental health issues. But of course, there's always added layers and extra gossip as to why such a high-profile couple has split. Which is where this Daily Mail story comes in. You can read the full piece here and here are some highlights:
Michael wanted the split: He has been spending time alone, in the South of France. She is with her mum and two children in upstate New York, in a stunning £3.2million home. Douglas, 68, is said to have given up on the union some time ago and has already consulted lawyers, though neither he nor Catherine, 43, is said to be filing for a divorce at this stage.

They've been living apart on-and-off for a while: Earlier this year, she spent a second spell in the clinic to receive further treatment for her condition. In recent months, they have drifted increasingly apart. It was claimed in February that Douglas had moved out and gone to live nearby while they considered their future. He was also said to have moved out for a time last summer, but returned because of concerns for her health.

Fighting about Cameron, who is in jail: There have been reports of vicious arguments. He is said to have accused her of 'giving up' on Cameron, his son from his first marriage, who he regularly visits in prison in Pennsylvania, taking their two children Carys, ten, and Dylan, 13, with him. But Catherine has never been seen there.

Jen Paul, the editor of the Bohomoth: 'This has been a perfect storm of stress, guilt and incredible heartache. They decided last year to give living apart a go, while co-parenting the kids, but now they barely see each other. Rather than help them decide what was wrong and what needed fixing, it made it clear to them both that they were so much happier and calmer apart. They have tried counselling but the truth of the matter is they've fallen out of love and are both completely different people now from how they were when they got married.'

Catherine is fighting for the marriage: A source says, 'The marriage is effectively over. Catherine is fighting to save the marriage but he's had it. Michael has been through so much in the past few years he feels that life is too short for all this misery.' Another says: 'Reconciliation is not on his radar anymore.'

Michael is a 'dry drunk': He is someone who no longer abuses alcohol but is prone to rages. 'Michael has gotten to be a mean old man. He finds fault in her all the time, it is an ugly atmosphere. He is grouchy and hard to live with. They have been arguing for years.'

Michael doesn't want to be a house-husband anymore: After Catherine won an Oscar for Chicago in 2003 and had daughter Carys shortly afterwards, Douglas took a career break, saying that he was happy to stay home and make pancakes with the kids. He reasoned that Catherine was 'in the prime of her career.' They set up home in Bermuda, but Catherine apparently found it incredibly boring. And when she had to work, it led to separations. While Douglas stayed at home she enjoyed boozy outings with Brad Pitt and George Clooney on the set of Ocean's Twelve.

She flirted with Aaron Eckhart: In 2007 there was a very public flirtation with another co-star, Aaron Eckhart. The two held hands on the red carpet, and Douglas was apparently 'furious'.

The money & the prenup: The couple have a combined fortune of £185 million and Catherine has a pre-nuptial agreement which gives her £960,000 for every year of marriage. She will also be advised to hang on to several of their eight homes.
I actually like Michael as an actor (Romancing the Stone 4 Eva), but I have no problem believing that he's a son of bitch in his personal life or that he and Catherine have been fighting for years. I don't have any trouble believing that he's a nit-picker and that he can be belligerent too. And that's when the age difference really comes in, right? But what does surprise me is that it sounds like Catherine hasn't given up yet – that she really loves him and wants to try to make the marriage work? Poor Zeta.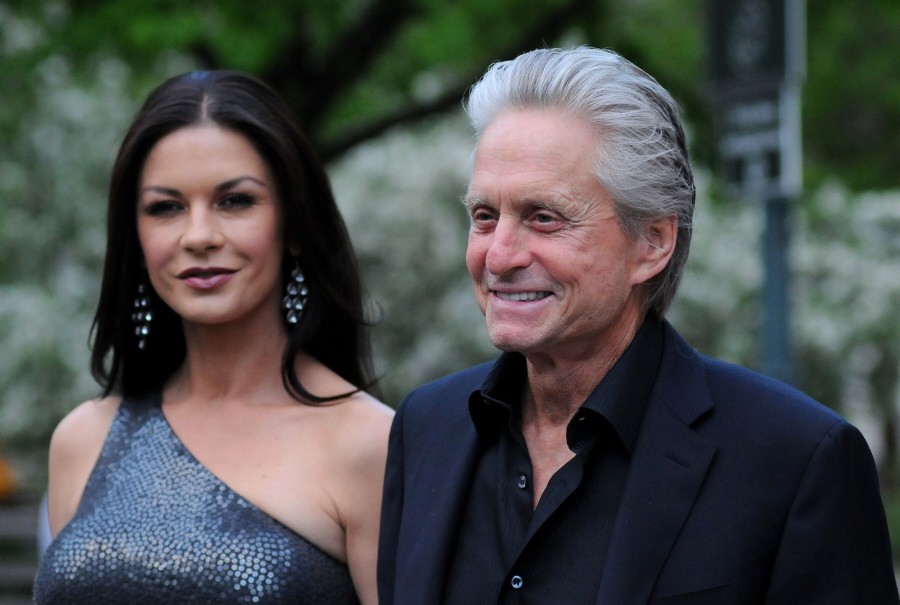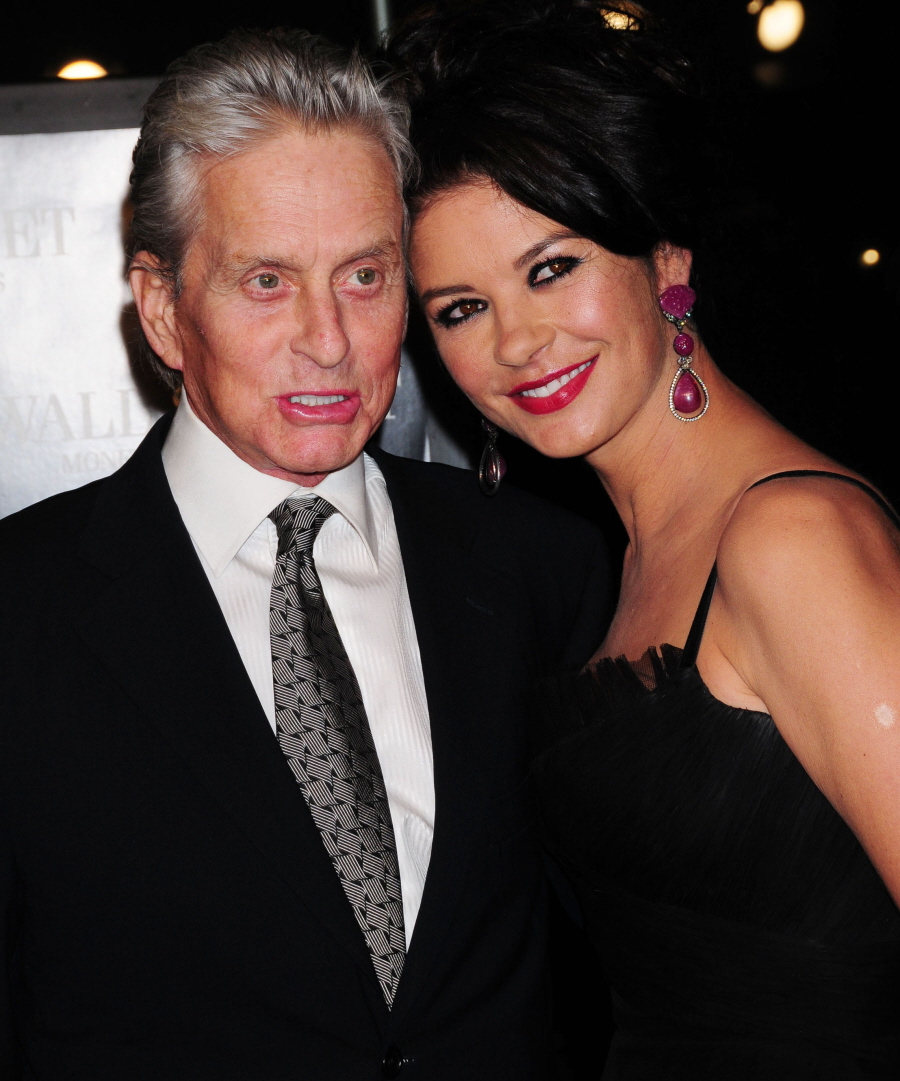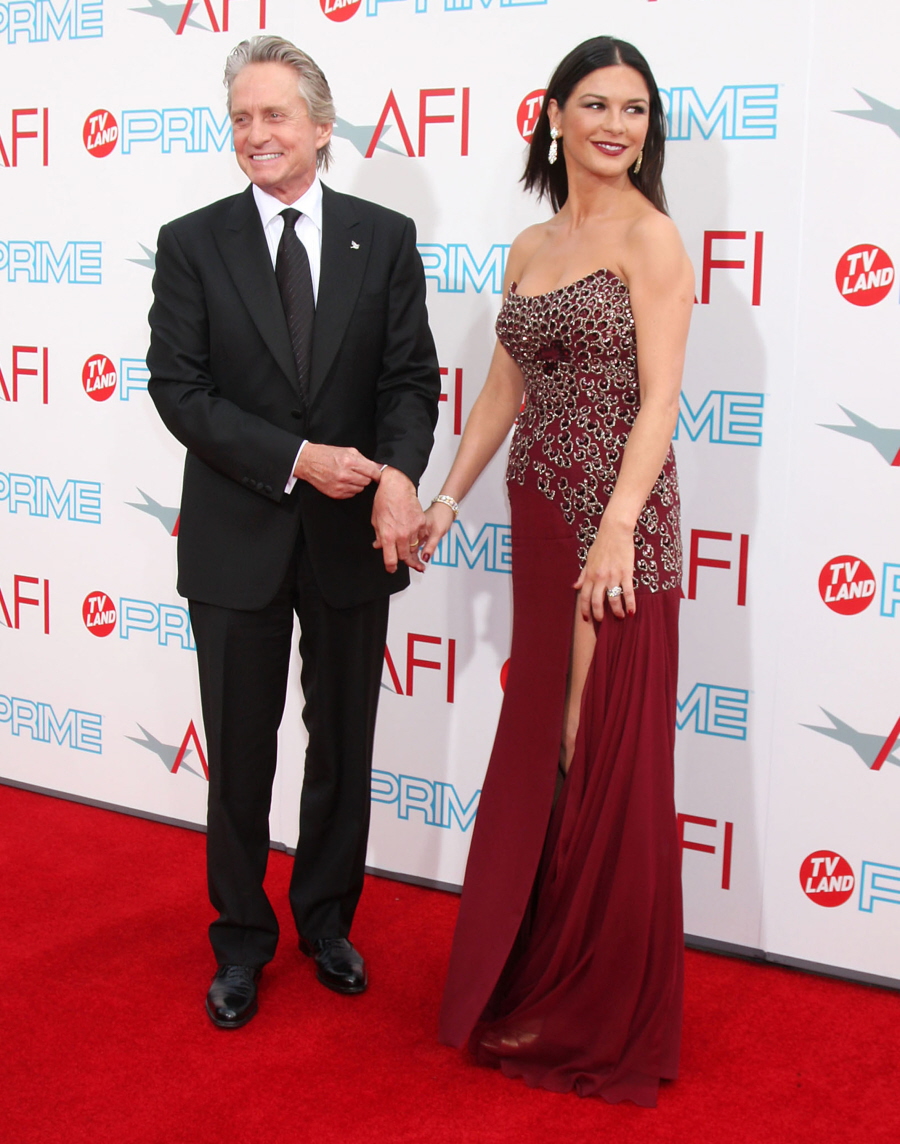 Photos courtesy of WENN.