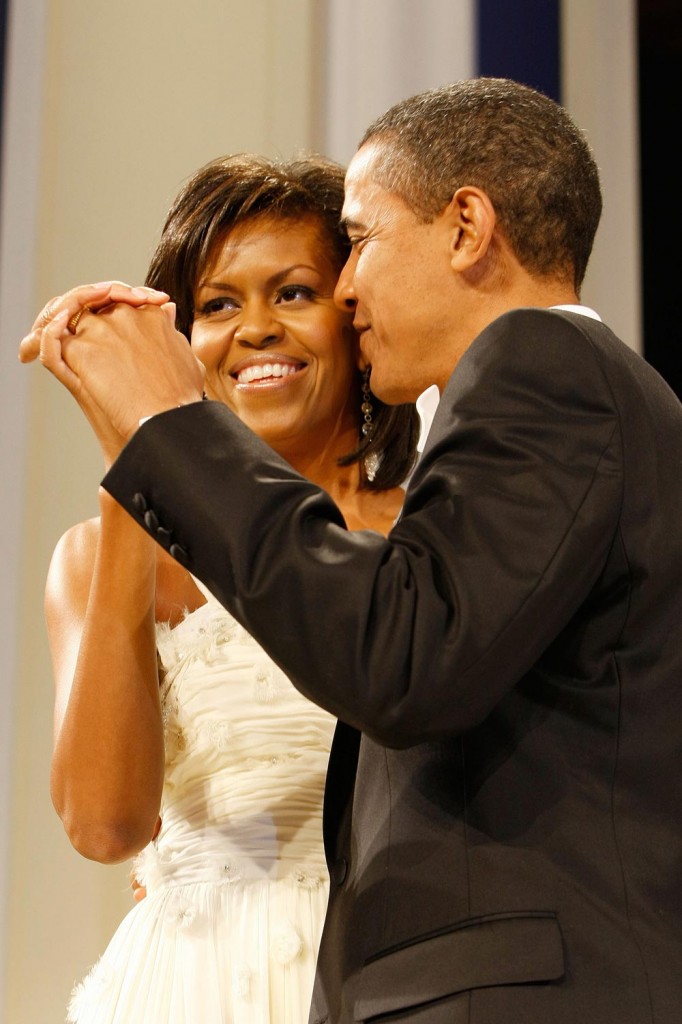 Barack and Michelle Obama told CNN's Showbiz Tonight the story of how they met along with the romantic details of their first date. The new President and First Lady are often lauded for their genuine, loving relationship. They have very affectionate body language and the way they look at each other makes it clear that they're still in love and value their partnership. Barack, 47, and Michelle, 45, first met in 1989 when Barack was working as a summer intern at a Chicago law firm where Michelle was employed. Michelle was assigned to be Barack's advisor at the firm and she wanted to avoid a personal relationship so she resisted his advances at first. She quickly came around, though, and the couple got engaged two years later and were married in 1992. From the way they talk about the start of their relationship, it sounds like it was special from the very beginning.
Showbiz Tonight showed Michelle and Barack speaking separately and then spliced their quotes together. It didn't appear like they were in the same room when they gave the interview:
Michelle: "I tell this story all the time, I was a first year associate. There was all this buzz about this hotshot young first year law student from Harvard."

Barack : "I had actually spoken to her on the phone… she was very corporate and proper…"

Michelle: "I remember getting his bio… at first I thought what kind of name is Barack Obama…" [Michelle mentions that she heard he was biracial and grew up in Hawaii] "my assumption was this guy has got to be kind of weird."

Barack: "When I saw her she was very crisp and professionally dressed and beautiful. I thought she was gorgeous."

Michelle: "When he walked into my office on that first day, he was cuter than I thought he'd be."

Barack: "What I noticed was… she had a good sense of humor. There was certain wit and mischievous[ness]… that appealed to me a lot."

Michelle: "I got taken out to lunch on that first day. He was funny, self deprecating, he didn't take himself too seriously, he could laugh at himself, we clicked right away."

Barack: "I knew right then that she was somebody I was going to enjoy getting to know"

Michelle: "He insisted that we should go out on a date, I thought 'no, that wouldn't be the right thing to do,' he said 'who cares?'"

Barack: "She had all these theories and I basically knocked them down one after the other."

Michelle: "I said, 'OK we'll go on this one date but we won't call it a date, I'll spend the day with you.'"

Barack: "First I took her to the art museum, the Chicago art institute, to try to show that I was a cultured kind of guy."

Michelle: "He impressed me with his knowledge of art and we went to lunch at one of the outdoor cafes at the art institute where they were playing jazz, so that was kind of sweet."

Barack: "We took a long walk and we went to Do The Right Thing… When I saw Spike Lee at Martha's Vineyard a couple years back I told him he was responsible… for helping me make my play on Michelle."

Michelle: "We had a drink on the 99th floor of the John Hancock Building… a beautiful view of the city. Probably by the end of that date, it was over."
[Transcribed from Showbiz Tonight, aired 1/21/09]
What an impressive story of how they met. It's to their credit that these interviews were done separately because you can tell that they have a shared memory of how meaningful their first date was. They're one of the youngest and most vibrant couples in the White House and seeing the love and care they have for each other is refreshing. There's some minor buzz about a potential baby in the White House, but Michelle is 45 and that doesn't seem likely. She has two wonderful daughters and has said that her focus will be on making sure that their lives remain as normal as possible. Michelle's mother, first grandmother Marian Shields Robinson, 71, will be on hand to help make that a reality.
We now have a President in office who is a great example of how to remain calm and collected in the face of adversity, and a couple in the White House who show that a marriage can remain loving and committed over the years. It's an inspiring time in America.