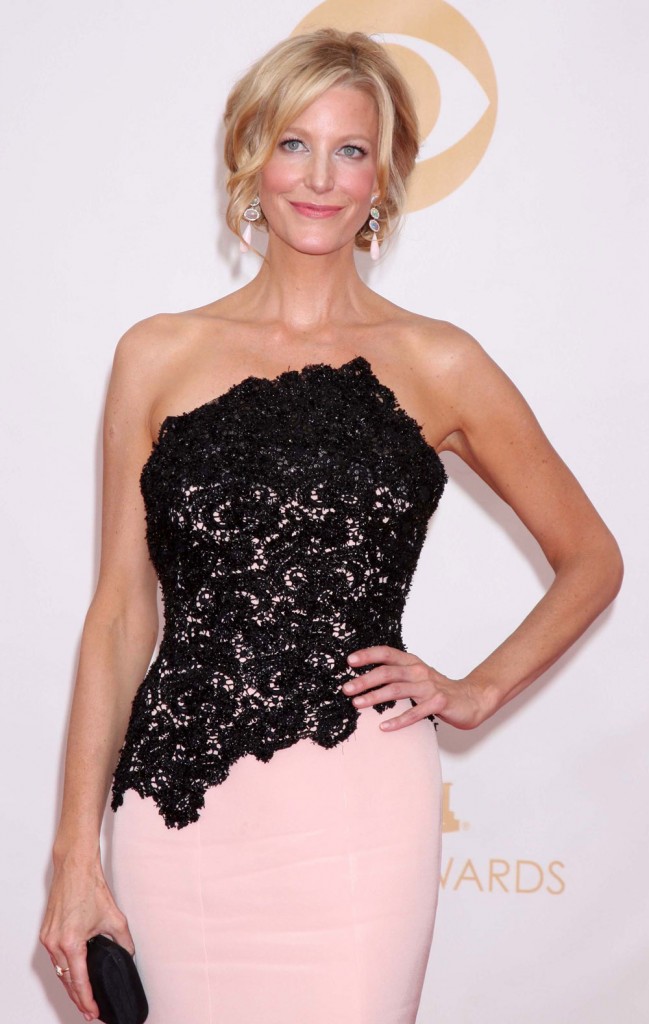 Breaking Bad took home the Emmy for outstanding drama series. (A full list of winners is here.) Unfortunately the awards for lead and supporting actor in a drama did not go to Bryan Cranston or Aaron Paul, but they've both won Emmys for Breaking Bad multiple times. (Cranston won three years in a row and Paul won twice). Breaking Bad's Anna Gunn earned her first Emmy last night for supporting actress in a drama series. Rabid fans may "hate" Skyler for calling Walt on his sh*t, but I admire the character for that reason. The fact that anyone would blame Gunn for Skyler's actions speaks to how effectively she plays the character. (You can see Gunn's acceptance speech on YouTube.)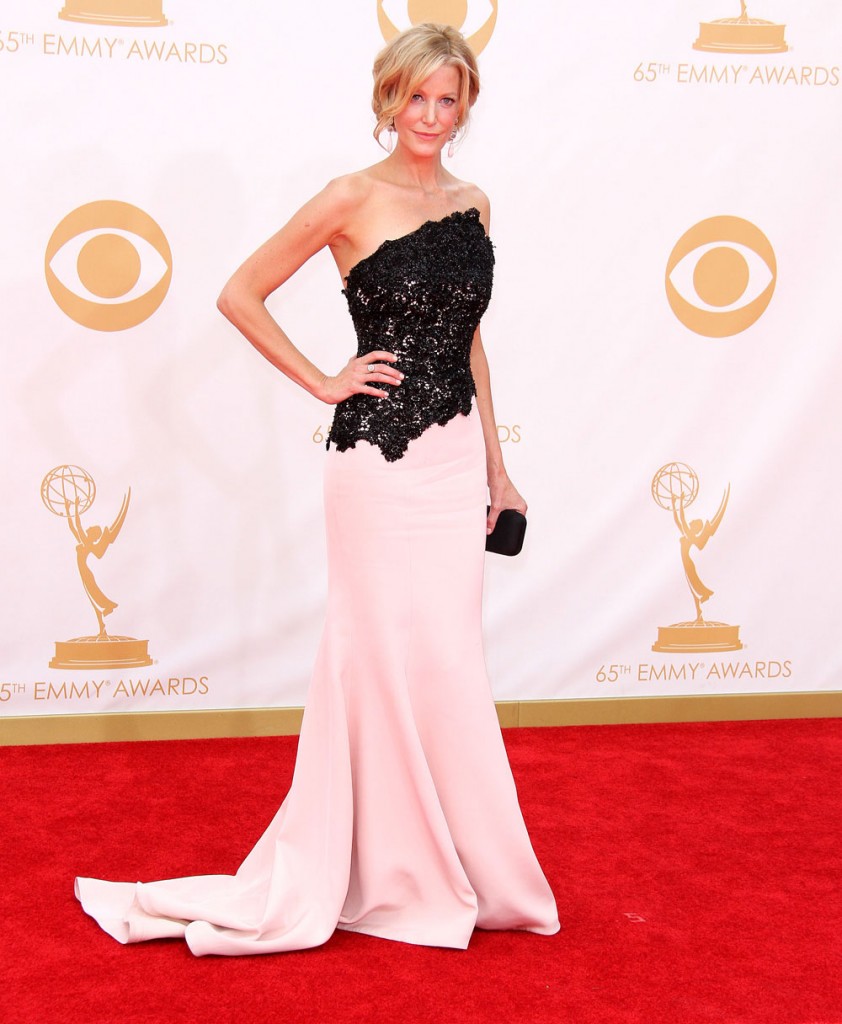 In terms of her fashion, Gunn wore a black lace and pale pink strapless Romona Keveza gown. She looks striking and I love her styling here. Her makeup is understated and the blush tones match her dress well. I especially like her drop earrings and ever so slightly messy updo.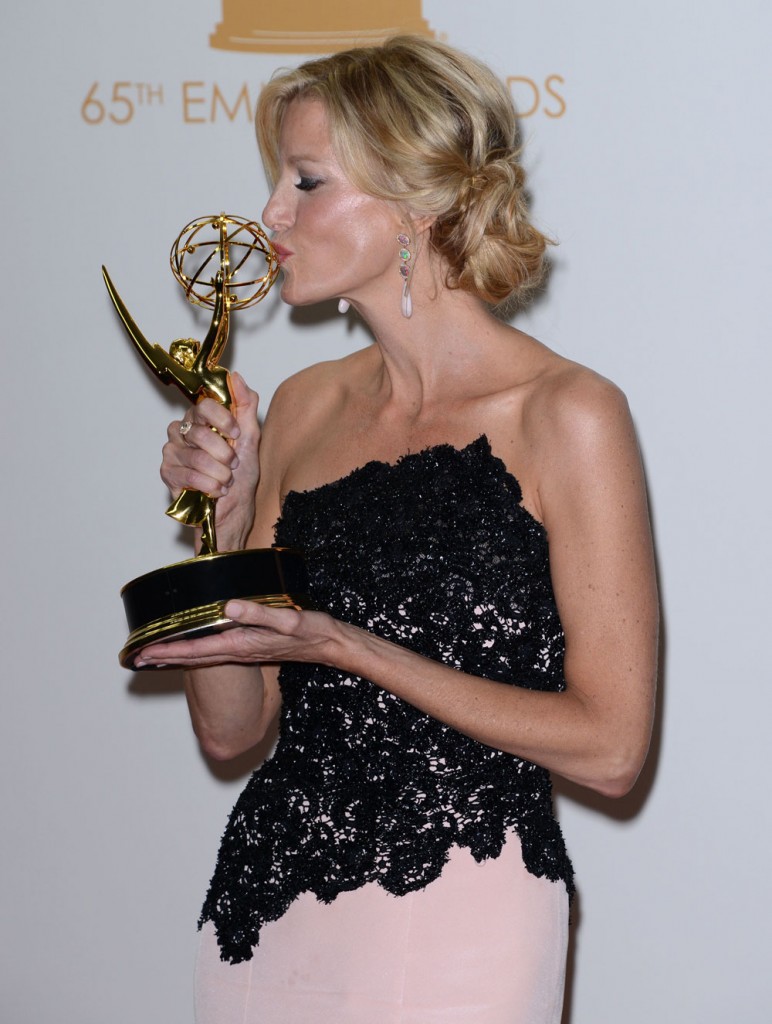 In contrast, Gunn's costar Betsy Brandt was a hot mess with Bride of Frankenstein hair in a bizarre tie-dyed cake topper gown. (I don't have a designer ID on this, which is probably best for whomever designed it.) The thing that bothers me the most is that Brandt is not wearing purple. It's an affront to Marie not to wear purple!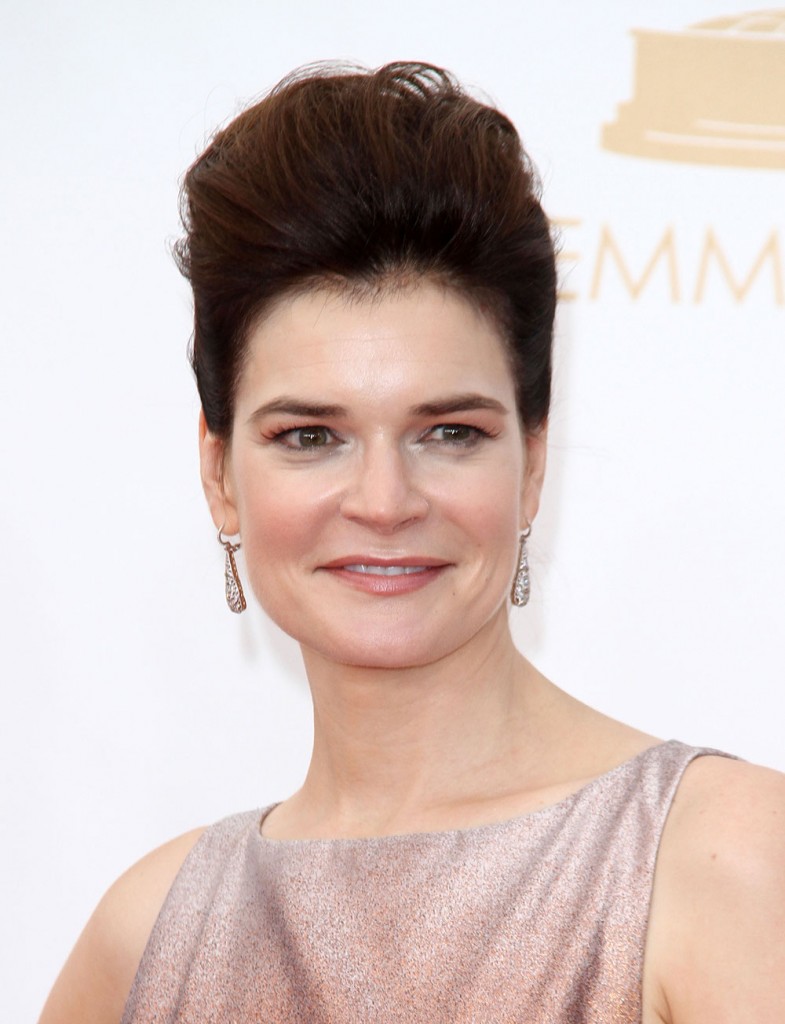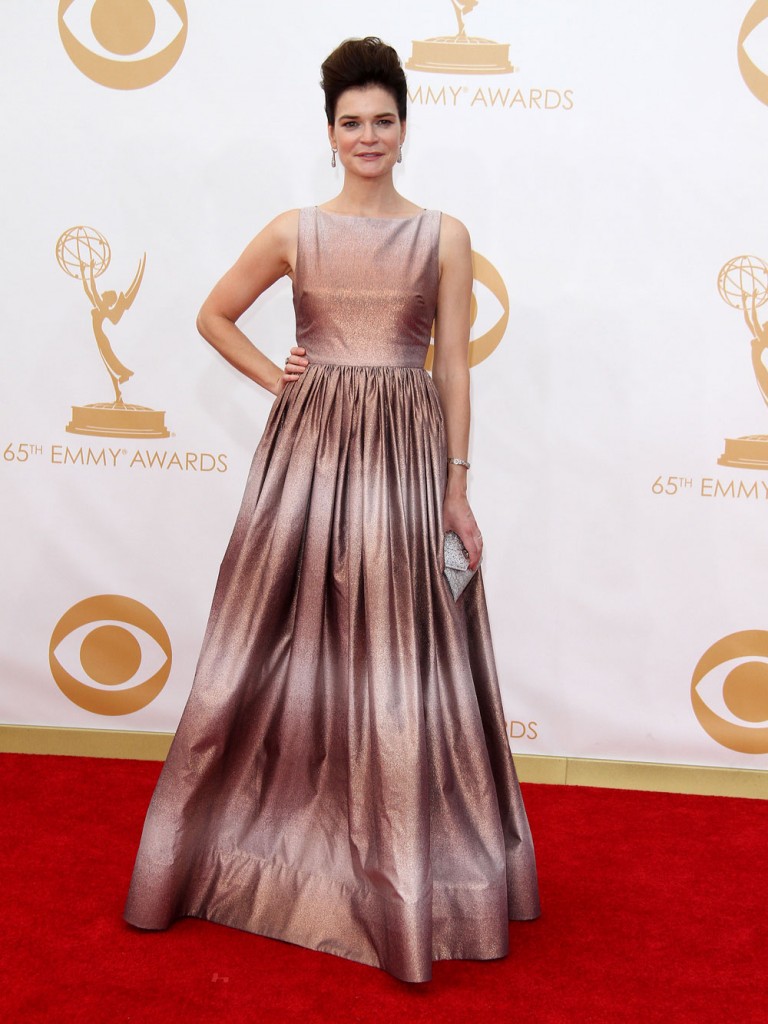 Also rocking Elvis hair, but with slightly more success, we have Vera Farmiga in Theyskens' Theory. Farmiga was nominated for lead actress in a drama, for Bates Motel. That Emmy went to Claire Danes. Apart from her bizarre hair, I actually like Farmiga's look here. I know many of you will disagree, and the dress could be more tailored, but I think it works. I really like the full skirt, the clean simple lines, and the modern geometric belt.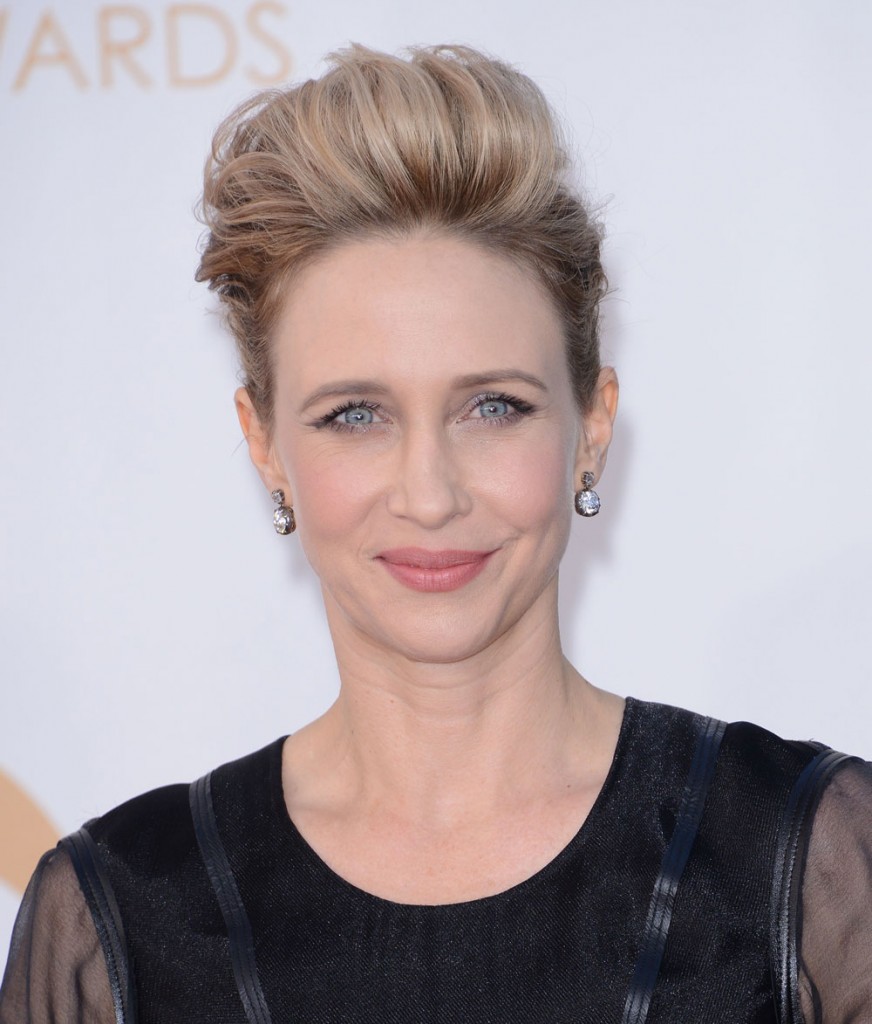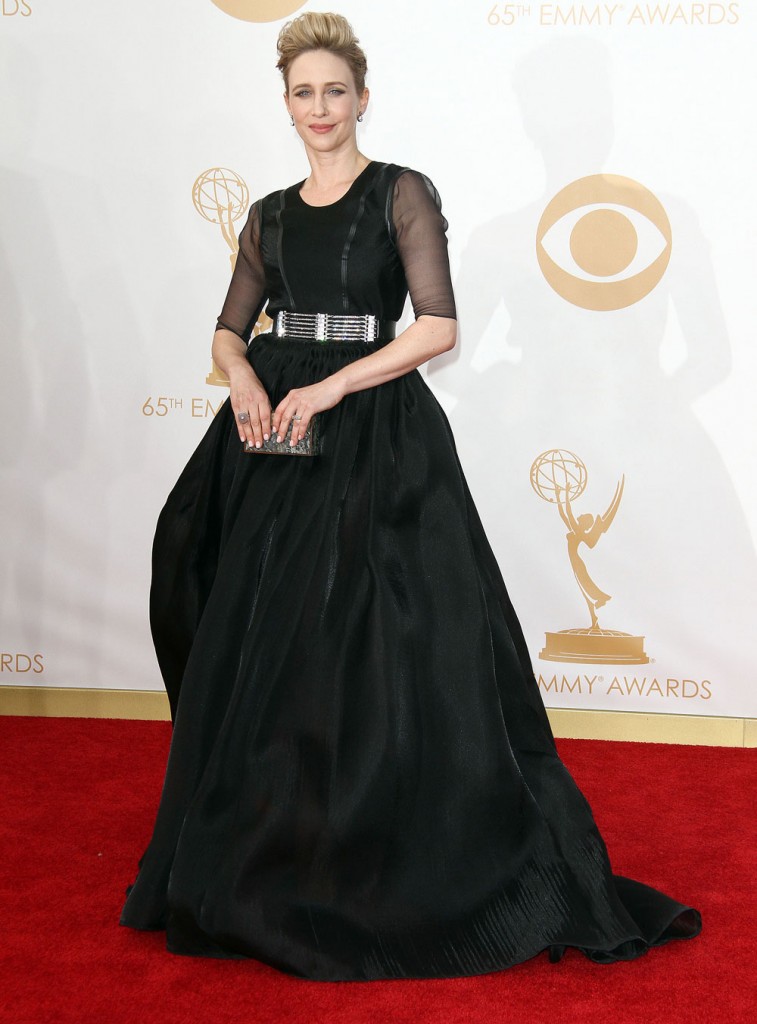 Finally we have Nashville's Connie Britton in blue velvet and gold brocade Naeem Khan. This dress reads very tacky to me, like it should be curtains or a couch. Maybe it would work as an accent throw. Her styling is overdone, and I dislike the stacks of gold bracelets, her loose hair and matchy blue nails. Britton so rarely gets it right on the red carpet, which is a shame.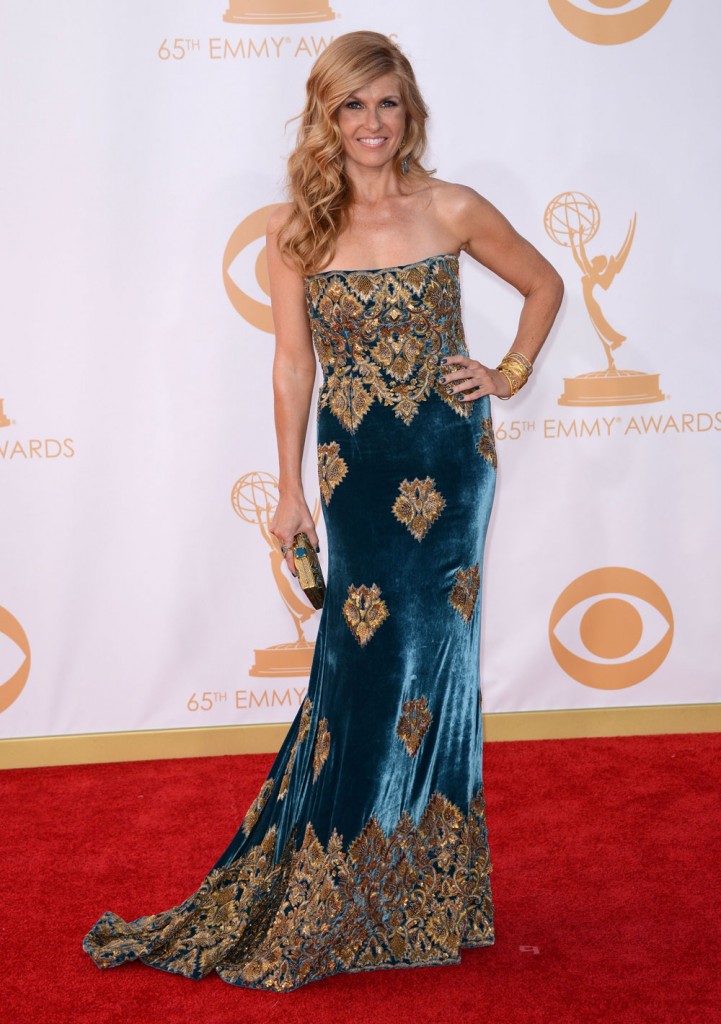 Photos credit: FameFlynet and WENN.com