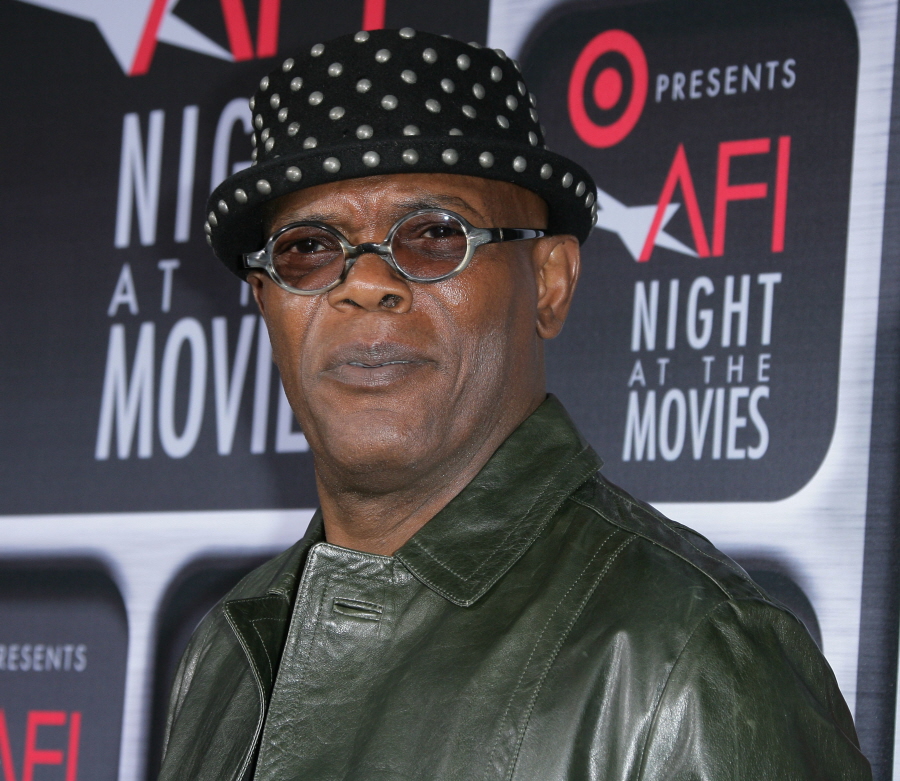 Samuel L. Jackson is "The Interview" in Playboy's October issue. I find it hard to believe that Playboy has never done an extensive interview with Sam before, because this man (or should I say, this motherf—ker) can TALK. He drops so many f-bombs all the time, but even when his interviews are written down, you can still recognize his poetry and cadences. I don't want to oversell this interview or anything, but this is going to be the best thing you read all week. Go here to read the full Playboy piece, and here are some wonderful highlights:
Working with Spike Lee after having a falling out years ago: "Working with Spike was just like we'd never stopped. He's very efficient, knows what he wants and doesn't get in my way artistically—whatever I come with, I come with, and it's cool."

On his Oldboy costar Josh Brolin: "We all do our homework, so beforehand I asked T.L. [Tommy Lee Jones] about Josh because he tolerates no bulls–t whatsoever, and he said, "Ah, great kid." If T.L.'s down with you, you're good with me. People who come to a movie set angry, bitter and giving people a hard time? It's like, f–k, this is supposed to be a great place, a playground. Josh is good, and he understands the fun aspect of the job. When they say "Action," you get serious. "Cut," boom. There are a few actors who are like that who are really great, like Julianne Moore. When we were doing Freedomland, Julianne was standing there saying, "Sam, do you watch American Idol? Oh, it's so great." They call "Action!" and she's crying her eyes out; they call "Cut!" and she comes right back over: "As I was saying, this American Idol thing…." She's amazing.

On not wading into Quentin Tarantino and Spike Lee's beef about Django: "We didn't have that conversation. One thing I've learned is that when I'm hired to do the job, that's what I do. I did a film [Soul Men] with Bernie Mac that was directed by Spike's cousin that I didn't have such a great time doing. We didn't talk about that either, other than my saying, "How's he doing?" and Spike answering, "Oh, he's fine. You guys didn't get along so well, did you?" "No, we didn't." Boom—that was the end of it. One thing had nothing to do with the other. Part of the thing that f–ks with all those people who criticize Quentin for being a "wigger"—even, I guess, Spike—is that they don't take into account that Quentin's mom used to go to work and leave him with this black guy downstairs who would take him to these blaxploitation movies. That's his formative cinema life. He loves those movies. It's part of him."

On the stupidity of Spike Lee's claim that only black directors should make movies about black experiences: "There is this whole thing of "Nobody can tell our story but us," but that's apparently not true, because the Jackie Robinson movie finally got made as 42. Spike didn't make it, but people still went to see it. When Boaz Yakin did Fresh in 1994, all of a sudden it was like, "Who is this Jewish motherf–ker telling our stories?" He's the Jewish motherf–ker who wrote the story, that's who. If you got a story like that in you, tell it. We'll see when [director] Steve McQueen's movie 12 Years a Slave comes out, if it'll be like, "What's this British motherf–ker know about us?" Somebody's always going to say something."

Defending Django: "Spike saying "I'm not going to see Django because it's an insult to my ancestors"? It's fine if you think that, but then you have nothing else to say about the movie, period, because you don't know if Quentin insulted your ancestors or not. On the other hand, Louis Farrakhan, who these blackest of black people say speaks the truth and expresses the vitriol of the angry black man, can look at the movie and go, "Godd–n, that's a great f–king movie. Quentin Tarantino told the truth." Dick Gregory's seen the movie 12 f–king times. I respect what they have to say more than anybody else, because they've been through it. They walked the walk with Dr. King. Some of the bulls–t criticisms about Django come from people who don't understand the genre and who didn't live through that era. They think they need to wave a flag of blackness that they don't necessarily have the credentials to wave."

What he would never do for QT: "Probably dress up as a woman and kiss another guy. I don't think people want to see me do that. He hasn't asked me, but you know what? If it's done right and the story is good, I might."

The film he considers his signature role: "If there were one movie I wanted people to look at, it would be A Time to Kill. It's an American story and a very Southern story. I'd like people to look at that one and say, 'Oh my God.'"

He was not a badass when he was young: "Oh hell no, I was not the cool guy growing up. I was bookish. I had a stutter. I wasn't in the streets with all the other kids. I didn't dress cool or do cool s–t. I played the trumpet, flute and French horn in the marching band and had great style on the field when we performed, but that wasn't the cool thing to do. I was popular because I was funny. I definitely didn't have the hot chicks. The atmosphere in the house was one of love, with a lot of joy, but I also had discipline—and a curfew.

He always loved girls: "In Georgia there was a family of girls who lived through the woods from us, and we all used to meet at this creek and swim naked. I was about 10 or 11. I think two of the girls were about 14, 15, so that's when it happened. Girls were interesting to me, period. They could be fat, skinny, tall, short, ugly, beautiful—as long as they were willing to do that thing."

Graduating from Morehouse College: "I wanted to be a marine biologist. That was the influence of 20,000 Leagues Under the Sea. Even today, when they keep talking about doing a new 20,000 Leagues Under the Sea, I would kill to play Captain Nemo. I loved Edgar Rice Burroughs as a kid too, and I was going to do a new Tarzan movie with Alexander Skarsgård, but it got canceled."

He's fine being the grammar police: "The other day I'm watching this white guy talking to black people on TV, and all of a sudden he's saying stuff like "Pump your brakes" and "I got you," these new politically cool terms that kind of came out of hip-hop and blackness. I'm thinking, We do still speak English, right? Though sometimes I wonder. So yeah, it still happens. But the whole language and culture are different now. I'll be reading scripts and the screenwriter mistakes "your" for "you're." On Twitter someone will write, "Your an idiot," and I'll go, "No, you're an idiot," and all my Twitterphiles will go, "Hey, Sam Jackson, he's the grammar police." I'll take that. Somebody needs to be. I mean, we have newscasters who don't even know how to conjugate verbs, something Walter Cronkite and Edward R. Murrow never had problems with. How the f–k did we become a society where mediocrity is acceptable?
There is so, so much more but this is already a long piece, so just go read the full interview. It's worth the time. Spend your lunch break reading it and laughing. Sam offers an extremely full-throated defense of Quentin Tarantino, and while the defense is both on-point and hilarious, it's also moving. You can tell that Sam just LOVES QT. They adore each other and it's really sweet. Sam also talks a lot about being militant and his politics (he seems to adore Hillary Clinton) and how his daughter is good friends with Anne Hathaway (Sam calls her "Annie Hathaway" too). Sam is so f—king cool. In every way.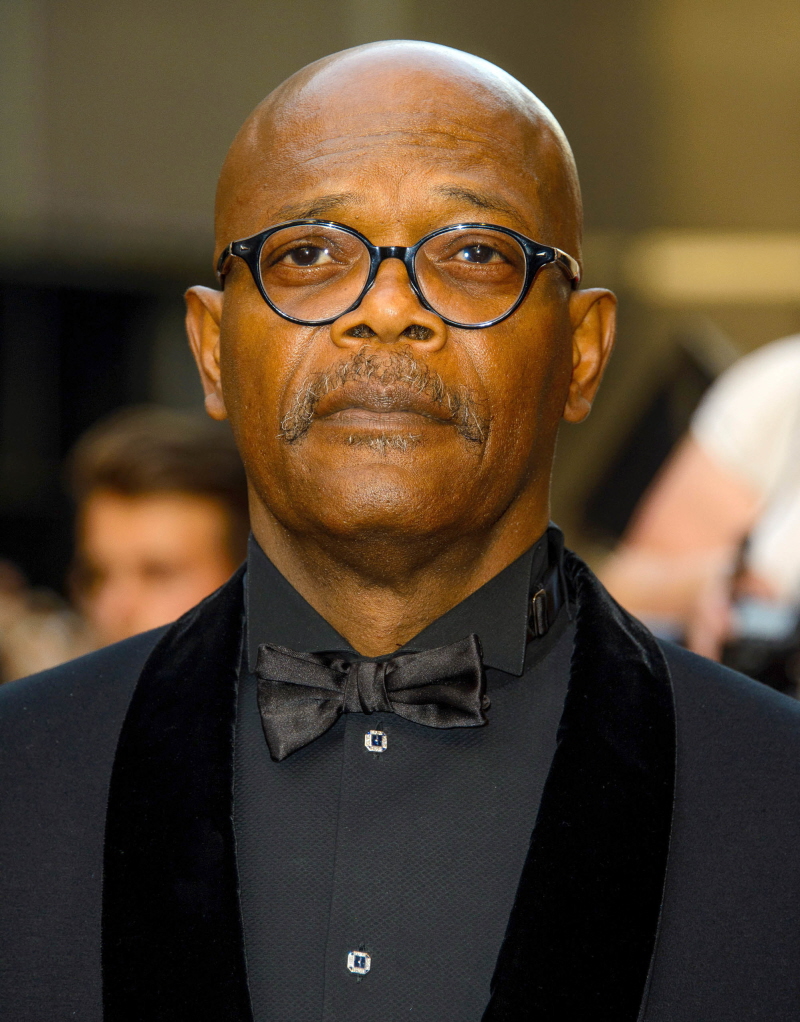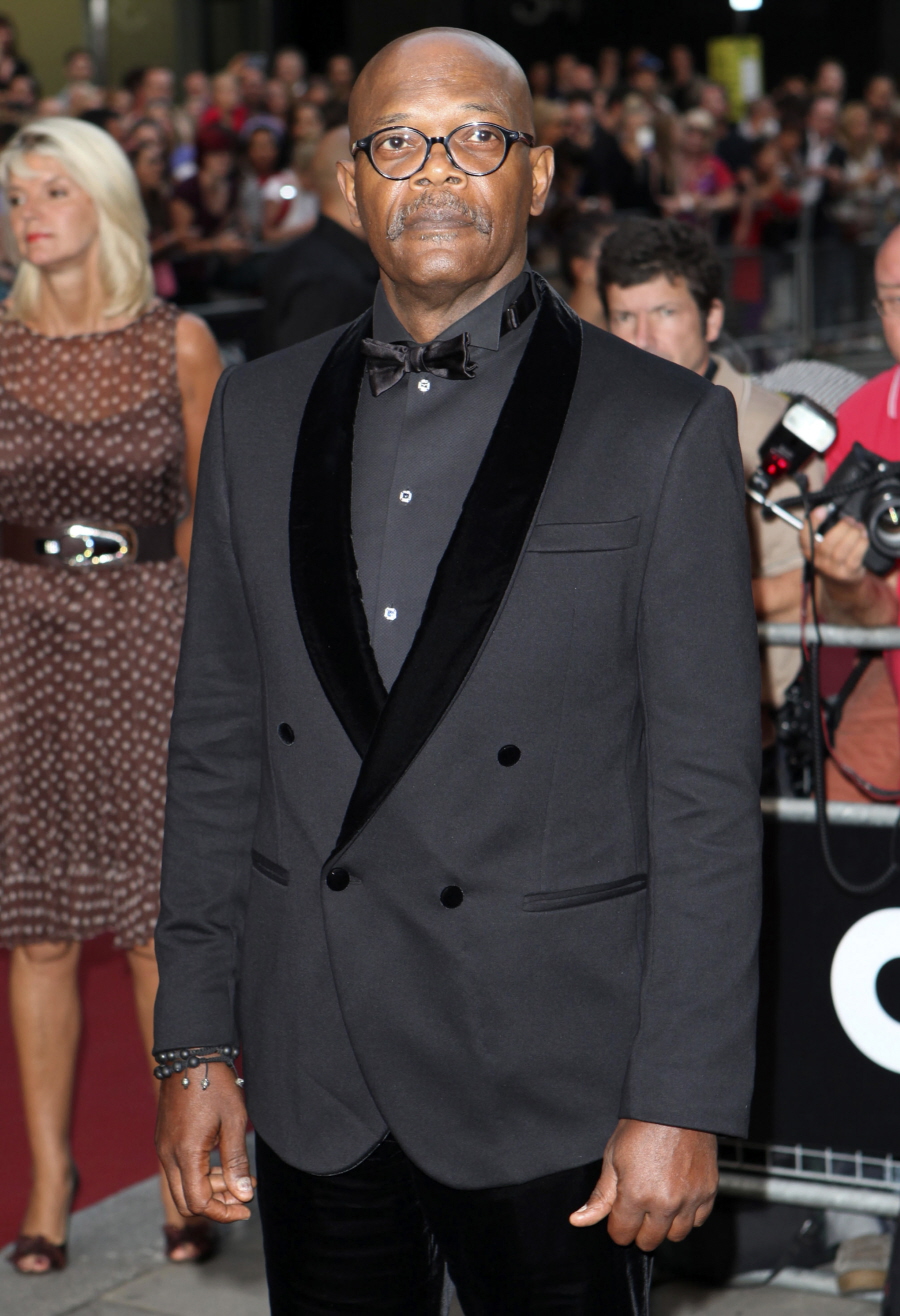 Photos courtesy of WENN.