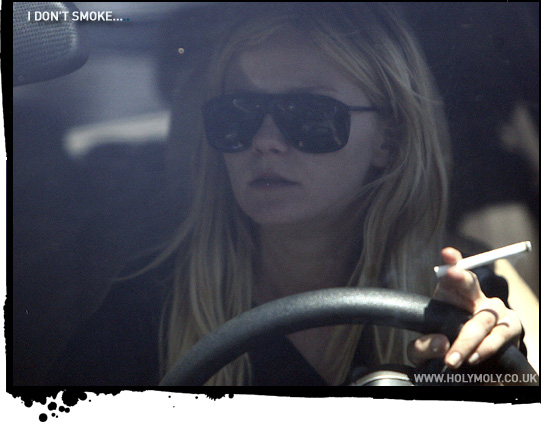 Holy Moly has a mole in Hollywood ( a Holly Holy Moly mole) who delivered this gem about a well known snaggle-toothed blonde with a propensity for telling porky pies.
We'll open with a damning Dunst quote before we proceed to the Oscar night drama.
"I've never come across cocaine on a film set… I'm very naive about that. I don't smoke and I've only tried pot once in my life. I do everything in moderation. I drink, but I don't go out and get plastered. I deal with my problems, so I don't have vices over which I have no control."
Pictures being worth a thousand words we'll have to assume she meant I don't smoke except when I'm driving … and of course follks never drive in LA. Except all the time … having been caught out once … the rest of the Holly Holy Moly mole tale gains credence. Picture this:
it's the inevitable coke-by-the-bucketful post-Oscars party, when out of the powder room stumbles Kirsten Dunst with more dust flying around her head than a bug in a Dyson, her hair a tangled mess plastered across her drug sweat-oozing forehead. "What were you doing in there?" asks the party's host. The best Dunst, a gerbil with cocktail umbrellas for tits, can manage? "Erm…"
I perhaps I shouldnt have asked you to picture the whole thing as our intrepid molesters got a little graphic with alcoholic rodent parasols towards the end, but hey, we are playing hardball here. Or maybe a whole eight ball.
It would at least explain that unwatchable Marie Antoinette Film … and her break up from Brokeback Moutnain Boy
All of which gives credence to the real reason she and Jake Gyllenhaal split: it was because of her drug hoofing and not the other way round, as her publicist would like you to think.
And whenever a publicist is pushing some angle on a story — its as beliveable as Tony Snow at the Whitehouse talking about a Sunni day in Shia Town … although here I guess all the snow is at Dunst's house.
pic via Holy Moly