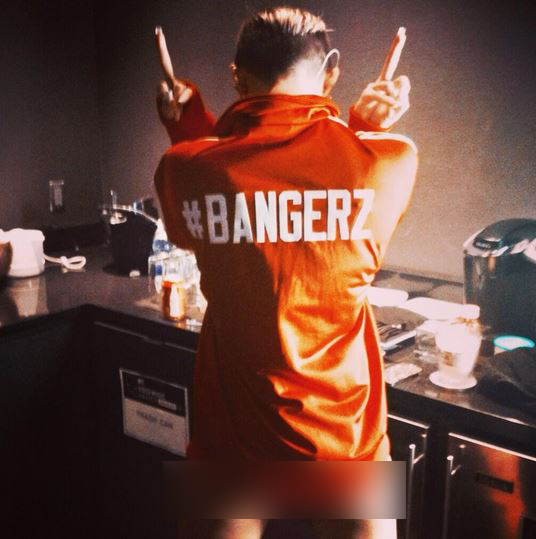 Get ready, y'all. We took a day off from Miley Cyrus coverage yesterday, but Bangerz comes out next week. That means the Miley saturation will get worse before it gets better. Then she's gonna start touring, and the world will see a glorious smattering of questionable outfits and front wedgies. Tonight, MTV will air Miley: The Movement, a documentary which promises to show the "real" Miley. Whatever that means. You can see the trailer below and listen to Miley talk about how she "just needed to let go of the past in a way, so I felt like I could be the bad bitch I am." She claims her VMA performance was "a strategic hot mess" because "people take the VMAs so seriously." She's trying to say she meant to look like a total weirdo, and the joke's been on the audience all along. Well Miley's red-nailed foam finger is selling out on Amazon, which means there's gonna be a whole lot of people twerking this Halloween.
Miley's currently in NYC taking photos of her own billboards and preparing to host this weekend's SNL. It will be epic.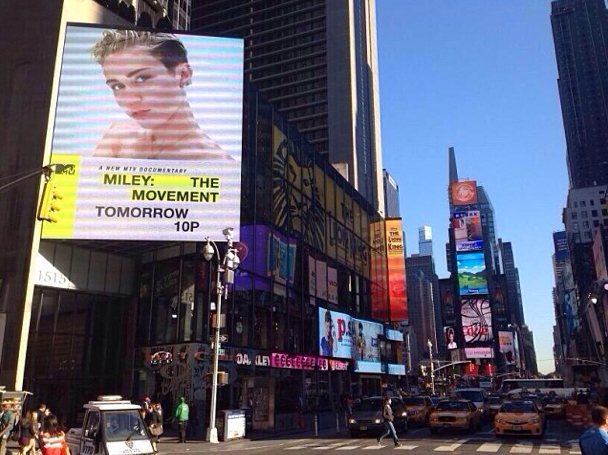 She has somehow managed to evade the paparazzi so far. Quite interestingly, Liam Hemsworth is also in New York. He just dropped $3800 at a sports bar with his buddies. He did a little shopping. God, he looks so happy to see the paps.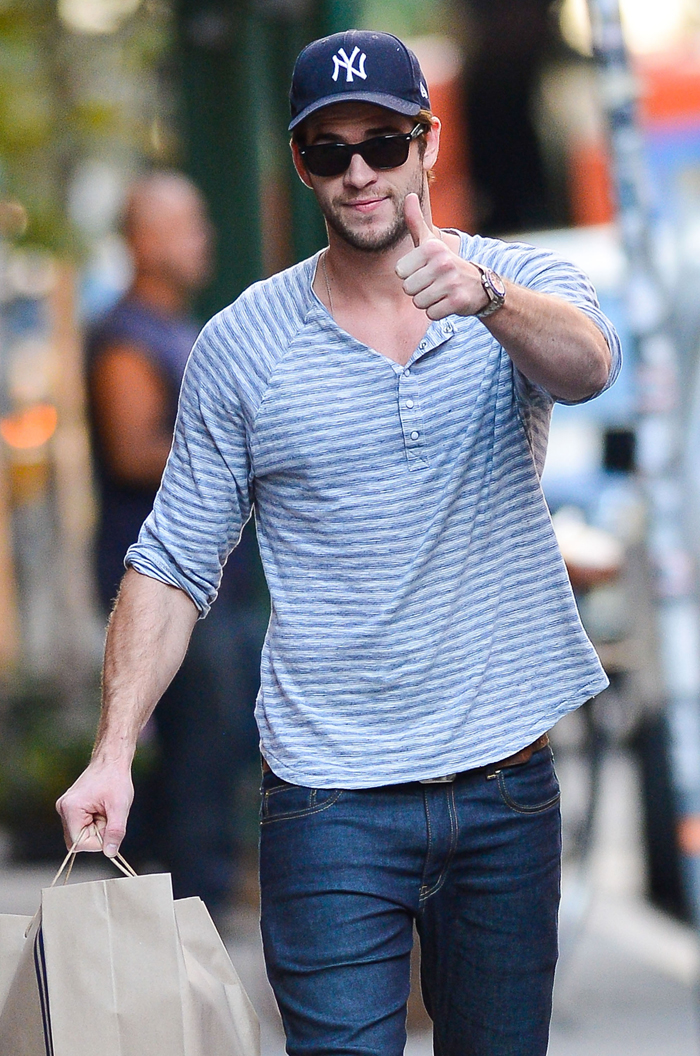 Oh and there was a fake story circulating a few days ago (and I won't link it) about how Miley was supposedly preggers with Juicy J's baby. I don't know if Larry Rudolph had anything to do with this rumor, but Miley handled the "news" well.
waking up to the news that I'm now pregnant with @therealjuicyj baby

— Miley Ray Cyrus (@MileyCyrus) September 30, 2013
Me: "did you know I'm pregnant with @therealjuicyj baby this morning" @CheyneThomas : "what are you gonna name it?" Me: "Juicy J Jr DUH"

— Miley Ray Cyrus (@MileyCyrus) September 30, 2013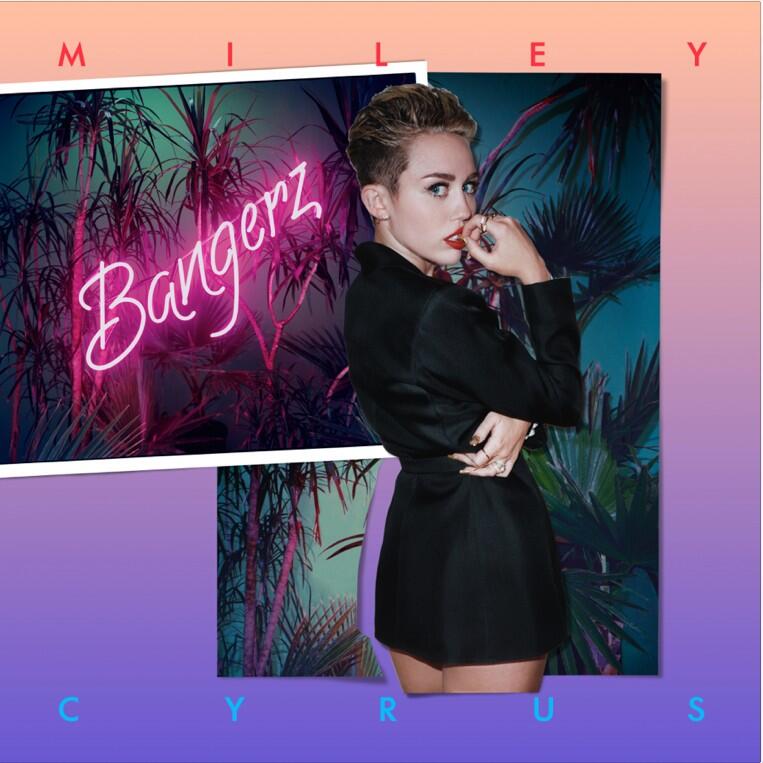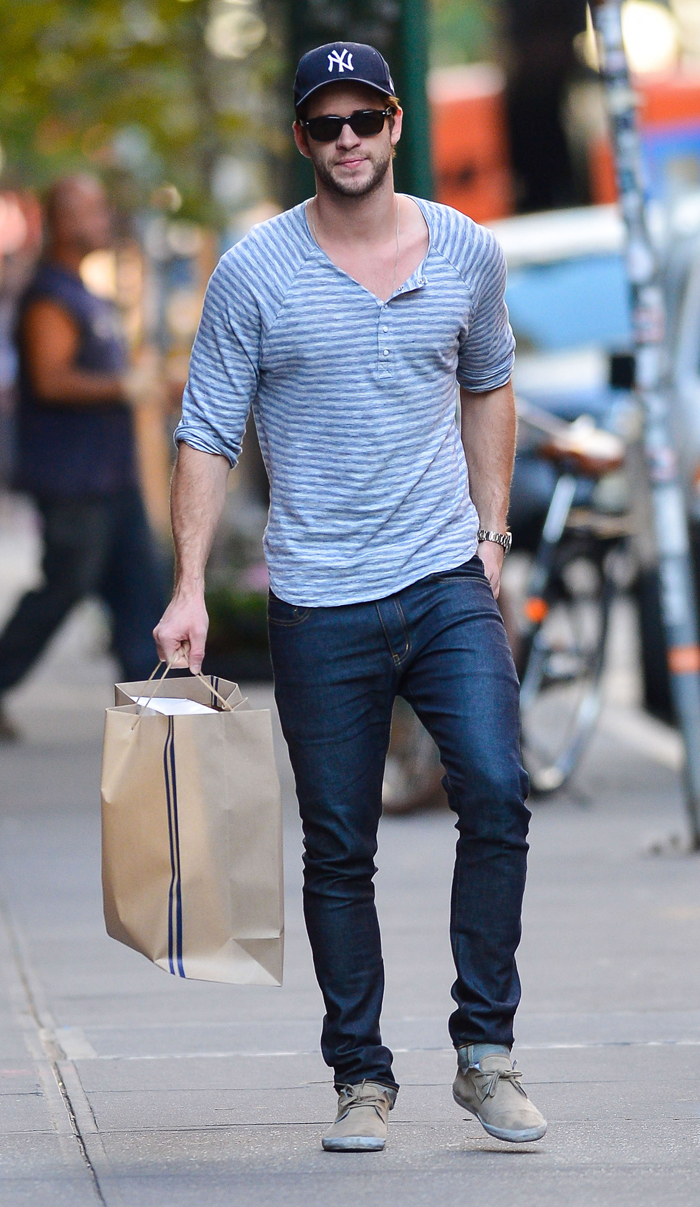 Photos courtesy of Fame/Flynet, RCA records & Miley Cyrus on Instagram