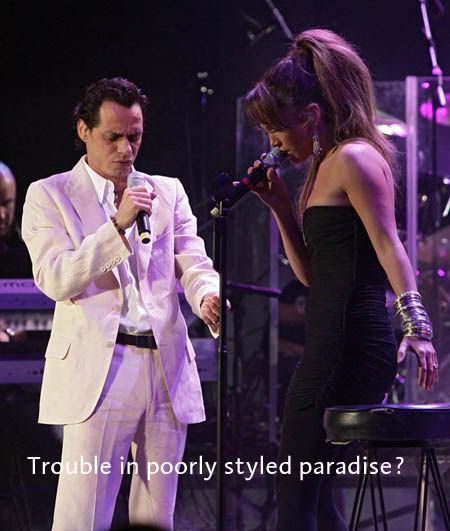 I was certain that J.Lo was the one pressuring her husband Marc Anthony to join Tom Cruise's Scientology cult, but a recent article in The National Enquirer suggests otherwise. Lopez recently said that she didn't understand the negative portrayal of the soul-sucking Scientology cult in the media, because it seems benign to her since she's buddies with so many brainwashed members and given the fact that her dad has been involved with it for 20 years.
It may be the case that if her dad couldn't convert her that promises of movie roles from Cruise won't either. The story has it that Lopez and Anthony were arguing at their Miami Superbowl show over whether they would tell an attending Tom Cruise that they were ready to join the cult for real instead of just trying it out and dabbling in the courses. Anthony urged J.Lo to say she was ready, but she told him she wasn't so sure and that they should wait:
"Marc's pushed Jennifer to embrace Scientology because he thinks it will boost her career. He also thinks it will benefit him and raise his profile in Hollywood," revealed a source…

"It's become a sore point in their marriage. And J.Lo's unwillingness to accept Marc's demands led them to fight in Miami, where they argued loudly and she was left in tears…"

"Tom and Katie (Holmes) travelled to Miami to see them perform at a pre-Super Bowl party, and Marc had wanted to tell Tom that night that they were fully committed, but he couldn't – and that's what led to the fight."
[From The National Enquirer print edition, March 12, 2007]
They say that Lopez's mother Lupe, a devoted Catholic, advised her against joining Scientology and said it could hurt her career. Marc Anthony has been influenced by a Scientology teacher with whom he's been seen out with lately, and that likely prompted him to pressure his wife into joining.
If this news is true then good for J.Lo, it's only going to cost her money and common sense if she joins Scientology.
Lopez is set to sing on American Idol on April 11, which is sure to be better for her career than being known as a cult member.
Here are pictures of Lopez and Marc Anthony performing at the Viva Romance concert in Miami on March 3rd. What lovely outfits she's wearing. Pictures [via]