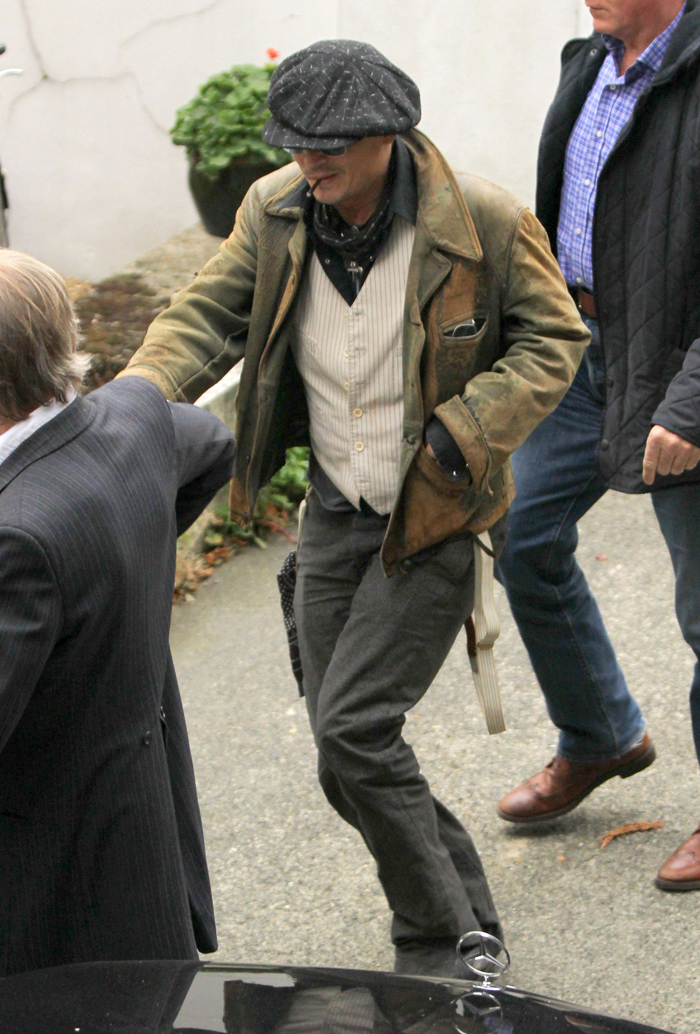 These are some new photos of Johnny Depp on Tuesday while visiting Abbey Road studios in London. As you can see, Johnny's jaunty baker boy cap, scarf, and ciggie are fully intact. The man knows how to accessorize to full effect, right? I give Johnny a hard time, but he'd laugh so hard at my lack of accessories, and I'd deserve it.
Today's story — surprise! — has absolutely nothing to do with Amber Heard. Instead, this is about Johnny and another lady … in Elton John's eyes. If this story is true, then it took place a few days after Elton complained to the Guardian that Gaga wouldn't take his calls. Let's imagine that Gaga decided to stop being rude to the father of her godchild and gave him a ring. In response, Elton asked Gaga to meet him from lunch, where he had Johnny Depp in tow. Wait, what?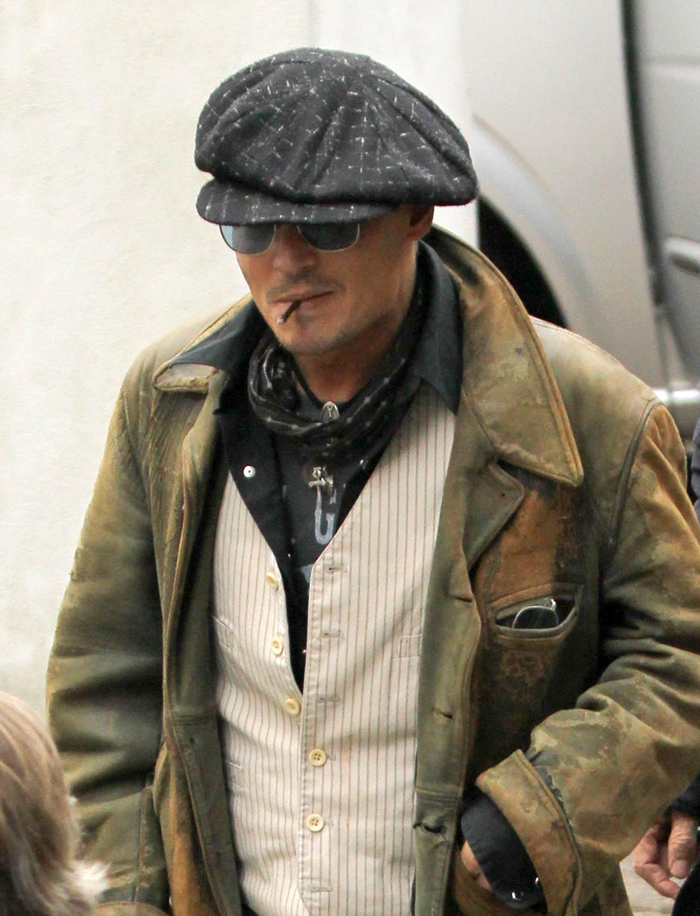 Elton John played Cupid and let his arrow fly at Johnny Depp and lady Gaga!

Sources say pop music's "Rocket Man" arranged a secret meeting between the Pirates of the Caribbean hunk, 50, and Grammy winner Gaga, 27, with a romance in mind.

"Elton was determined to hook up Johnny and Gaga," a source told The Enquirer. "While the meeting was under the guise of a future musical collaboration, Elton is convinced the two superstars would make an amazing power couple even though they're both dating other people right now."

Elton organized the meeting between Depp and Gaga like a "covert operation" at trendy Craig's restaurant in West Hollywood on Sept. 23, said the source.

"Johnny and Gaga hit it off immediately," said the source. "they bonded over music, flirted a little and basically got to know each other. By the end of the night, they'd already made plans to see each other again. Elton just sat there grinning."

Meanwhile, Gaga — who serves as godmother to Elton and David's two sons — is cating Chicago Fire hunk Taylor Kinney. And Depp has been seeing bisexual actress Amber Heard on and off following his split with Vanessa Paradis, the mom of his two kids.

"Elton has nothing about Gaga's boyfriend Taylor, but he's told her many times that she needs a more mature man," said the source. "He thinks Johnny and Gaga are destined to be together."
[From Enquirer, print edition, October 14, 2013]
Oh Elton. That's some terrible matchmaking. I can't even imagine Johnny and Gaga hanging in the studio together. They'd make a terrible, awful couple. Gaga likes young, musclebound studs. Johnny is currently dating a bisexual blonde who loves expensive jewelry. Johnny's already dealing with one twentysomething who's pretending to be an artist. Gaga would drive him crazy.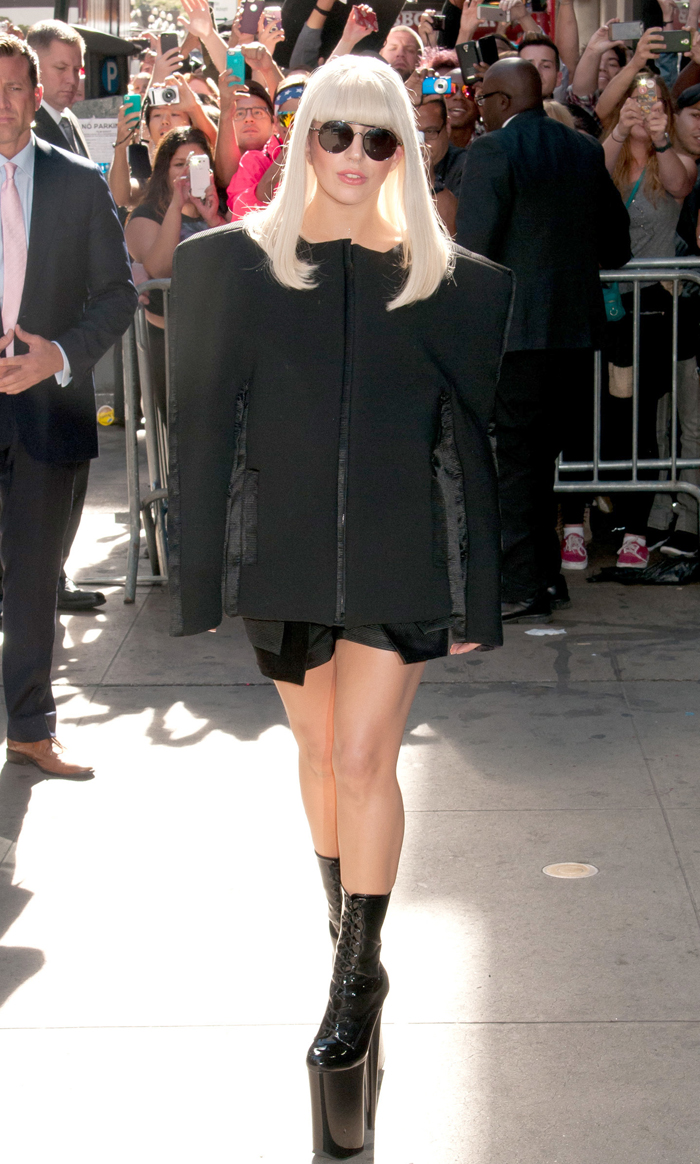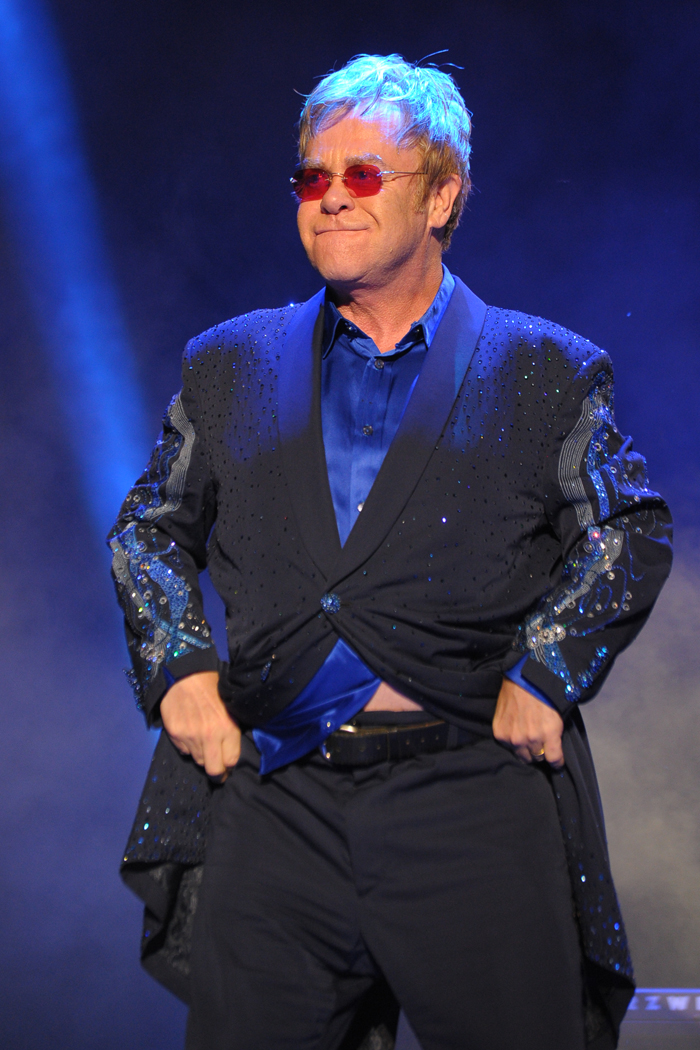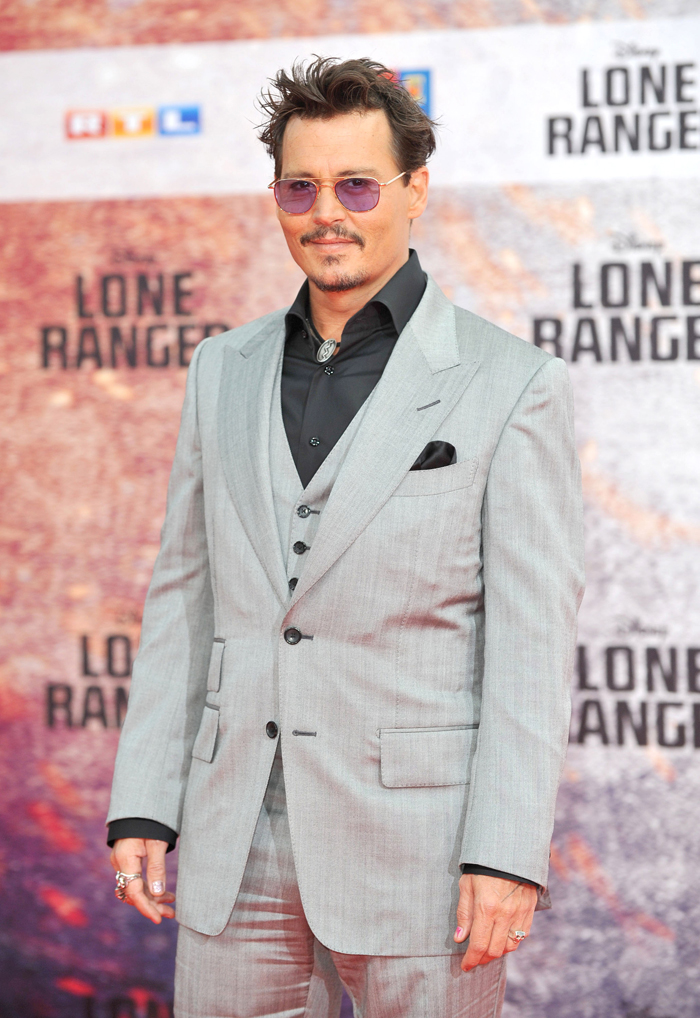 Photos courtesy of Fame/Flynet & WENN