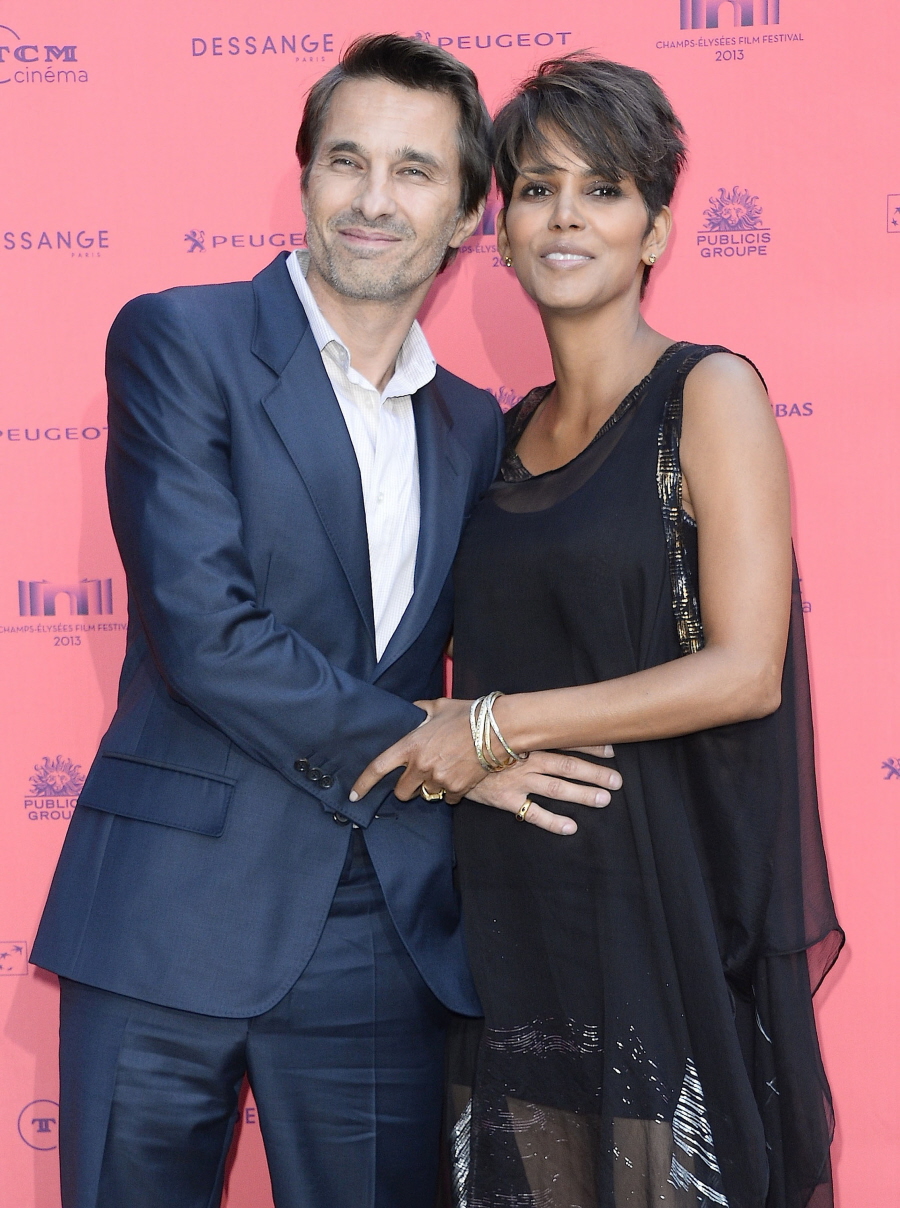 This was sort of what I predicted – I did the math a while back and figured out that Halle Berry was due in early to mid-October. And here we are! Halle and Olivier Martinez welcomed their first child together (second child for Halle) yesterday in LA. As reported months ago, Halle gave birth to a baby boy. Nahla Aubry has a baby brother!
Nahla's a big sister! Halle Berry's 5-year-old daughter now has a little brother to play with at home, because the X-Men actress and husband Olivier Martinez just welcomed a baby boy into the world on Saturday, Oct. 5, a rep for the actress confirms to Us Weekly.

Berry, 47, first announced her pregnancy on Apr. 5, telling CNN that it was "the biggest surprise of [her] life."

"Thought I was kind of past the point where this could be a reality for me," she confessed at the time. "So it's been a big surprise and the most wonderful." The Oscar winner largely kept mum about her pregnancy in the following months, but did admit to Entertainment Tonight in May that she considered the pregnancy a "miracle."

"I feel really happy. It's one of the best things that happened in my life, for sure," she told reporters at the 20th annual EIF Revlon Run/Walk For Women event at the time.

Berry and Frenchman Martinez, also 47, tied the knot in an intimate ceremony in Vallery, France this past summer, on July 13. The pair said "I do" in front of around 60 guests, sources tell Us, and later "partied long into the night" in celebration.

The couple first met in 2010, on the set of their film Dark Tide, but Berry didn't confirm their relationship until much later.

This is the first child for Martinez and second for Berry, who gave birth to Nahla in 2008, with then-boyfriend Gabriel Aubry (the pair began dating in 2005 but ultimately called it quits on their relationship in April 2010). Her daughter has long asked her for a younger sibling, Berry revealed in an interview on The Wendy Williams Show last fall.

"That's the thing. [My daughter is] asking me," Berry admitted to the talk show host about expanding her brood. "Every night we pray to God, and she's so sweet. She says, 'God, please bring me a bunk bed and a baby sister.' And I say, 'I can do one of those things, I know for sure! The other one we have to keep praying on.' What do you say to her when she wants that and can't understand why God's taking so long, you know?"
I truly hope that all is well with Halle and the baby and I hope that this marriage is strong and that it stands the test of time. But my gut is still saying this whole thing is going to end in a giant clusterf—k of accusations, lies, lawyers and crazy. That just seems to be the M.O. But maybe, just maybe, Olivier and Halle's individual crazies are perfectly suited for each other. Hell, they've made it work so far and maybe the baby will bind them together even further. Here's hoping.
What are the thoughts on what the kid's name will be? I'm hoping it's something French, like Henri or Remy or Matthieu. Personally, I love the name Remy.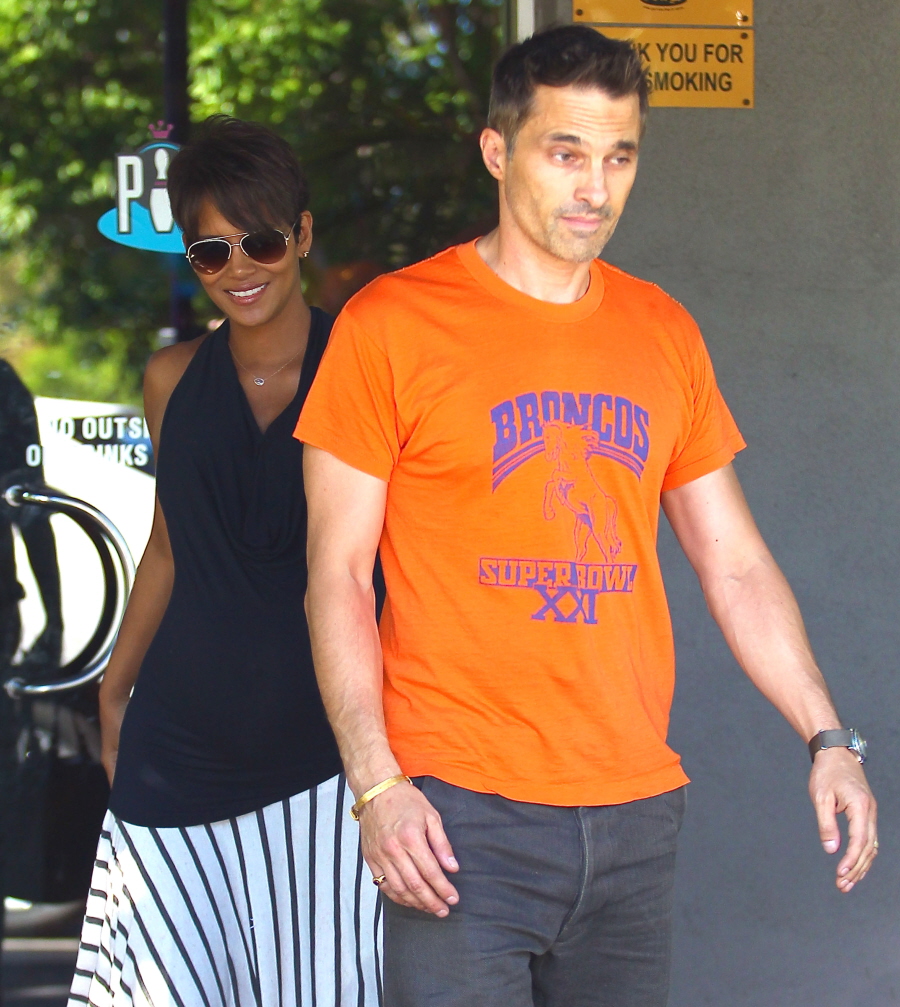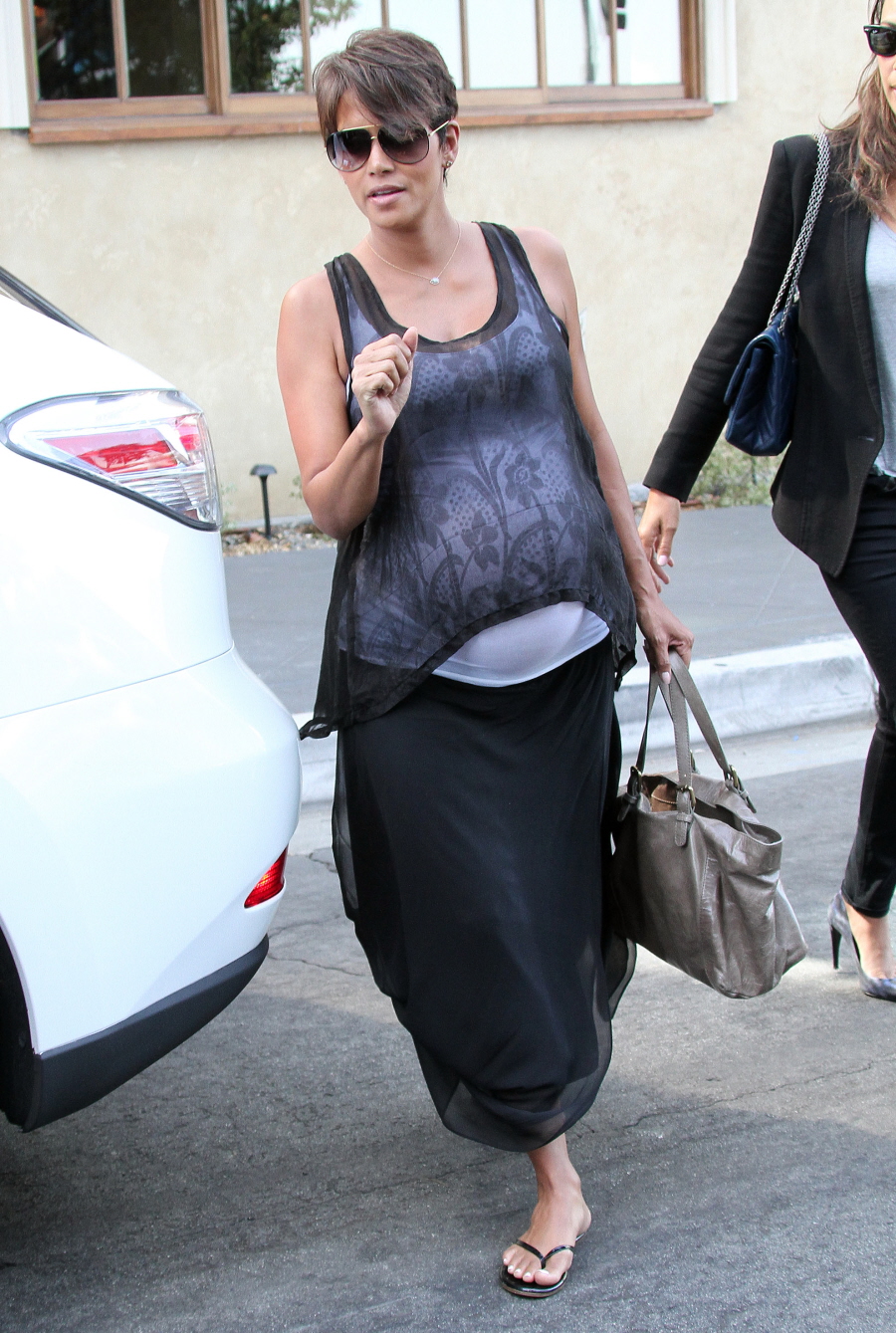 Photos courtesy of Fame/Flynet.