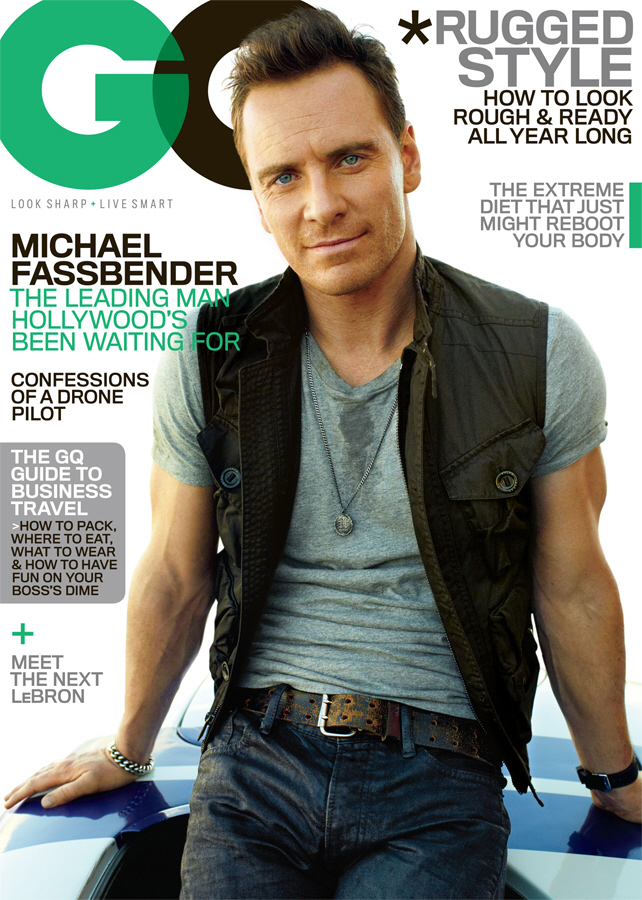 YES. Michael Fassbender covers the new issue of GQ Mag and all I have is a simple YES. I've been hoping that Fassy's return to interesting films (I'm still not ready to discuss Prometheus) would warrant a major magazine cover, and here we are. You can see Fassy's pictorial here and you can read Fassy's GQ article here – I'm skimming it and it's pretty funny. Fassy's late to the interview but James McAvoy isn't (GQ wasn't even supposed to interview James) and so James tries to fill in for Fassy, jokingly telling the reporter: "We've decided to switch names and identities and schedules for the week…Growing up in Ireland…" When Fassy does get there, "He's in bright green Adidas track pants and a black T-shirt, hair sticking up everywhere, eyes bleary and barely open…It's hard to tell if he's badly hungover or just rakish." YES PLEASE. God, I would hit it all. The track suit, the rakish, blurry-eyed IRISH-GERMAN THUNDER. Here are some highlights from the cover story:
Michael Fassbender on his dating history & being selfish: "I'm kind of selfish with the hours that I put into the work," Fassbender says. He was selfish even then, when there wasn't much work to be had, and still is now at age 36, when he's among the most in-demand actors in his entire industry. We talk about the toll this selfishness might take on a person's life, on one's ability to do right by friends, family, partners. Which leads me to ask, in a way I regret before I even finish asking: Does that selfishness extend to women, too? Since you started acting, what's the longest you've dated someone? He's not sure he likes this line of questioning. ("I'm not sure I like this line of questioning," he says.) But then: "I think the longest relationship that I've been in was two years. I started doing this when I was 17, so I guess in my dating, adult life, that kind of covers it."

…on not campaigning for or attending the Oscars this year:
"That's just not going to happen, because I'll be in New Zealand. I'll be on the other side of the world. You know, I get it. Everybody's got to do their job. So you try and help and facilitate as best you can. But I won't put myself through that kind of situation again." He goes on a bit about the process of campaigning for one of these things. "It's just a grind. And I'm not a politician. I'm an actor."

…on meeting women:
"I make a lot more friends, you know what I mean? You become a lot more successful in terms of, like, talking to a girl. She's all of a sudden more interested in me. I know that, like, three years ago, she would've walked away after two sentences left my mouth. I remember I was sitting at this table at this thing, and I was talking to this girl. I was like, 'God, I am so boring right now.' But she was like, 'That's so interesting!' I was like, 'You know what? Five years ago, this would not have been interesting.' "

…on having "darkness"
"Let me put it to you this way, right? A lot of comedians are dark personalities, but they're making people laugh. So, you know, it can flip the other way. People that are playing dark roles can actually be quite light. It doesn't necessarily go hand in hand. I think sometimes maybe people that are lighter can access that darkness easier, whereas people that are dark don't like to access it. …It's too much maybe part of them that they don't want to reveal. I know that I've got darkness, but for the most part I try and smile as much as I can, you know? I mean, David Cronenberg said it annoyed him that I used to come to work happy all the time."
Wait, he's not going to the Oscars in any possible situation? But he's pretty much guaranteed an Oscar nomination this year? PLEASE!! Please come to the Oscars. I realize he got burned with Shame and how everyone thought he would get nominated, but that's the way the cookie crumbles and you still need to buck up and be a professional and go and shake hands and network. Watch what Leo DiCaprio does – he shows up when he's nominated, out of respect, even when he knows he's going to lose.
There's also a lengthy exchange where Fassy and the reporter are talking about money and banks and the world economy. Fassy isn't an economist, let's just say it that way. He basically says that he's not spending his money these days, that he still has the same apartment he always had in London, but he worries about putting his money in the bank: "It's probably not good in the bank…You need to get it out of the bank. You hear, 'Oh, we're in this much debt.' It's like, where is that money?! All these numbers: Where do they come from? One hundred billion whatever, these numbers. I'd like to see a room with that amount of money. There is no room that could take that amount of money. That money doesn't exist." At the end of the conversation, Fassy basically says he's considering moving his money into gold.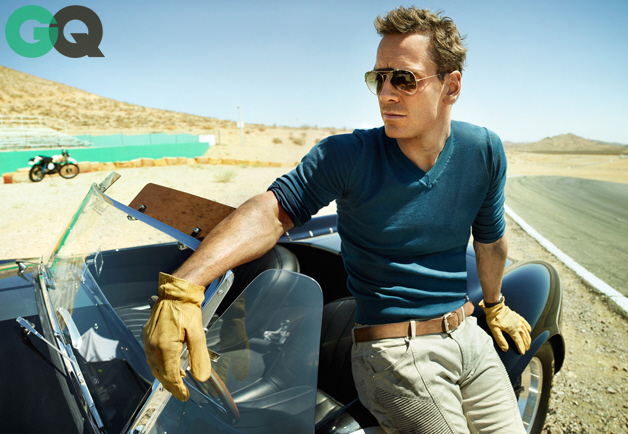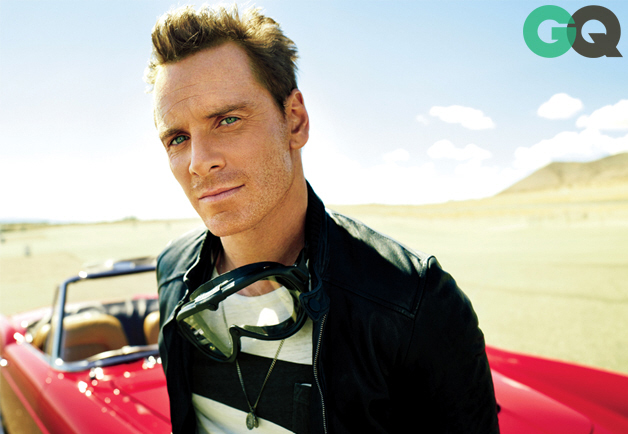 Photos courtesy of Peggy Sirota / GQ.