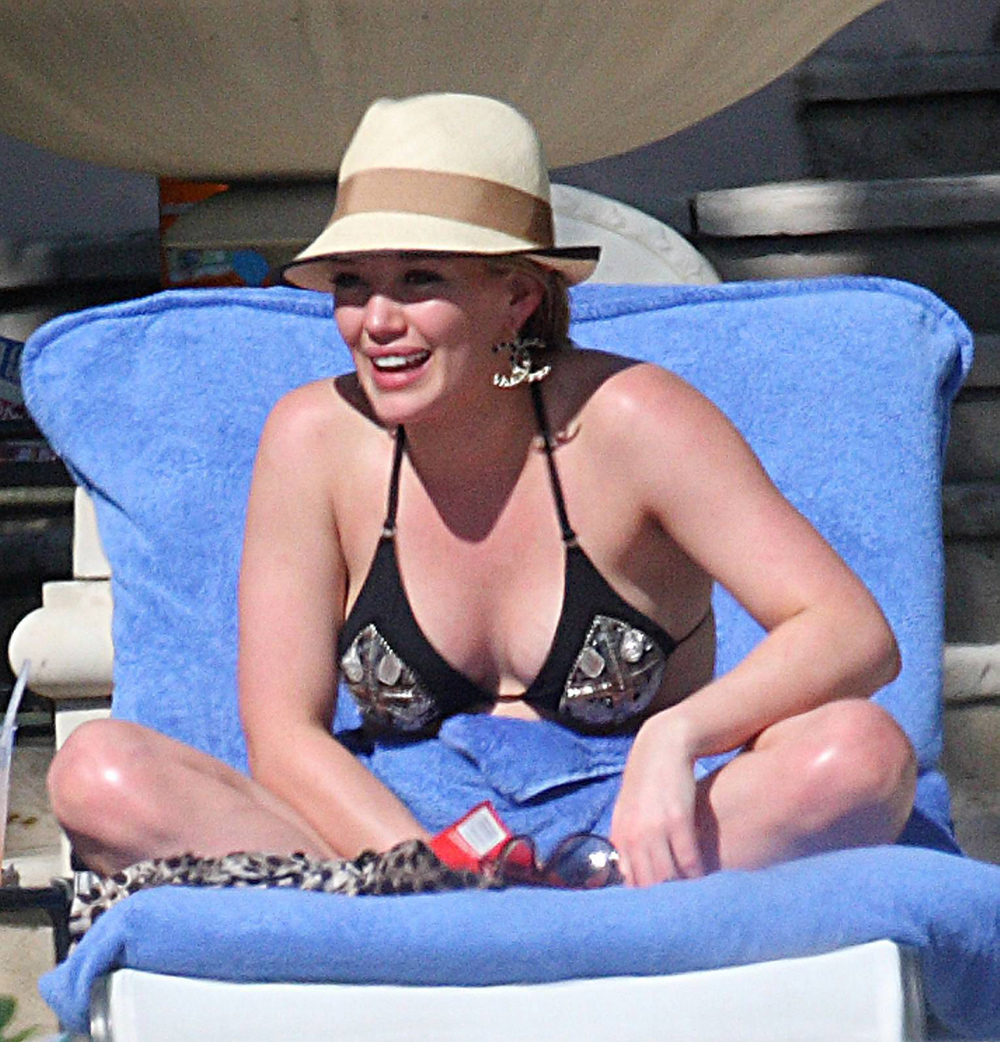 Nothing makes me happier than celebs who are doing so well they're able to jet off to the Bahamas at a moment's notice. And by "happier" I mean "seethe with envy." Seriously, it is in the low 20s in New York once you factor in the wind chill. Yesterday I actually thought it felt warm when it hit 27 degrees. I would give just about anything to lay on a warm beach. Even just a temperate beach. I would be amenable to anything above 48 degrees at this point. Oh, and it would help if I looked like Hilary Duff in a bikini.
Hilary and boyfriend Mike Comrie have been enjoying the Bahamas, which means she's also partaking in the cherished celebrity tradition of frolicking about in her bikini.
Hilary Duff and her boyfriend, New York Islander Mike Comrie, enjoyed a getaway to the Bahamas this past weekend. Duff, 21, and Comrie, 28, who have been together since 2007, spent some time by the pool and laughed and canoodled their way around their island paradise.

Duff's earned the right to taking it easy for now; she's had a lot on her plate lately, with much more coming up. Hilary's ready to return to TV, starting with a guest shot on CBS' The Ghost Whisperer. EW reports that Duff will play a "mysterious young woman" who may be involved in a man's death. The reason for the guest spot? Duff and Ghost Whisperer Jennifer Love Hewitt are best pals! Hopefully Hilary can console Jennifer during the grief from her broken engagement.
[From Celebuzz]
Never miss a chance to slam Jennifer Love Hewitt. How unnecessary was that? Tease as I might about the bikini, Hilary is definitely one of the more private celebs – she's covered herself up quite a bit in many of the shots. Nonetheless, here's Hilary and Mike enjoying the beach in the Bahamas. It sounds like she'll have a busy schedule in the near future, so I suppose I can't begrudge her a warm vacation.
Images thanks to Splash and Mavrix.