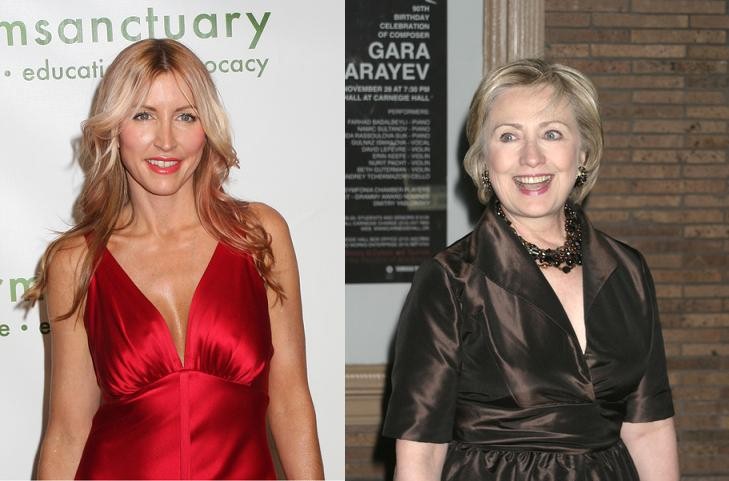 There are few things as cringe-inducing as being somehow associated with Heather Mills. Poor Paul McCartney will have to deal with that for the rest of his life. Their daughter Beatrice will have to do the same. But what if you're some completely unrelated person who Heather randomly calls her "good friend?" That's just entirely unfair, and she should know better. That's the case with Hillary Clinton. Poor Hillary has just been tied to Heather Mills, through Mills' comparison of herself to the former first lady and senator and now Secretary of State. This may be Clinton's first major diplomatic issue.
Heather Mills has compared herself to her "friend" Hillary Clinton.

The former glamor [sic] model – who bagged a $50m settlement when she finalized her divorce from Beatles legend Sir Paul McCartney in 2008 – said both she and Hillary, who is now the US Secretary of State, had gone through "hell" but triumphed because of their "strength".

She told Page Six Magazine, "When you marry a Beatle, you marry 120 million fans who are also madly in love with him. This has meant years of hurtful and untrue press… my friends remind me that this happens to many strong, successful women.

"I've watched my friend Hillary Clinton go through a hell of a time and still come out on top due to her strength."

Referring to her current relationship with Paul, 66, former glamor [sic] girl Heather said, "We get on fine. We're like any civil divorced couple."
[From Gossip Rocks]
Now it's impossible to say for certain, but I highly doubt Heather Mills and Hillary Clinton are friends. Best/worst case scenario (depending on if you're Heather or Hillary) is they probably shook hands at a function once. At which time Clinton probably felt certain – for the first time – that she'd finally found the one woman where didn't need to worry about keeping an eye on Bill. Maybe that led to some friendly chatter, who knows? But I highly doubt they're friends. And Heather comparing herself to Clinton is utterly ridiculous.
Hillary – while not always popular – has weathered her marital difficulties with privacy and grace. Which is very difficult to do when you hold a public office. Heather exploited her divorce at every turn, and wallowed in her own nastiness. I can't imagine anyone I'd rather avoid being compared to than Heather Mills. Next she's going to say she wants to run for public office.
Here's Heather Mills leaving the Ivy restaurant in London on October 13th. Images thanks to Bauer-Griffin.