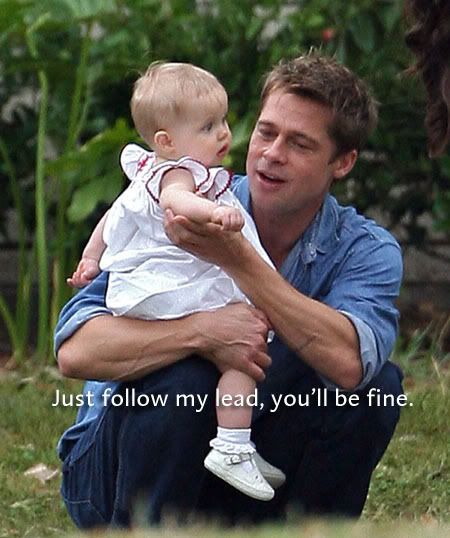 Brad was not in Shiloh's scene, I just thought that advice sounded cute
Remember those adorable pictures of Brad Pitt playing with Shiloh in an uncharacteristically frilly dress? It turns out there was a reason that she was dressed up so cute that day. Shiloh was on set filming for a cameo in Brad's upcoming movie The Curious Case of Benjamin Button.
Twin infant girls were hired to play the part of a Cate Blanchett's character as a baby in Brad's film, but neither of them would stay calm long enough to start filming. Brad realized that his nine month old daughter, Shiloh, would be a shoe-in for the part, and it sounds like she was already nearby, most likely at the onset daycare. Shiloh was quickly prepped for her first acting role and she was a natural:
[Brad Pitt] didn't have to look far for a replacement when year-old twins chosen for a part didn't work out.

He simply plucked his own adorable daughter out of her stroller for the baby role in "The Curious Case of Benajim Button, the Enquirer has learned exclusively.

"Brad and Shiloh saved the day when twin sisters hired to take turns playing actress Cate Blanhett's character as a baby wouldn't settle down," revealed an insider…

"Everyone waited in vain while the babies were fed, changed and hugged – but nothing worked to calm them on the set in New Orleans.

"The quickly-thinking Brad realized his daughter's happy and mellow disposition made her a quick fix for the role," said the insider.

Quicker than you can say, "a star is born," she fit perfectly into the role.

"She's a natural," said the insider.

"Shiloh did her scenes perfectly and was giggling and happy throughout her big day."
[From The National Enquirer print edition, March 19, 2007]
Shiloh was seen playing with a another infant in a similar cute dress that day, and she was probably one of the twins who lost out on the part to the famous baby.
That's a really cute story to go along with those great pictures of Brad playing with Shiloh. I would suspect that someone at the studio called the photo agency to let them know they were open to a little publicity, but since the film is not out for a while I could be wrong.
I know I'll be looking for cutie Shiloh when I see the film.
The Curious Case of Benjamin Button is based on a book of the same name that I tried to read but just couldn't get into. It's about a man who ages backwards starting at age 50. Brad is the lead and he falls in love with Cate Blanchett's normal 30 year-old character. The film is not slated for release until May, 2008.
Shiloh is set to get a new brother, a four year-old Vietnamese boy, in May. She has two other older siblings, Maddox, 5, and Zahara, 2.
Here are the pictures of Brad and Shiloh that you've already seen.