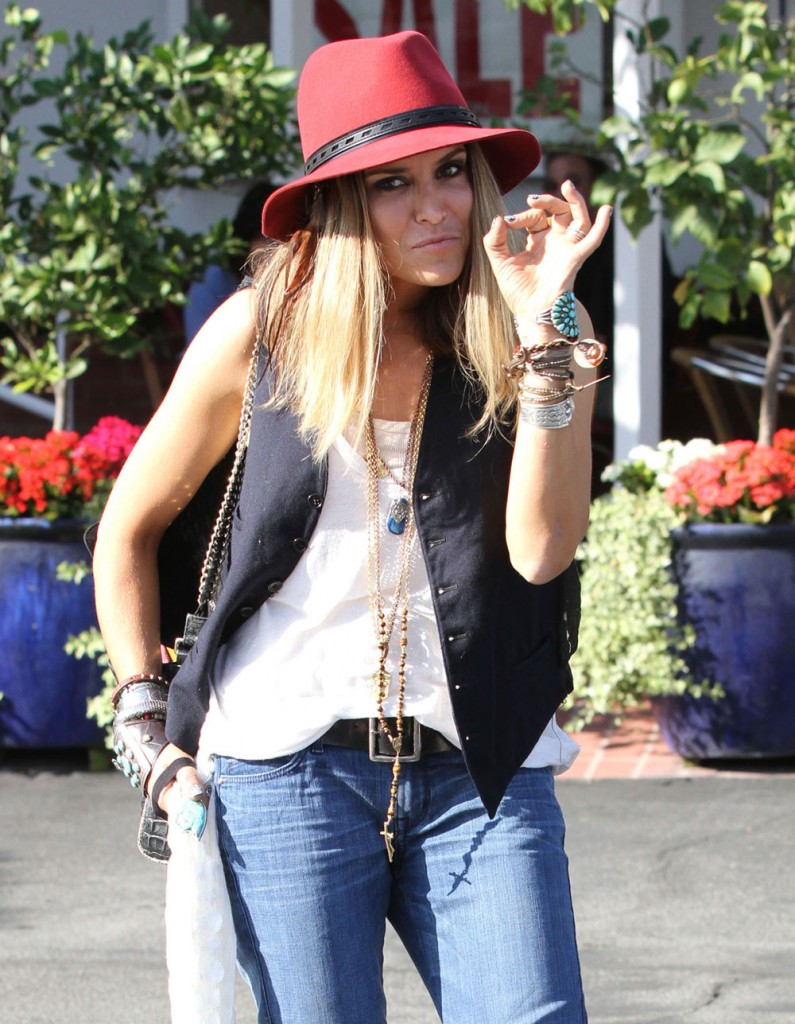 Here's yet another chapter in the sad ongoing saga of the fate of Charlie Sheen's four year-old twin boys, Max and Bob. As you know, the twins' mother is "former" meth addict Brooke Mueller, who claims to be sober for a whole seven months after her 21st stint in rehab earlier this year. Charlie's boys have been staying with his other ex wife, Denise Richards. However Denise just wrote a long, heartbreaking letter to the Department of Child and Family Services detailing the reasons why Max and Bob can no longer stay with her.
Basically the boys were doing well when they first started staying with Denise, but they've regressed since spending time with their biological mother, who was recently released from rehab. Max and Bob have exhibited disturbing violent behavior including choking and kicking their half sisters and pets. Denise fears that her daughters and dogs will be seriously injured and can no longer take the risk of having the boys at her home. She wrote that she cannot turn her back on them for a moment.
Many of you noted that Denise's plea may have been an attempt at showing how Brooke has harmed the boys, and Denise may be trying to get them help rather than relinquishing custody. Denise explained that she tried to get a professional assessment for Max and Bob, but that her hands were tied when Brooke refused to let it happen. Brooke also decided that the boys should no longer go to their current pediatrician, but never provided the name of an acceptable replacement. So if Denise has another agenda there could be hope for these boys, but it seems like a long shot.
There's a new story on Radar Online that makes my stomach hurt. They claim that Brooke has been complying with DCFS's requests and that she's likely to get full custody of her boys back by Christmas. *jaw drops*
The latest news in the explosive Brooke Mueller and Charlie Sheen custody battle might be the most shocking yet: RadarOnline.com has learned that Mueller is on track to get custody of the couple's twin sons, Bob and Max, by Christmas.

After more than 20 stays in rehab — including two while pregnant — and a 5150 psychiatric hold this May after overdosing on crystal meth, Mueller's new commitment to her sobriety has impressed the Los Angeles County Department of Child and Family Services, according to insiders, so much so she will soon have her sons back living under her own roof.

As Radar has reported, the boys' temporary guardian, Denise Richards, recently told DCFS she will no longer care for the children because of their increasingly violent and disturbing behavior.

"Brooke will be awarded custody of the boys by Christmas, as long as she doesn't relapse," one source connected to the situation said.

"She has been sober for several months. She hasn't had one dirty test.

"She has done everything that has been asked of her by DCFS, so at this point, there is absolutely no reason for Brooke not to get her boys back."
Brooke was in rehab twice when she was pregnant. She's been in rehab 20 times prior to this latest stint. She hasn't even been sober a year, she's counting her time in rehab (during which she switched facilities) as sobriety and yet somehow she's a fit enough mother to get her kids back. That just blows my mind.
Do you remember how Brooke was taking Charlie Sheen to court for talking smack about her to TMZ? Well she was granted a temporary restraining order and a gag order in a hearing with Charlie yesterday. The judge had some harsh words for Charlie, who had called that same judge a "fatty" in his rant to TMZ. Brooke tried to get visitation rights with the twins suspended for Charlie, but she was denied. She also wants to have Denise Richards removed as her sons temporary guardian.
I don't blame Brooke for trying to get Charlie to shut up. As for her motivation for getting her boys back, does she really want to care for them or is she motivated by the fat $55,000 a month check that full custody will earn her? I think the answer is abundantly clear. I just hope she stays sober and that she tries to get her sons the help they need. Up until now she's tried to block Denise's attempts to have professionals step in. It's all about the money for her. I really hope that DCFS sees the light, or at least caves to public pressure, and that these boys don't have to stay with their mother.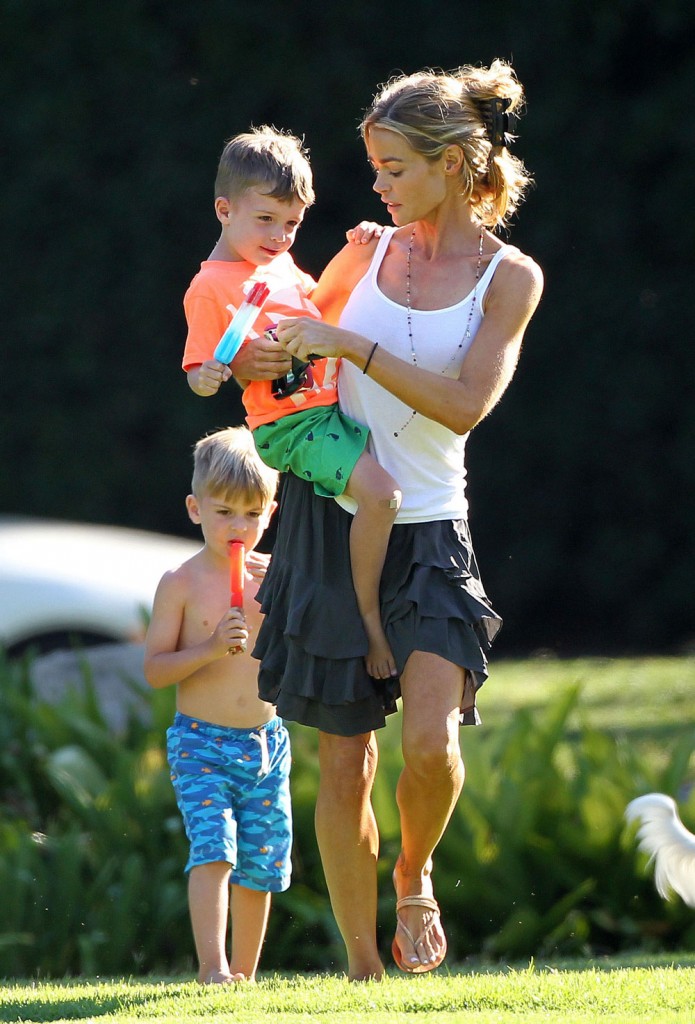 Denise Richards is shown with her daughters and with the twins in July, 2013. Brooke Mueller is shown out in September and December, 2012. Credit: FameFlynet