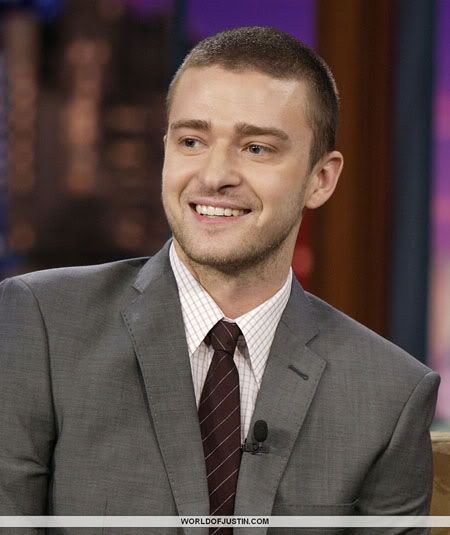 Supposedly someone on the street asked Justin Timberlake why he didn't help out his ex girlfriend, messed up pop star and mother to two Britney Spears. He got all pissed and yelled at the person:
SexyBack's totally fed up with people begging him to help ex-squeeze BRITNEY SPEARS get her sanity back – which is why JUSTIN TIMBERLAKE totally exploded when a woman approached him as he exited his agent's office and scolded: "Why won't you help her out? I've read she's still in love with you. Can't you just try?" Furious, Justin lashed back: "Why does everyone keep telling me I have to take care of Britney?… Britney, Britney, Britney!…She's an EX girlfriend! Doesn't anyone get it? We're NOT together anymore. I am soooo totally over her!" And off he stormed. Totally!
There's a story in OK! Magazine that says that Justin still loves Britney and all, of course, but that the woman was calling him 10 to 12 times a day last year and he had to change his cellphone number and tell all his friends not to let her know how to get in touch with him. She probaby bugged the shit out of him, and they're just putting a positive spin on Britney's stalking:
As her world began to unravel in 2006, she needed him more than ever and tried hard to reconnect. "She would sometimes call him 10 or 12 times in a row before he'd finally give in and take her call," a friend of Britney tells OK!. "She was almost stalking him for a while…"

Justin has changed his cell phone number and has even gone so far as to ask friends not to help Britney reach him if she contacted them, the friend says. "He can't and won't have anything to do with Britney now despite his feelings for her. He wants only the best for her and hopes she can clean up. He truly believes her life depends on it, sand so does their friendship. If she makes it through rehab and is serious about getting her life back on track, he'll be the first on in line to give her a welcome-back hug."
[From OK! magazine, print edition, March 12, 2007]
That whole "tough love" angle sounds like bullshit to me, and I bet Justin just didn't want to deal with Britney's drama.
I read this book The Gift of Fear a while ago, which basically tells you to trust your instincts and if you get a bad vibe about someone or a situation to just do anything to get out of there quickly. There was a whole section on stalking and you're just never supposed to take the person's call, respond to their e-mail or have any contact with them. They live for some kind of response from you and are trying to rile you up. Even if you had a relationship with them at some point, if you are afraid of them or have a bad feeling, you should not talk to them.
In Britney's case she was probably just really needy and annoying. This new rocker guy is not going to last for her. She needs to have a relationship with herself first.
Here's JT on The Tonight Show with Sarah Silverman back on January 3rd. He's not a bad looking guy, he just seems like a mild jerk to me. Pictures from World of Justin and TimberlakeNow.net.