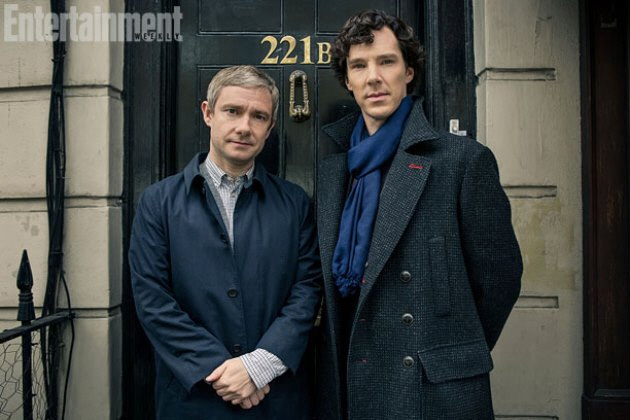 I want to thank the Cumberbitches for continuing to fuel my Cumberobsession by sending me endless amounts of Cumberstories, no matter how weird, inane or crazy. This story is courtesy of one of those Cumberbitches – apparently, Foreign Policy Magazine (a real magazine that usually covers, you guessed it, foreign policy stuff) has an article devoted to Benedict Cumberbatch. Not just Cumberbatch in general – specifically, how our Cumberbatch has become the most obsessed-upon actor in China. Not just obsession though – the Chinese fan-fiction industry is IN LOVE with all things Benedict and all things Sherlock Holmes. I'll let Foreign Policy explain:
Why is the Chinese Internet obsessed with writing gay Sherlock Holmes fanfiction? In one story published on MTSlash.com, a Chinese Internet forum, "sexual desire coursed through Sherlock's chest as his heart beat wildly." In another, Dr. John Watson is a part-time p0rn star; in the first chapter, Sherlock Holmes deduces that his sidekick-to-be became an adult film actor to pay off his student loans from medical school. "You've only known me for five minutes," the indignant Watson protests. "That's long enough for me to come to a conclusion," Sherlock responds.

Since 2010, when the BBC television series Sherlock first aired, a fascination with Benedict Cumberbatch, the show's star, has inspired a new wave of gay romance literature on the Chinese Internet. It's perhaps not surprising that Sherlock, based on Sir Arthur Conan Doyle's detective stories, is popular in China — it has received over 24 million views since it first became available on the Chinese video site Sohu TV in March 2011. But in certain corners of the Chinese Internet, Cumberbatch's Sherlock is just as likely to ravage his loyal sidekick Watson, played by Britain's Martin Freeman, as he is to solve mysteries. "Sherlock's tongue was like an all-powerful key," wrote one author of a story told from Watson's point of view, "Unlocking all the doors of my heart."

China loves Cumberbatch. According to an Oct. 29 article on the Chinese news site Caijing, the 37-year-old Cumberbatch, whom the Chinese call Curly Fu, "is the reason a new wave of Chinese viewers have turned to British television." ('Curly' describes the star's hairstyle, while 'Fu' is a shortened Chinese transliteration of 'Holmes.')

The Caijing article attributes the recent spike in the popularity of British television in China to "the Sherlock effect," and Cumberbatch's rising star isn't limited to the small screen. One journalist with the Beijing-based newspaper Jinghua Times surveying viewers of the 2013 blockbuster sci-fi movie Star Trek Into Darkness found that most had gone to see Curly Fu, a villain they declared "impossible to hate" because they had "never seen a bad guy so handsome before."

The enthusiasm is most avid on the Internet, where Cumberbatch is an erotic god. In the Baidu Curly Fu Bar, an Internet forum devoted to the star, fans said they loved his hair, voice, height, eyes, physique, poise, nose, the speed at which he talks, and a certain ineffable charisma. (One viewer compared him favorably to Wikileaks founder Julian Assange, whom he plays in the recent film Fifth Estate, writing that Cumberbatch was "much more handsome.") Some fans cataloguing his good traits also listed his "cute wife" Watson, whom they call 'Peanut,' because the Chinese phoneticization of Watson, huasheng, is a homonym for the legume. Amateur cartoon adaptations of Sherlock and Watson holding hands and photo-shopped images of Cumberbatch and Freeman kissing are available on Chinese websites. On Youku, China's YouTube, a music video that set clips of Cumberbatch's Holmes and Freeman's Watson sharing knowing looks to a Chinese love song has received over 70,000 views.

The Chinese Internet is home to a wealth of slash fiction — danmei in Chinese — a genre that imagines existing fictional characters in romantic same-sex relationships, and a body of work in which Cumberbatch's Sherlock features prominently. Stories range from the explicit "He Is My Bitch," about Sherlock and Watson's sadomasochistic sex life, to the more romantic "I Write You This Letter from a Foreign Land," in which Watson describes his inner feelings for Sherlock in a diary. There are even novels, like the 39-chapter tome It's Alright, I'm Here, Sherlock, which describes in great detail the lovers' long and convoluted path to couplehood.

The Cumberbatch crush isn't just a Chinese quirk; in October The Atlantic Wire wrote that the actor "holds a strange sway over certain parts of the Internet"… Just as Cumberbatch's English-speaking fans follow the actor's work closely and identify themselves as "Cumberbitches," his Chinese-speaking fans also share information about his new projects and appearances.

What makes his Chinese fans special, though, is that some are risking jail to write him into slash fiction. In early 2011, authorities in China's inland Henan province arrested Wang Chaoju, the webmaster of the slash fiction website Danmei Novels Online, and charged him with "disseminating obscene content" after finding about 1,200 sexually explicit danmei stories among the tens of thousands on the site. Later that year, Justice Online, a legal news website, labeled slash a "harmful trend," quoting a psychologist who said the literature "could lead to a deviation of sexual orientation, difficulty interacting in social situations, and even criminal activity." To avoid punishment, writers and readers of explicit slash often exchange content over email, ensuring the work remains invisible to the wider Internet.

LGBTQ individuals in China still encounter discrimination in the workplace, and the country boasts few openly gay public figures. In China, however, many writers and readers of slash are heterosexual women, who identify themselves as funu — 'rotten women.' Why young, often heterosexual women love slash is a rabbit hole of epic proportions, but it's safe to say that many female Chinese fans of Cumberbatch's Sherlock find it more enjoyable to imagine him riding off into the sunset with his trusted companion Watson than a female acquaintance.
There is so much AMAZING in this story, I don't even know where to start. I guess it never occurred to me that the Chinese would be as weirdly obsessed with Benedict as Westerners are. I tend to think that the Chinese would lack that certain propensity for… what's the word? Bizarre, obsessive fandom which is ultimately harmless but is a massive time-suck. The Chinese government shouldn't worry about Cumby fan-fiction inciting people to "become gay" or whatever – they should worry that people should be working but they're too busy writing epic poems about Sherlock and Watson's dangerous and erotic love affair. Oh, Curly Fu. None of us can quit you. Curly Fu is like a one-man United Nations. He will erase borders and we shall anoint him Gay Curly Fu King Of All He Sees. Also: PEANUT. OMG.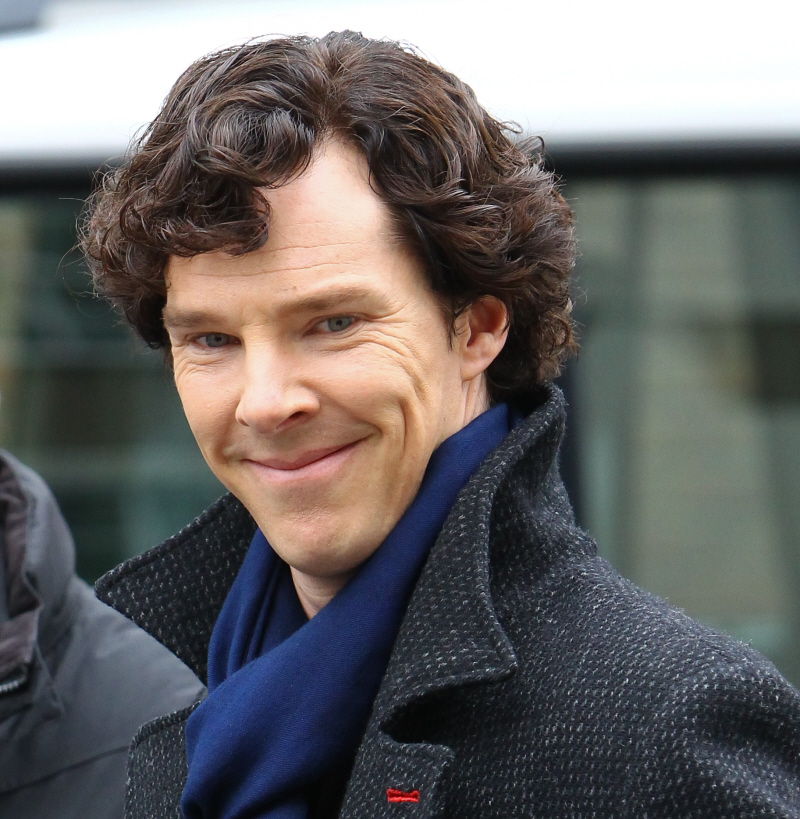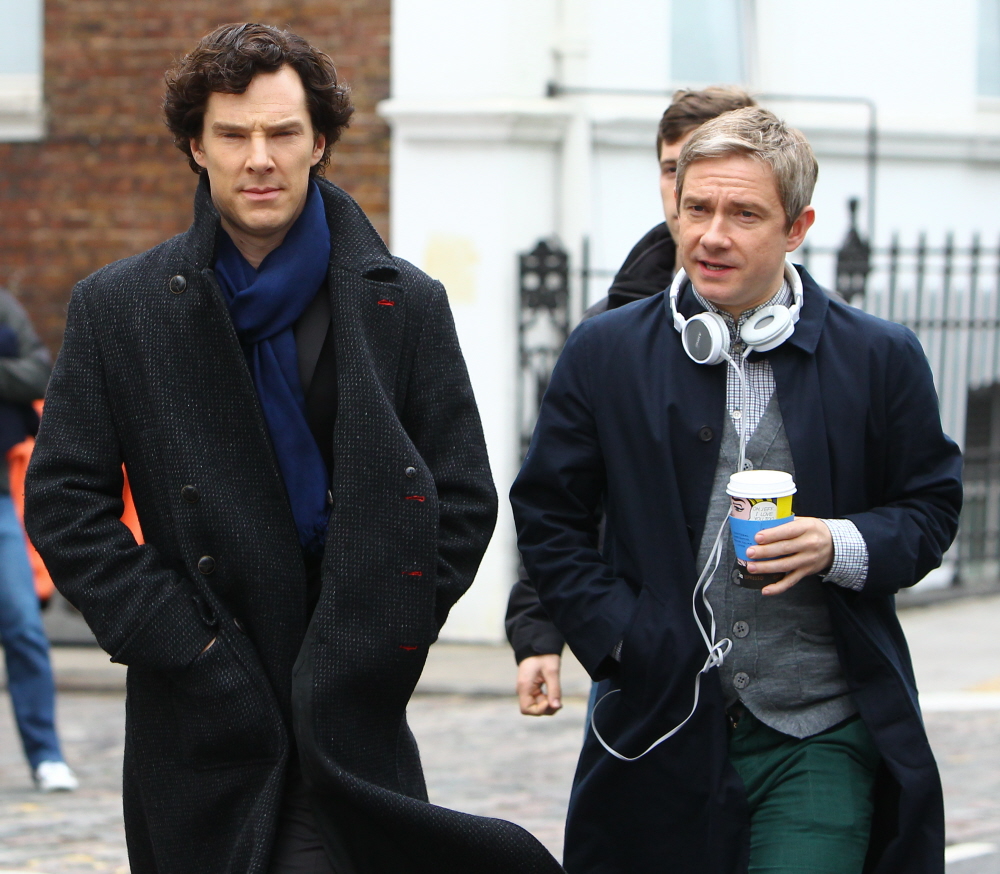 Photos courtesy of WENN, 'Sherlock'.