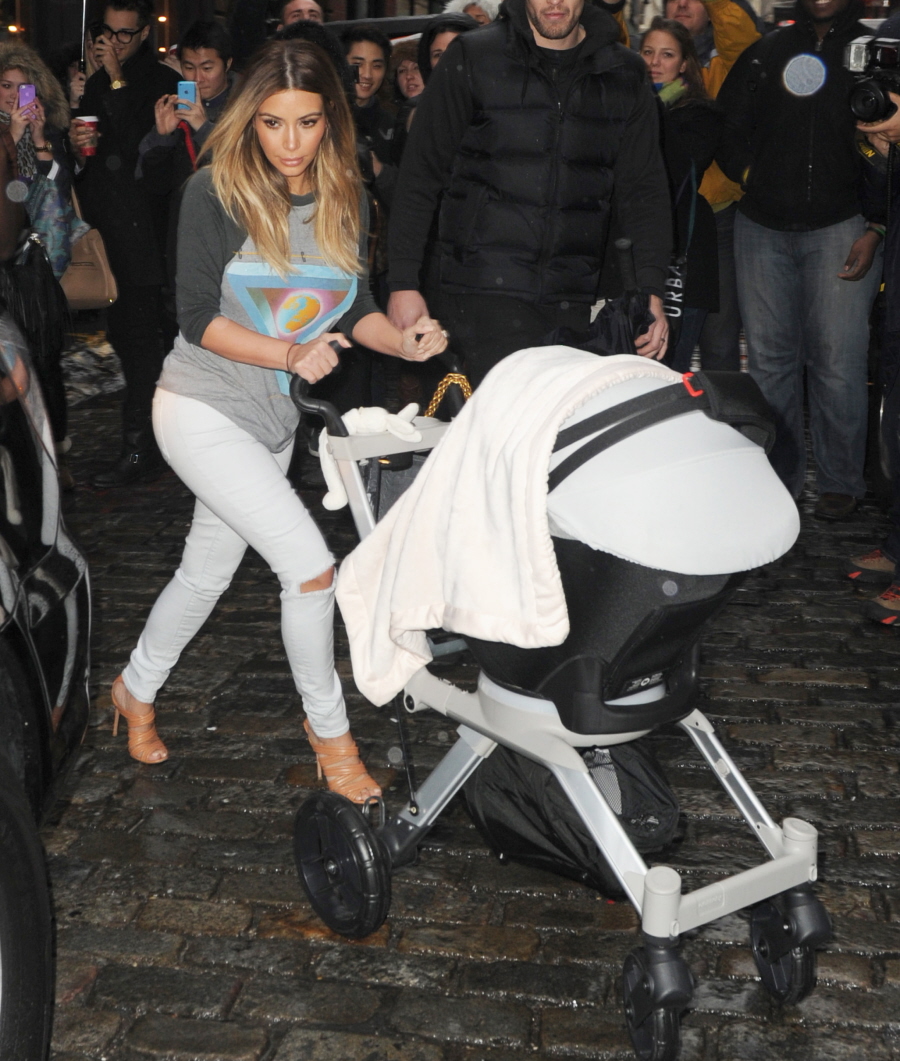 Here are some new photos of Kim in "skinny jeans" yesterday in NYC. I don't get why any woman would wear white skinny jeans, much less a woman built like Kim. White jeans are not your friend, Kim! Anyway, in case you missed it, Kim Kardashian DID respond to Seth Rogen and James Franco's epic and amazing spoof music video for "Bound 2". As I said yesterday, Kanye West's original music video already looked, felt, tasted and smelled like a spoof, but Franco and Rogen took it to the next level. Anyway, Kim was pretty classy about it, tweeting "You nailed it!!! Sooo funny" at Seth's Twitter. He responded with "Thanks! Some of those positions were really uncomfortable. That s–t is harder than it looks." Kim also tweeted (again, at Seth): "Kanye says what's up! He loves u guys! He laughed so hard at this." I really hope Kanye did laugh. I really hope Kanye isn't going to spend the next ten months ranting about Seth and James. #nodisrespecttoBenAffleck
As for out now-daily "Today In Yeezus Rants" segment, here's what Kanye's been ranting about lately:
*Kanye thinks Kim Kardashian is the most beautiful OF ALL TIME, saying: "Okay, ladies and gentlemen. All barber shops, fashion designers, architects, corner stores, Wall Street, all over the world: Y'all acting like this ain't the most beautiful woman of all time! I'm talkin', like, arguably of human existence — the top 10 of human existence. I loved her from the first day I saw her, which I said on 'Bound'…I remember seeing pictures of her and Paris Hilton in Australia, and I came to Don C., and I was like, 'Man, have you ever seen Kim Kardishawn? What's up with Kim Kardishawn?'"

*A love story for the ages: "Our love story's a love story for the ages. I felt like when we first got together, it was like a Romeo and Juliet kind of thing, where it's like, she's a reality star and I'm a rapper, and people talk about how our brands connect and what doesn't fit. And I'm just so tired of the conversation of brands. Why don't we start the conversation with love? Why don't we start the conversation with God? Why don't we start this conversation with family? It's not about branding at a certain point."

*Nike wouldn't give him royalties: "I said I need royalties. Nike told me, 'We can't give you a royalty because you're not a professional athlete.' I told them, 'I go to the Garden and play one on no one. I'm a performance athlete.' The old me, without a daughter, might have taken the Nike deal, 'cause I just love Nike so much. But the new me, with a daughter, takes the Adidas deal, because I have royalties and I have to provide for my family."

*Yeezus = Walt Disney: "I'm just a creative. I'm more like, a Walt Disney or something. Like, rap is just a chamber of my thoughts. It's something that I really wanted to express as a modern-day poet, because you know, if I had lived in a past lifetime, maybe I would have been a playwright or something. But in this lifetime, to be the most heard and the most relevant, the most relevant is to be a rap rock star. You can express at the highest level there."

*He's like other people too: "I'm like Howard Hughes! I'm like [NBA commissioner] David Stern! I'm like Steve Jobs! If anything, that's a compliment to them! I'm like Michelangelo. Because I'm the new version of that."

*Kim is Marilyn Monroe: "Kate Upton ain't Marilyn Monroe! Kim Marilyn Monroe [sic]! She was controversial. She controversial [sic]. This is a reality. I'm living inside of a dream world."
You guys, I'm telling you. Kanye is going Full Gaga. He's just doing lines and calling up radio shows and saying the most bizarre shiz, whatever pops into his head. "Imma tell you, I'm like acid-trip Walt Disney because, Walt was like Tupac, he was my man, rapper fairy dust yo, creative genius I AM THE SOCRATES OF ADIDAS, like, Dior Homme me motherf—ker and then we get into Jackson Pollack was my man because like I PAINT WITH WORDS and thoughts and this rainbow, can you see this sparkling rainbow? It's in my mind's eye, like I'm Jamie Diamond Elton John and Rene Descartes man. You don't even know how I'm the 21st century version of the Madness of King George, like let's get all Charles Lindbergh up in here."
That being said, I did think that stuff about Kim was sweet. Of course we all think she's a kat-faced famewhore, but don't you want your man to talk about how beautiful you are?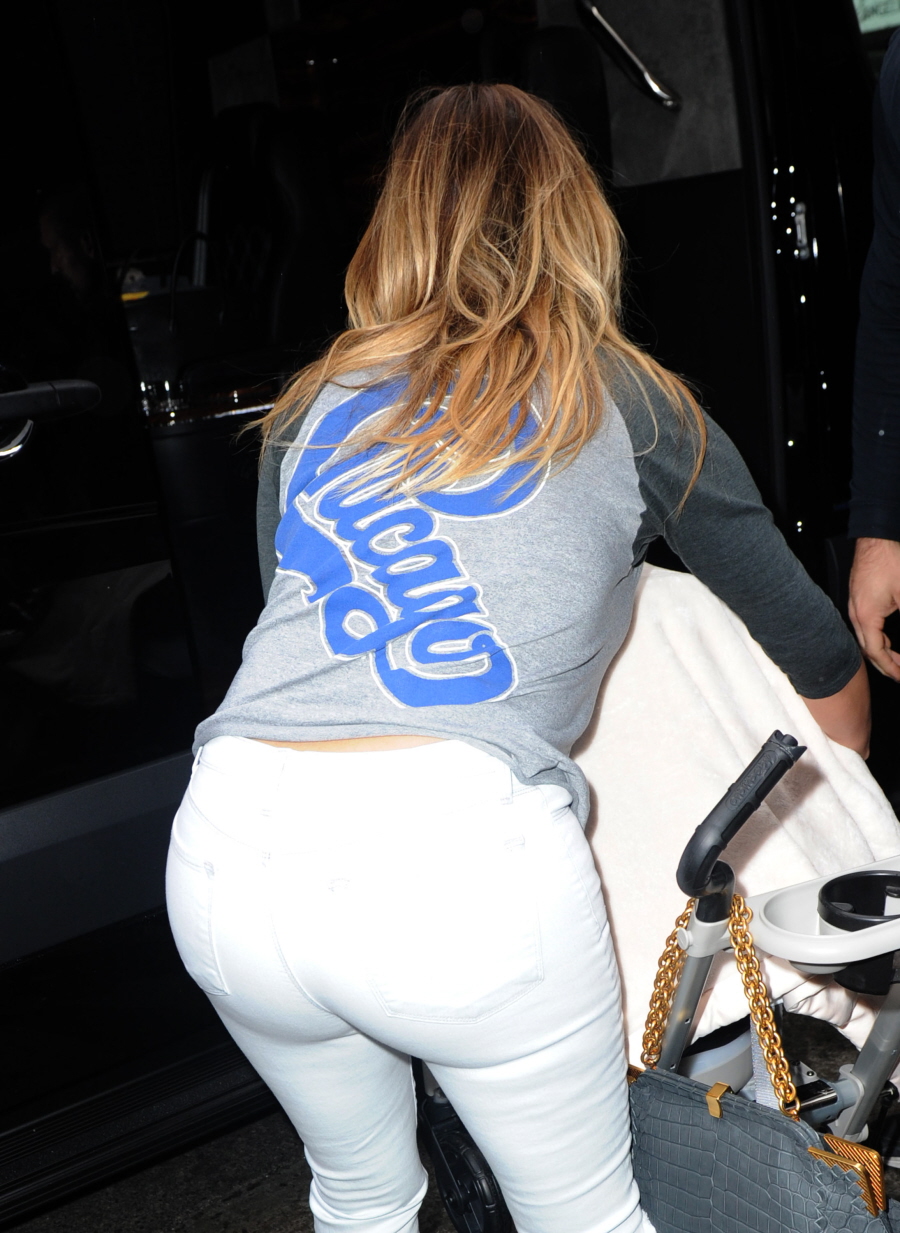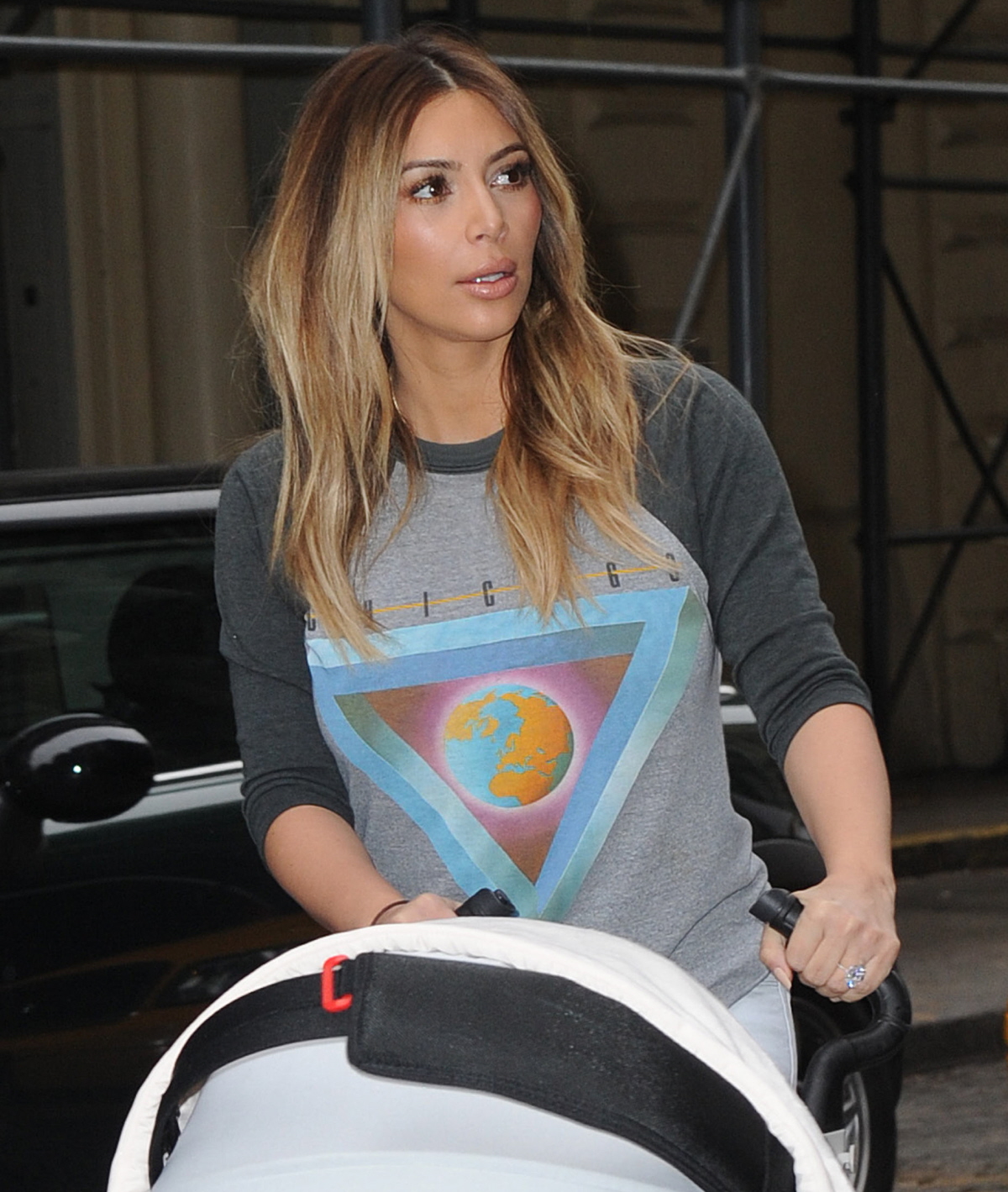 Photos courtesy of Fame/Flynet.