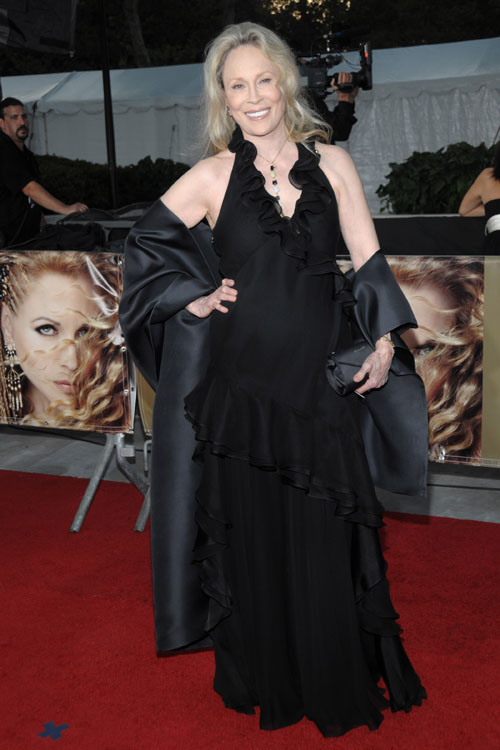 In the "Leave My Classic Films Alone" department, some Hollywood slimeballs thought it would be a great idea to do a remake of the Faye Dunaway/Warren Beatty classic crime caper, "Bonnie and Clyde." As if that isn't bad enough news, they also thought that the role of Bonnie Parker, played so brilliantly by Faye Dunaway, should belong to former Disney star/pop singer Hilary Duff. It's enough to make you choke on your popcorn, right? Well, Dunaway – always one to speak her mind – didn't hold back her opinion on this project when asked about it, questioning the need for a remake – and the unfortunate casting choice.
Quick! Can you think of any remake of great film classic that has been better than the original?

No, I didn't think so.

That's also reportedly the reaction of both Warren Beatty and Faye Dunaway upon hearing about a new "Bonnie & Clyde" in the works.

Hollywood sources tell me the two Oscar winners both said, "Why?" upon hearing the news little-known director Tonya S. Holly will direct "The Story of Bonnie and Clyde," based on her own screenplay. Holly says her project was inspired not by the 1967 film, but by news clippings of the famous Depression-era outlaws, found in an abandoned house on her family's property.

Learning her role as Bonnie Parker would be portrayed by Hilary Duff, Dunaway supposedly zinged, "Couldn't they at least cast a real actress?" Wow. Meow.

Beatty's Clyde Barrow role will be played by Kevin Zegers, whose credits include "The Jane Austen Book Club" and "Transamerica."

The original "Bonnie & Clyde" received 10 Oscar nominations, but won only two — Estelle Parsons for best supporting actress and for cinematography.
Now, I don't have ESP or anything, but I'm not predicting 10 Oscar nominations for this remake, are you? And you just gotta love Faye's reaction. Of course, in my head, she is still dressed like Joan Crawford and screaming this at the top of her lungs with a wire hanger in her hand. Yikes! But I couldn't agree more. Aside from her "Lizzie McGuire Movie" that came out a million years ago, what's Hilary Duff done to deserve this role?
Audience have typically rejected attempts to remake classic movies – recent remakes of "The Omen," "Psycho" and "Amityville Horror" all got dismal reviews and nobody saw them. So, what gives? Why does anyone think this is a good idea? I'm sure there are plenty of struggling screenwriters out there with original ideas who are dying for a chance to get a movie made. Anything's got to be better than Hilary Duff pretending to be a 1930s bank robber, right?
Faye Dunaway is shown looking fabulous at the Metropolitan Opera in NYC, Sept. 2008. No more wire hangers! Photo credit: WENN.