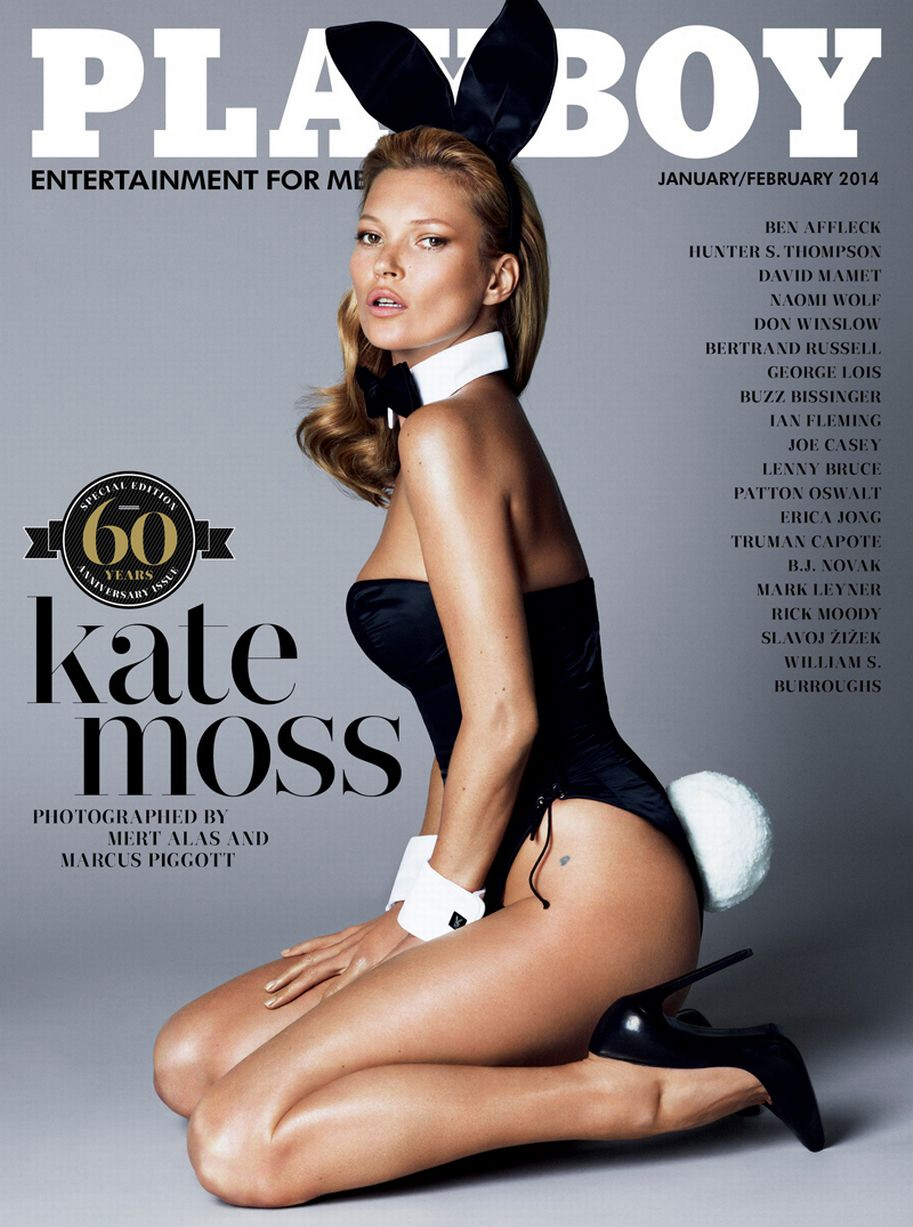 Call me crazy, but I really like Kate Moss's Playboy cover. Right? Moss announced months ago that she was going to do her first Playboy cover (and pictorial) to celebrate her 40th birthday this year, and here it is. This is the January issue I believe. When Playboy is working with the big-name models and celebrities, the celebrities usually get a big say in how they're shot and they even get to pick their own photographers – I remember it was a really big deal when Cindy Crawford posed for Playboy and she chose the top fashion photographer at the time, Herb Ritts. Moss chose Mert Alas and Marcus Piggott, and it sort of works. Kate made it feel vintage and sweetly sexy, with a 1970s feel, especially since she's wearing the old-school bunny outfit – you can see more photos here. Here are some highlights from the interview:
On privacy: "I don't want to hang my dirty laundry out for Hello! and for people to know all the ins and outs of my life… I don't get why it would be interesting. I'm not that different. And also, now with Instagram and everything, everyone's so on their phones that even when I'm in a restaurant like this, where you wouldn't expect it, someone will come up and ask to get a picture with me. I'm like, 'No!'"

Her signature cocktail: "Well, I have a friend at the Hemingway Bar at the Hotel Ritz in Paris, an English guy called Colin. I've been staying at the hotel since I was 17, and I've spent a lot of time in the Hemingway Bar. So my drink is the French 76, which is vodka, lemon juice, and sugar topped up with champagne. Love! Two of those and you're like, 'Oh, life is amazing!' It's heaven."

On if she ever envisioned another life for herself: "No. I was, like, a child when I started. I was 14. If it hadn't happened, I don't know what would have happened to me. I would be in Croyden [the neighborhood south of London where she grew up], working in a bar, probably. I wanted to be at the center of things. I love working with creative people, and there was none of that where I came from. As soon as I was given a chance I took it."
[From Playboy via Just Jared]
I will take Kate Moss's drink advice. I might not take her advice on most things, but I believe she knows her way around a bar and a liquor cabinet, and the "French 76" sounds like a perfectly wonderful girly drink. It's like a lemon drop and a mimosa, right? I bet it gets you super-drunk too. I would probably take her advice about discretion too – Kate has some faults, but being indiscreet is not one of them. She is still an enigma, even after more than two decades of fame.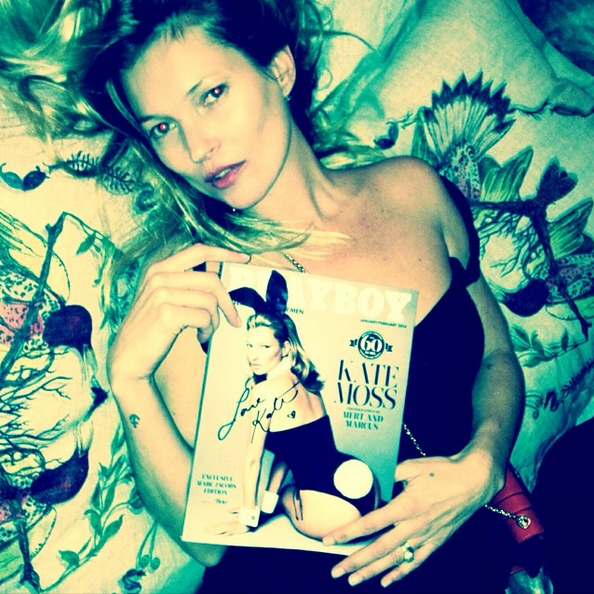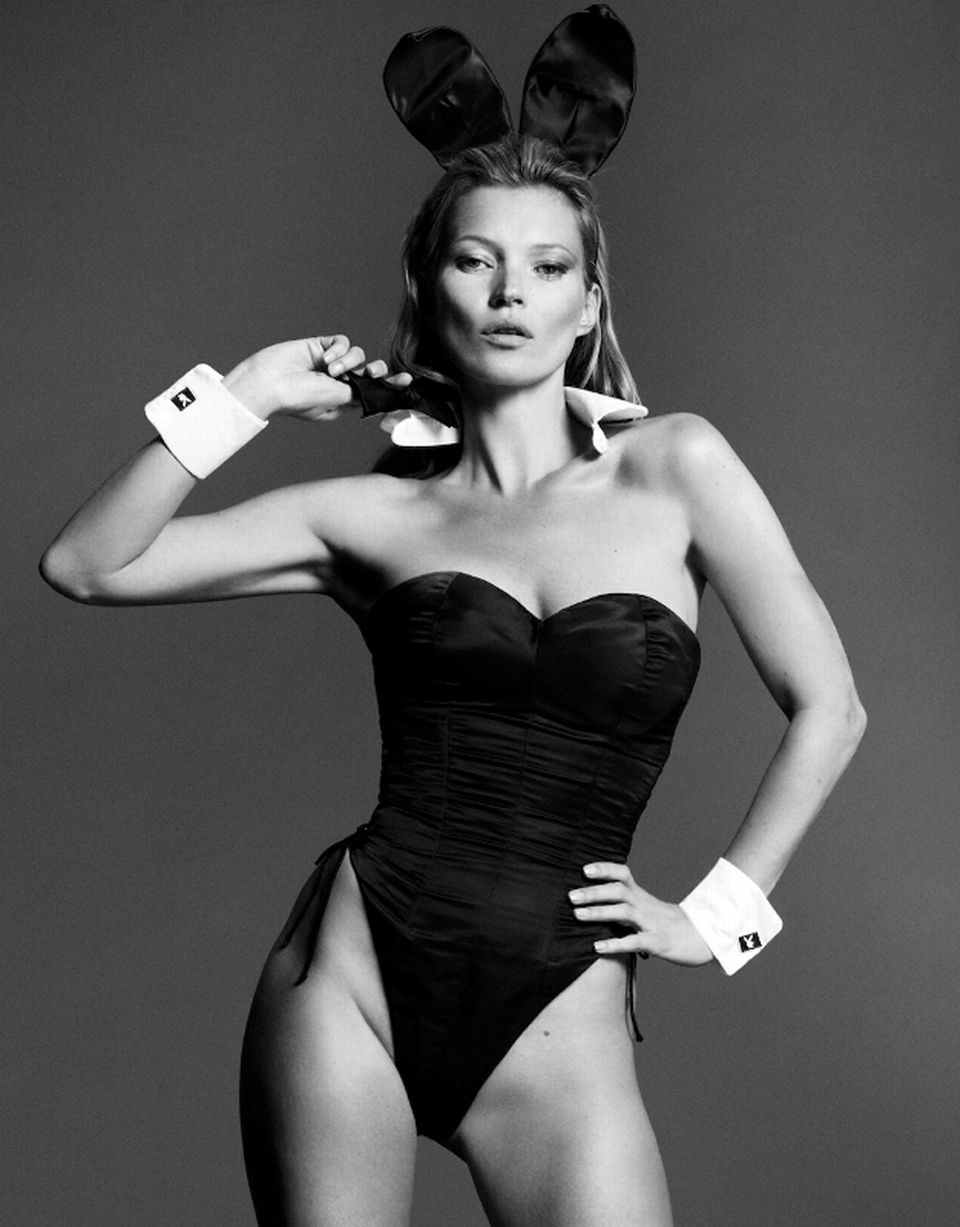 Photos courtesy of Playboy and Instagram.