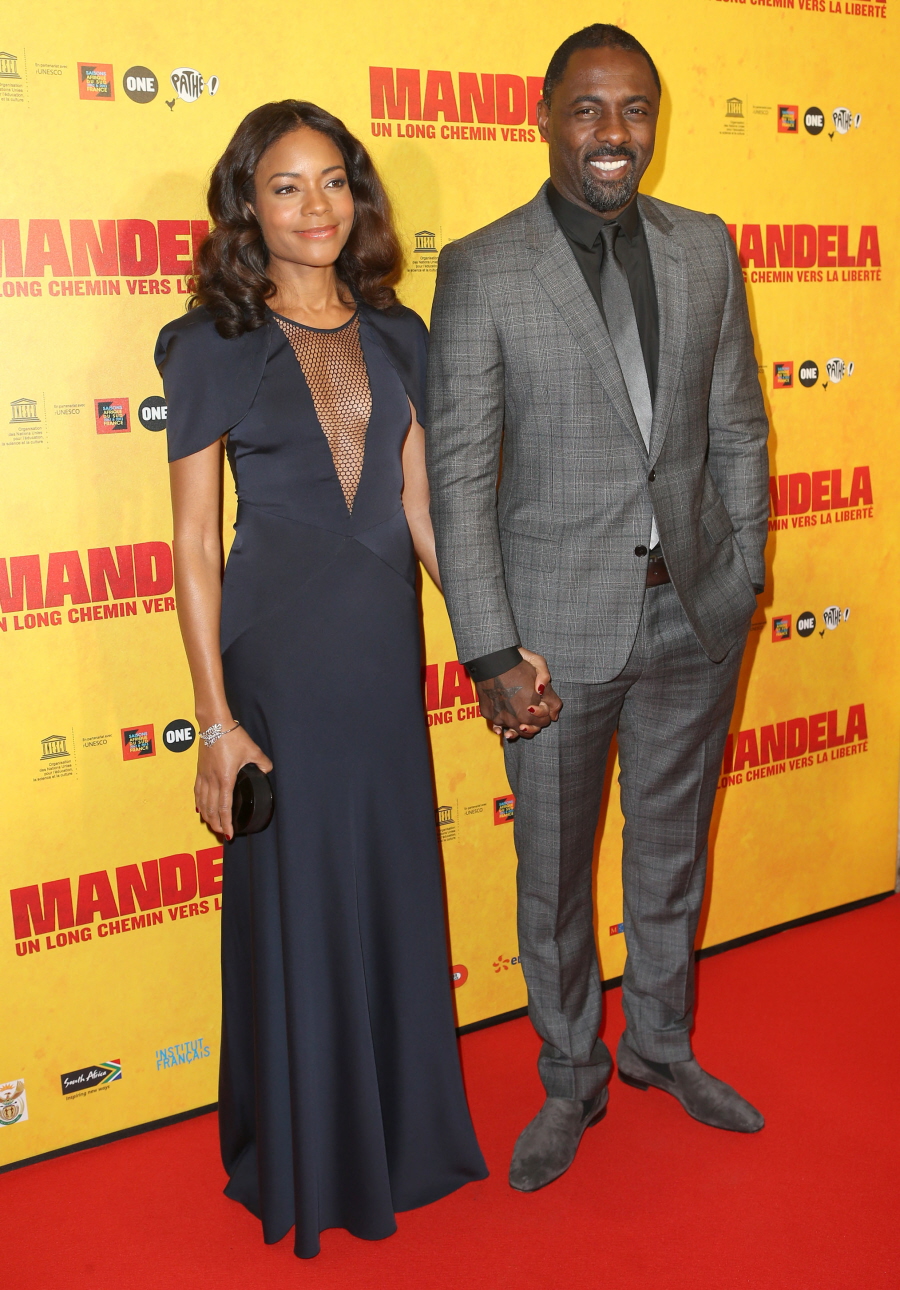 Here are some photos of Idris Elba and Naomie Harris at the Paris premiere of Mandela: Long Walk to Freedom. The film's rollout has been slow but steady, and the film is already breaking box office records in South Africa. I keep forgetting to mention this too – while people think Idris's performance as Nelson Mandela is solid-to-great, Naomie Harris is enjoying some of the best reviews of her career for her role as Winnie Mandela. I think the studio probably won't follow up on that much (they're probably saving their money to launch a campaign for Idris), but if this was any other year, I'd say Naomie might have a shot at a Best Supporting nomination.
Incidentally, Naomi's dress is Vionnet Spring 2014. Pretty. Honestly, I'm not in love with most of her fashion choices, but I almost always love the way she's styled. Her face is epic and her makeup game has been tight. Idris's grey ensemble is Dior Homme. LOOK AT THE GREY LOAFERS! I love Idris for bringing men's shoewear to a new level.
Meanwhile, Idris is getting better at this whole interview thing. I'm serious! He's not talking about himself in the third person or talking about his deejay career (thank God). Some highlights from two Idris interviews:
Idris on working in South Africa: "I was prejudiced about South Africa when I got there. I wasn't sure what to expect and I really was really surprised. They opened their arms for me, showed me a lot of love and just gave me the food I needed to bring this character alive. I enjoyed it, I even asked for a passport. They didn't give me one."

Working on Mandela's voice: "His voice was really tricky, the voice is very distinctive, everyone knows what he sounds like. And so I really spent a lot of time trying to figure that out. I have a very London accent and my voice is nothing like his, nowhere near as distinguished and I had to sort of figure out a way to make that real. I watched a lot of footage, I listened to his voice a lot. I kind of watched his body language. I also watched the people and how they reacted to him. There were lots of people going 'Ah,' and that was what I realized his essence was about."

He stayed a night in Mandela's prison cell: "That was an education and very inspirational. I was trying to figure out who Mandela was – I felt more like a researcher than an actor. I started to understand what kind of human being he was to survive that. I only spent one night but it was enough for me to understand that it was incredibly tough. There was a thin bed and a bucket for a toilet – that's all. The guy who locked me in the room kept hesitating to leave, as if to give me a chance to change my mind, but I didn't."

Honorary Mandela: "It's an incredible honor [to have shown the film to Mandela]. They told me this story about him getting a picture of me when I was going to do the movie. Apparently he looked at it forever and just said, 'Really?' Now, after spending so much time with his family, I'm an honorary Mandela.

Possibly being cast in a Roots revival: "I watched Roots when I was a kid, so just to be brought up in that dialogue is incredible. All I can think is, 'Wow.'"
[From Rolling Stone & The Voice]
I haven't seen the movie yet, but I've seen the trailers a few times, and Idris does nail Mandela's voice. I was so happy when I discovered that. The South African accent is so tricky, I think. It's trickier than the English accent and even the Aussie accent. You know who else got it right? Matt Damon in Invictus. To me, he sounded really authentic. Maybe to South Africans, it sounded like nails on a chalkboard, so maybe I'm wrong.
Also – why wouldn't South Africa give Idris a passport?! I want to know that story.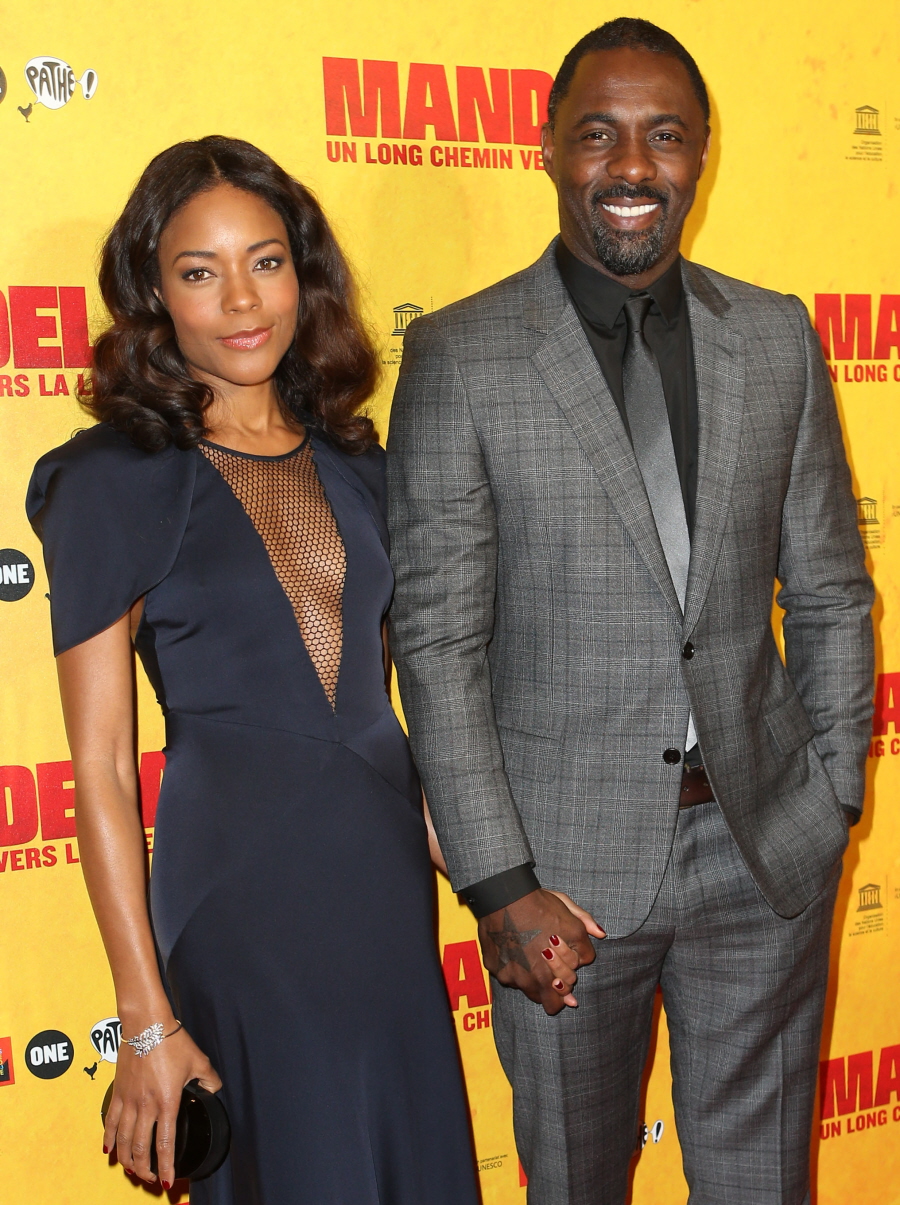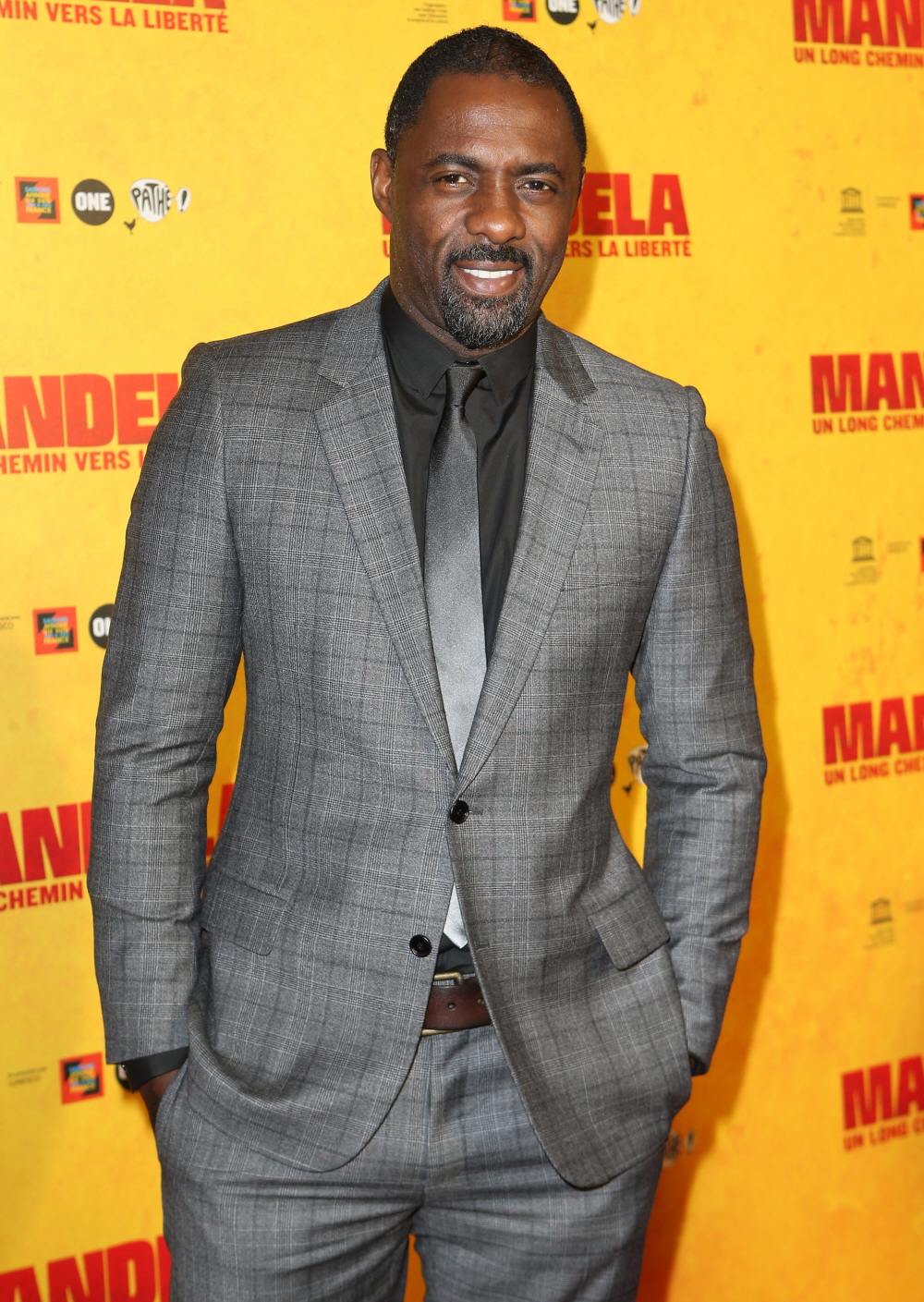 Photos courtesy of Fame/Flynet.